FLATHEAD RESERVATION — The Flathead Indian Reservation is making strides towards addressing food insecurity in the community. The Confederated Salish Kootenai Tribes Food Sovereignty Program is taking action by developing eight community gardens across the reservation with plans for more. Last year, gardens were established at Elmo, Salish Kootenai College, CSKT Forestry Greenhouse, and Ronan. This year, additional gardens will be added at Kicking Horse Job Corps, Arlee, St. Ignatius, and Hot Springs.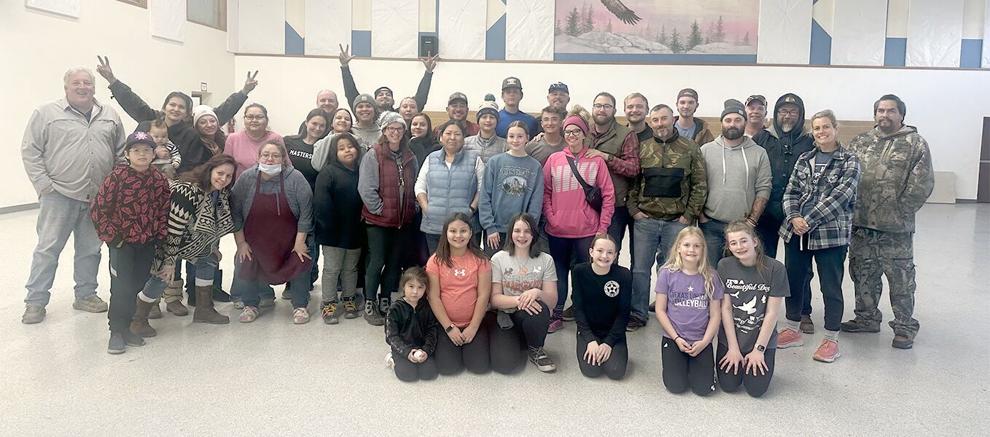 Food sovereignty, as defined by the U.S. Department of the Interior Indian Affairs, enables native communities to control the production and distribution of their food, leading to improved wellbeing, better health, the restoration of traditional practices, and economic empowerment through food-based businesses. The COVID-19 pandemic has highlighted the importance of food sovereignty as it can help communities become more self-sufficient during times of financial hardship.
 Elmo recently hosted a community garden dinner for a group from the Master Roads Church in Texas who traveled to help with the community gardens. The group has their own "Victory Garden for Life" in Texas.
 The Victory Garden for Life movement provides practical instruction, training, wisdom, and inspiration to help communities build and grow their own gardens, connecting them with the invisible attributes of God while yielding a bountiful harvest of fresh produce. Fred Billings, a lifelong agriculturalist, and his colleagues are spreading this movement across the world.
 Last year, Billings met with CSKT Food Sovereignty Program Manager Dana Hewankorn, who asked him about starting a garden in Elmo. Billings responded, "If you want one, we can do it," and when Hewankorn asked when they could start, she replied, "Tomorrow." And so, it happened.
 Members of the Master Roads Church group shared that they had never been to Montana before and had many questions about the culture and history. For a week, they traveled throughout the reservation, attending to the community gardens.
 Food security is a critical issue in the Flathead Indian Reservation, where basic necessities like toilet paper require a 17-mile trip for Elmo residents. As Hewankorn said, "We basically live in a (food) desert, so food security is really important." A 'food desert' is defined as an urban area in which it is difficult to buy affordable or good-quality fresh food.
 The Elmo community garden has a special significance, as it was tended to by one of their elders for many years before becoming dormant. Last year, the garden was revived, and Hewankorn felt the presence of the elder, who had passed away during COVID pandemic.
 Hewankorn is passionate about the garden and its potential to bring the community together. She refers to it as the "learning garden" and hopes that everyone in the community will come to be a part of it. "Everyone deserves to eat good food, it is a right," she said.
 Although some people have dubbed it the "Dana Garden," Hewankorn wants it to be clear that it belongs to everyone. Hewankorn believes that the garden will continue to grow and expand along with the eight gardens across the reservation.
 As she said, "I am a problem solver, and I'll find a home for that food." She is excited about the potential of the gardens to help the community become more self-sufficient and hopes thatthey will continue to expand in the future.