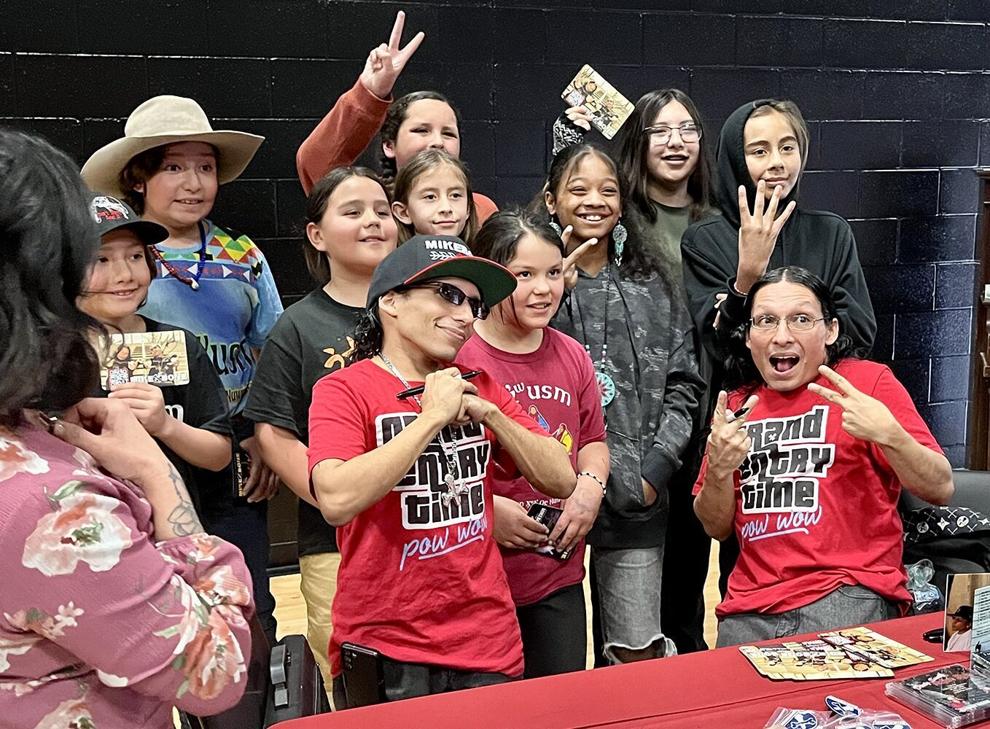 PABLO — Over 100 people attended a performance featuring Lil Mike and FunnyBone at Salish Kootenai College theater on March 16. Although they look similar, they are not twins but brothers. Best known for their unforgettable act on America's Got Talent as well as their roles on the hit show Reservation Dogs, the rappers/ actors are also passionate about sharing their story and message. CSKT Behavioral Health Department sponsored the event that was open to the community. The inspirational rappers spoke to and performed for hundreds of high school students from Mission, Ronan, and Two Eagle River School at the Ronan Event Center the previous day.
The Pawnee/Choctaw rappers entertained the audience with stories, jokes, dancing, and music. Catchy beats and lyrics got the audience moving in their seats and in the aislesNoah Wasson, age 4, rushed to the stage to dance with his heroes. When the music stopped, the audience smiled and laughed as they listened to stories about growing up in Oklahoma City with an abusive father, being bullied for being small (both stand a little over four feet tall), gang activity, learning about the Native ways as teens, and finding a connection to Christ.
Finding humor in everything keeps the two grounded. Lil Mike, the older of the two, knew gang life wasn't for him after seeing a friend get shot. Leaving gang life isn't easy. He was told that he would be the next target if he left. He took a chance and left it behind. In doing so, he was able to be a leader that his younger brother could follow. Finding faith in a higher power and trusting God helped Lil Mike escape gang life and to create music instead. FunnyBone is five years younger than his brother. By the time he was old enough, he joined his brother in making music. The pair wrote, produced, and performed in the rap game for 25 years. Creating clean music with no profanity and keeping it positive is important for Lil Mike and FunnyBone. Both promote a drug and alcoholfree lifestyle. "We wanna live for a purpose, a good purpose," said FunnyBone. Although the rappers are Christian, they encouraged everyone at the show to embrace the Native ways and to never turn your back on those ways. "If you stay faithful to Creator, Creator will stay faithful to you," Lil Mike told the crowd.
Ten years ago, the brothers performed their original song "Raindance" on the show America's Got Talent. Although they were eliminated from the show, the brothers gained popularity and knew being eliminated was a blessing in disguise. It turned out that contract stipulations didn't align with their values and goals. Winning meant they would have to cut their hair, wear tuxedos, and not own the rights to their music. Staying true to themselves and purpose means more than shady record deals.
Being grateful for setbacks and successes keeps the brothers humble. While telling their story, the artists encouraged everyone to practice gratitude as a way to manage negative thoughts that may lead to thoughts of suicide. Suicide in Montana and among Native Americans in the United States rose in the past two years. Discussing the issue, as well as a solution, is necessary. Reaching out to the youth and the community is critical.
 "Thoughts pile up to the point that you don't want to be here. Thoughts are like building blocks. It starts out with I hate this, I hate that, he or she won't stop cheating on me…People zoom in and tend to focus on the problems. Instead they need to zoom out and see the bigger picture. Focus on what you're grateful for instead," said FunnyBone.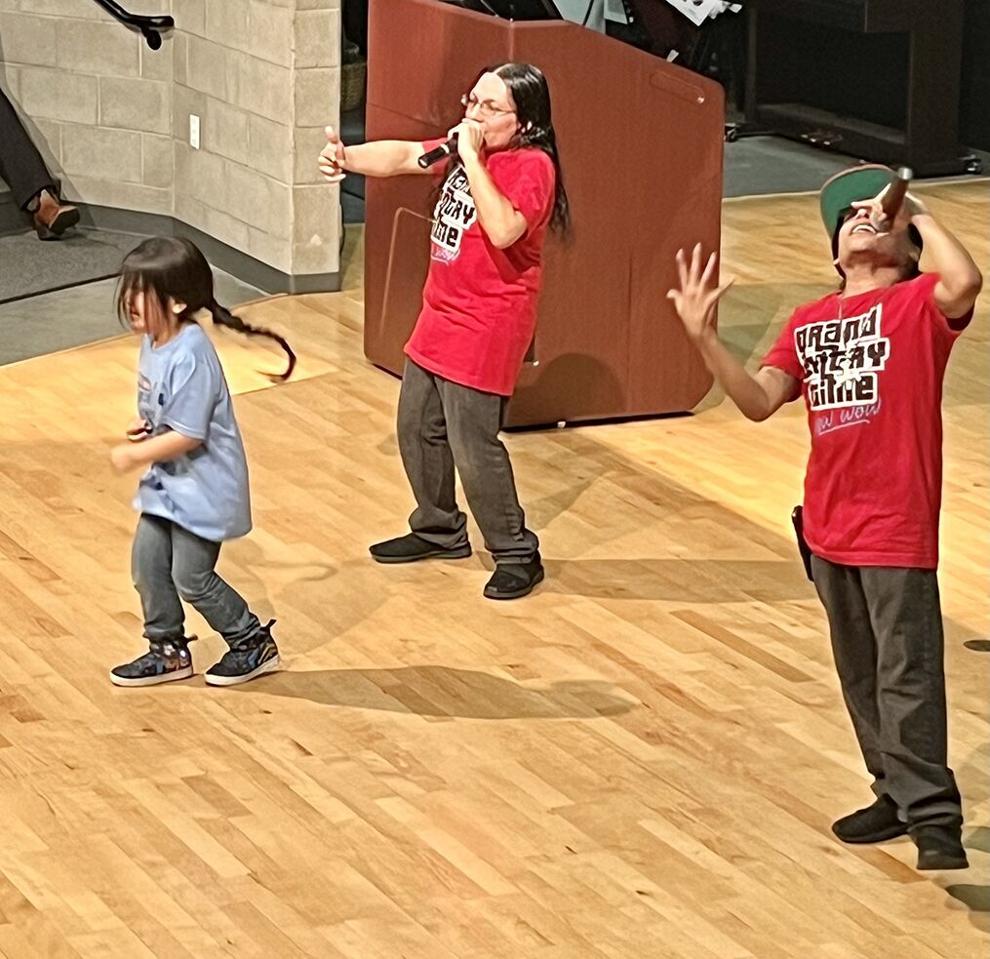 During the COVID shutdown, concerts were canceled, and many musicians suffered. When money started running low, the duo had to come up with different ways to make money. COVID may have shut down the country in 2020, but it didn't shut down Lil Mike and FunnyBone for long. Gratitude plus hard work helped the entertainers adapt. While gratitude creates a foundation, it takes hard work to build on that foundation. "For your dreams to work, you gotta work," said FunnyBone. Facing a setback is bound to happen when following a dream. For Lil Mike, overcoming adversity means, "You have to do what you can with what you have." The pair began selling merchandise on their website and going to a casting call for Reservation Dogs where they landed roles on the show as Mose and Mekko. The third season of the hit show available on Hulu is coming soon.
The brothers told the audience that MikeBone music is, "Streaming on all platforms. Support the music, support the movement." Following the show, there was a meet and greet for fans to get autographs, take photos with Lil Mike and FunnyBone, and buy merchandise.
For more information, links to their social media sites, or to buy merchandise, go to MikeBoneMedia.com.