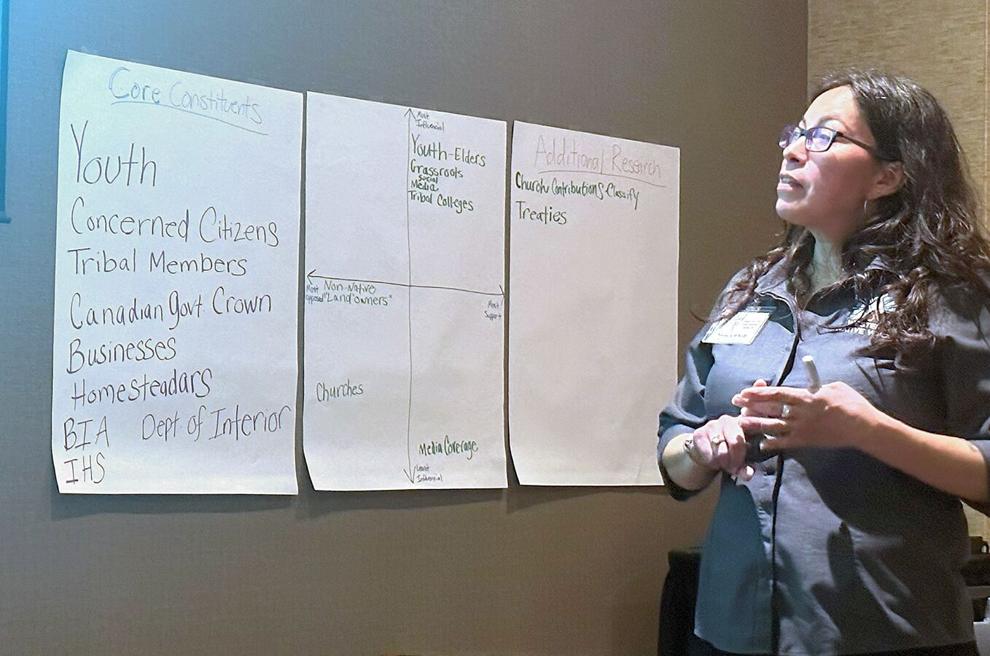 Western Native Voice brings together tribal members from Indian reservations in Montana to focus on solutions
Char-Koosta News 
BILLINGS — Over 50 people attended the Western Native Voice: Inspire Native Leadership conference in Billings on Friday, January 13 to learn about the meaning and tactics of leadership, as well as what it takes to be a leader in their community.
The majority, if not all, of the conference attendees were connected to a tribe and came from reservations in Montana. One participant remarked on how pleasant it is to be around other Natives who share their interests and values. 
Inspire Native leadership: Introduction to Community Organizing
Ta'jin Perez, director of Western Native Voice (WNV), talked about Indigenous people's values and how to turn them into action.
Perez contends that while values are ingrained in our hearts and souls, putting them into action requires effort and commitment. WNV believes that community organizing enables communities to evaluate and resolve complex issues. 
Community organizing, according to Perez, is a way to get a community on board to making a change together, essentially the louder the voice, the greater chance of change. "It is in the values we uphold and how we can use those values to unite people," Perez said. 
"My values involve my family," Perez said. It is what he thinks about when considering what is happening in politics or the legislature. 
Since many individuals in their community have specific concerns, such as the suicide rate, or the prevalence of domestic abuse, WNV encourages people to band together and confront these issues.
Examples of community organizing include protests, lobbying, rallies, letter writing, and even creative endeavors like art. 
"The existing system is flawed, it's not working for a lot of people, and it frequently does not work for Indigenous people or other people of color," Perez said. Community organizing helps keep company and government officials accountable.
"If we don't participate, we are basically allowing the government and groups to act without our knowledge or approval," he said. 
Perez says he understands why people stay out of politics and don't use their voices, as it can be hard to believe one person can make a difference. He spoke about situations where people don't think they will be affected, so they ignore what is happening. 
"We ourselves cannot separate from the political because the political affects the personal, the decisions that are made effect real people and real lives," Perez said. "The success or failure of change rests on the connections and relationships formed, hence community organizing is overwhelmingly about interpersonal interactions."
According to Perez, relationships are one of one's most valuable resources. The opportunity to network and establish connections with people who share similar values and experiences was a goal of the conference.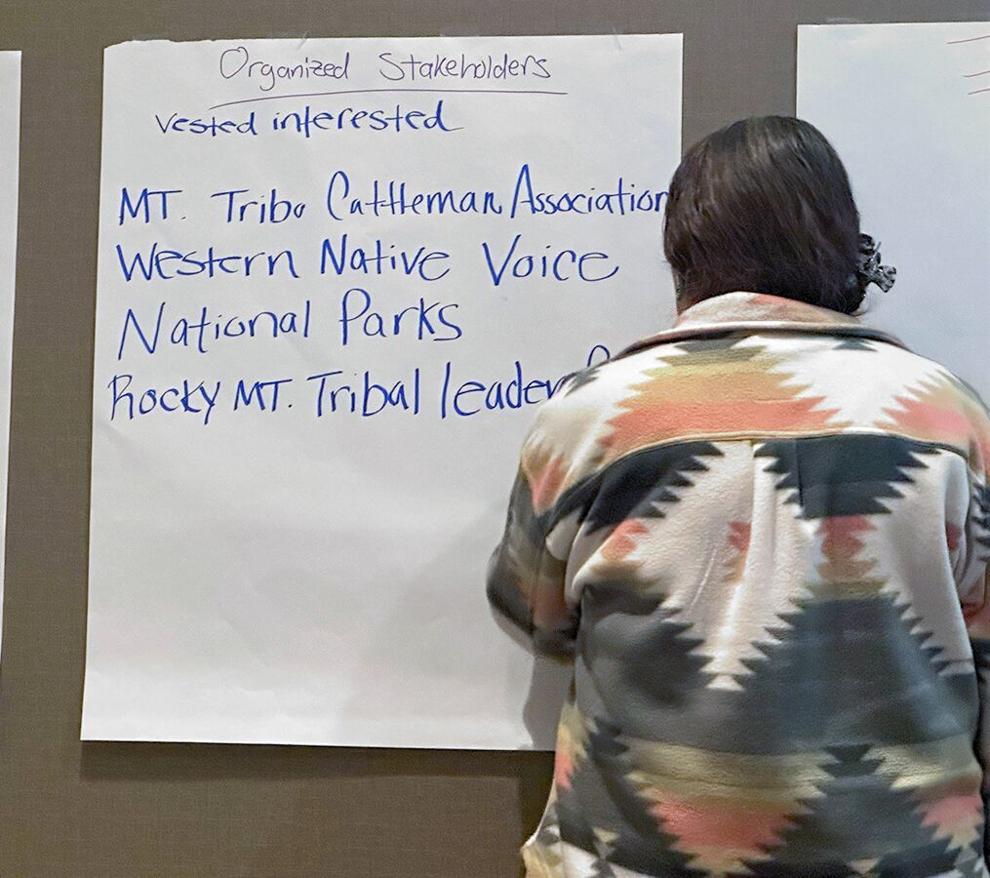 Self-Interest: What motivates you to care?
Perez challenged the group to reflect on their own self-interests.
"What has motivated you to care for the people in your community, and who are the people in your life who you want to see a positive change for?" he said.
Examples from the group included the homeless, drug addicts, foster care children, and mentally ill people. 
One Rocky Boy community member said, "We are just as good as everyone else." She wants to see improvements for Native youth, including the creation of additional opportunities and services for them. She wants them to know they can do whatever they dream of.
"We live in a city with a higher population of Native people, but we don't actually see them," said a woman from Billings who identified herself as an 'urban Native.' "It would be good to have a safe area where we could all gather," she said. 
According to Perez, once you've established your self-interest, you may reduce it down to one problem to focus on. The group gave several areas of focus, including the absence of affordable housing, parents who are incarcerated, the need for additional assistance and resources for Native youth, drug use, suicide, parental rights, safe living conditions, and treatment facilities.
"I have a brother who is serving a life sentence, and I believe there should be something done for those children who have parents in jail and don't get to visit them," said one WNV member. "You know, those children become incarcerated as they, too, pay the consequence for their parents' actions."
A Blackfeet woman described a lack of parenting as a problem that she wants to change; her parents and grandparents were part of the boarding school era, and they had their own challenges, which led to lack of parenting. Alcohol was consumed in the home, resulting in poor parenting and a harmful environment.
Perez asked the group to consider what a potential solution might entail. Some solutions given were a change in leadership, improved communication, education, and attendance at gatherings and other activities that encourage action.
Making it about the people and not the money, according to one WNV member, is one solution to the problems.
"It's crucial to keep in mind that each step counts as a victory, and winning can include taking several steps," said Perez.
He discussed the challenges that can come up when working with a community, but he urges the WNV members to keep their focus on their goals and make the effort less about them.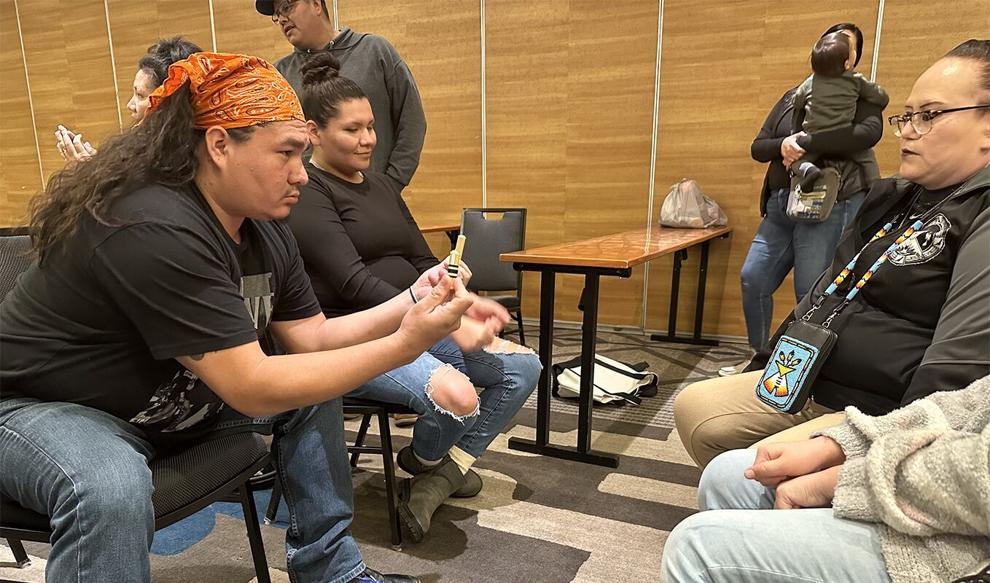 Grassroots Track with Natanya O'Neill, Public Narrative
According to WNV field director Natanya O'Neill, "The public narrative is a blend of three stories, stories of self, us, and now." The goal of the Grassroots Track was to assist WNV members in developing a story that they could begin telling to others, which O'Neill referred to as an exercise in using your voice.
It's a story we can share with everyone, according to O'Neill, and has the potential to inspire others. It's about what inspires us personally and what pushes us to accomplish the work that we do, she said.
The group of people took part in the class exercise of responding to and discussing O'Neill's question, "Why are you here?"
Some responses included learning more about how they can help more with rehabilitation programs and organizations, as well as assisting with the abuse Native people face when incarcerated.
Another person claimed that their purpose in being there was to network and discover any shared interests the nearby communities could have.
All participants had a worry or a problem in their community that they wanted to improve, and they all developed stories about why they felt called to action to make a change.
A few shared their memories of growing up in an alcoholic household, which led to circumstances where they were left at other people's homes "or whoever would babysit us," as one person put it.
People made comments on sexual abuse that took place at babysitters' homes or via the foster care system.
One person mentioned empowering youth and giving them a bigger voice because they also have an impact on future generations.
Another told her story about domestic violence, the pain it caused her, and the dreadful path it led her down.
One WNV member talked about the loss of children, both living and unborn, and how many people experience this pain but don't get the support they need and instead turn to drugs or alcohol.
Finding our own way of 'being Indian,' added another. As a result of their parents' alcoholism, she had to teach herself the culture. "That is why it is so important to share what you know and learn as much as you can, and ask questions when you can," she said. There are people who didn't get the opportunity to participate in their culture. 
"Growing up in poverty," said another.
Drugs and their impact on the entire family, as well as the scarcity of resources for treatment programs.
What is particularly essential to highlight about these troubling concerns is that community members see them and they want to make a change. And they are the parent they wish they had; they protect their children, choose sobriety, and work to combat community problems. Essentially, they have taken action in their own life, and are already making a change. 
Even though every community, not just reservations, faces challenges such as homelessness, a fentanyl crisis, and other issues, people like WNV members are rising up and taking action to make a difference.