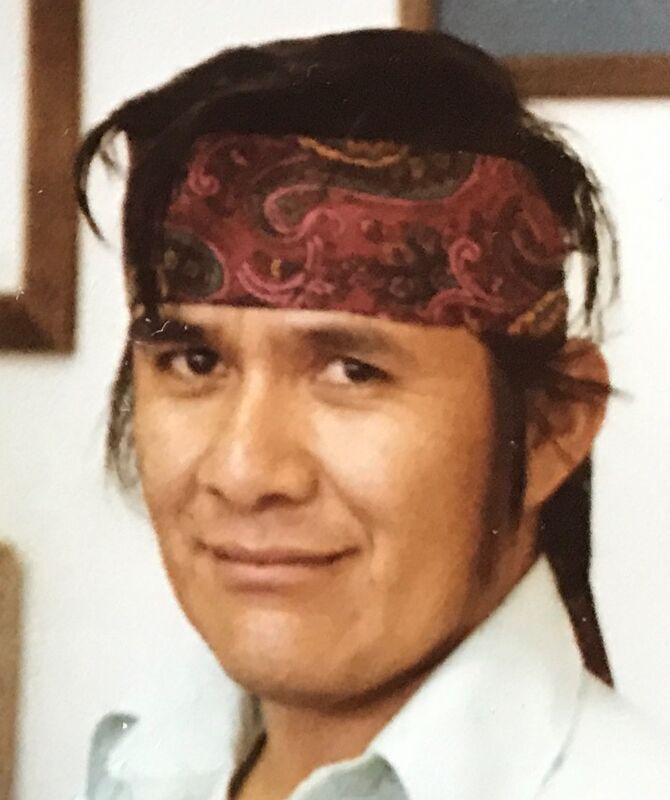 TORRÉON, NM — Tony M. Sandoval began his trek across the Rainbow Trail, July 20, 2021, with his youngest son Antoine at his bedside. Tony was born to Sam and Mary (Yazzie) Sandoval November 26, 1943 in Thoreau, New Mexico. Tony was a dedicated member of the Dine' Tribe; speaking Dine' fluently, expert in a large body of Dine' songs and chants, and a member of IAIA's Yei Bii Cheii singers and dance troupe in high school and Post Graduate program. During his years at IAIA he displayed a vast talent for art; and his instructor's, fellow students, and friends are all a collective of New Mexico's Who's Who of Native American artists.
Tony is a Native Veteran of the Armed Forces and did overseas deployment in Japan. His most favorite stories of that time were all the tricks and jokes Tony played on 'his' group of civilian Japanese worker pals. After his discharge he returned to Dinetah (Torreon/Cuba) and the Santa Fe area, where he re-joined his friends and relatives. 
Anyone who knows Tony knows his admiration for Charlie Russell, his love for wildlife, and his love for his Dine Ancestors and old folks. All of these and other spiritual icons played immense parts in his well known "Vision" paintings, worked in a version of grisaille technique that he made his own. Tony's first trip into Montana was his and his infant son's introduction into the "Big Sky". The Charlie Russell Museum in Great Falls, Montana, and the Center of the West in Cody Wyoming were highly favored places to see actual Russell paintings. It wasn't unusual for him to spend hours studying the work of his hero. 
From 1973 into the 2000's Tony's other favorite hangout was the National Bison Range in Montana. For a period of time he lived with his own family across the highway from the Buffalo. Quite often he would study the buffalo and elk through binoculars. Visits with his New Mexico family to see his parents and siblings, offered opportunities to see his own Dine' Elders and Medicine people.
While living on the Flathead Indian Reservation, Tony's artistic prowess was used in the creation of Salish Kootenai College's first logo; he created a Char-Koosta logo that was used for many years; storybooks for the Séliš-Ql̓ispéCulture Committee; and for one of his last projects, he painted book illustrations of the Bitterroot Salish's discovery of Lewis and Clark for the Confederated Salish and Kootenai Tribes. He even taught art at Two Eagle River School when it was located at the Old Agency in Dixon in the 1970s.
Tony was well known for his style of work and gained a great deal of acclaim for the depth and breadth of subject matter. He participated in numerous art shows and galleries nationwide and overseas. A favorite art show challenge he was quite fond of was the "Quick Draw", a timed event where several artists would vie for best and most finished portrayal. He often gathered a large and vocal group of by standers intently watching his painterly magic.
Tony leaves behind an extensive loving group of siblings, and his three children: Sam (Sarah), Melanie, and Antoine Sandoval. Siblings include Nellie (Ben) Maestas, Jack (Lottie) Sandoval, Paul (Sara), Ruth Montoya, Rose Sala, Ella Mae Sala; Sammy, Freddie, Anna, and Terry Sandoval, and sister Cecelia Jim. 
Tony's parents Sam and Mary, and sibling Lucy Montoya preceded his death.
Services will be held on July 30, 2021 at the Torreon Mission, NM at 10 a.m.
Funeral services were provided by Alameda Mortuary in Rio Rancho, NM.