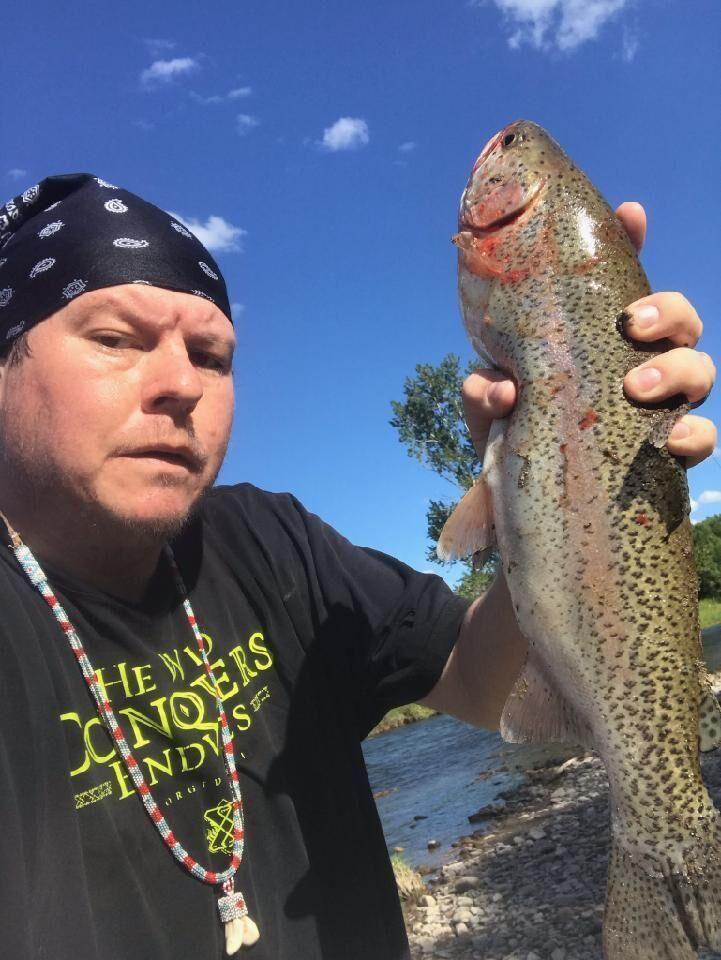 ARLEE — Sean "Bubba" "Sean-some Brown" "Sean-erz" Mesteth, a Building Inspector for CSKT Housing Authority and lifelong resident of Arlee died unexpectedly on July 22, 2020 at the early age of 31, while at his childhood home.
Sean was a devoted father and husband and was an avid hunter and fisherman. He enjoyed the mountains, whether for recreation or just being. He was known to frequent the lakes and streams of the Jocko Valley seeking out the legendary trout, the "Bows [Rainbow Trout]" were his favorite. Sean memorized all of the elk and deer trails on Lamoose, Saddle, Valley Creek, and the Jocko. He believed in and practiced his cultural ways and was known throughout the Flathead Reservation for his dry meat talents. Sean was also a "baller." He played basketball with a fierce passion and was a physical force to be reckoned with. He stood with pride and was tough, and rarely challenged. Sean's jokes, quick remarks, and mischievous smile will be missed.
Sean is survived by his Wife, Miranda Mesteth; his children, Leah Mesteth, Trace Mesteth, and "Baby" Sean Mesteth; his Mother and Step-Father, Allen and Kelly Pierre; his brother William (Ashley) Mesteth and family; Grandfather, Jim (Doloris) Malatare; Grandmother, Kay Streets; Uncle Clayton (Terri) Malatare and family; Uncle William Mesteth and family; Uncle Carl (Mystery) Couture and family; Uncle Ron Couture and family; Uncle Bear (Irma) Malatare and family; and Uncle Leonard (Clovia) Malatare and family; Auntie Sandy(Lenny) Schacher; Auntie Bonnie Chapman and family; Auntie Marcy Mesteth and family; Auntie Penelope Jolly and family; Auntie Linda Malatare and family; Auntie Lisa Malatare and family; Auntie Phyllis Malatare and family; Auntie Elsie and family; Aunite Ardelia "Ups" Silveira and family; Auntie Ardith Allen and Gina Couture and family, Auntie Stella Romero and family; Nephews; William Mesteth JR; Manny Mesteth; Jimmy Mesteth; Niece, Soli Mesteth; and numerous cousins, friends, and in-laws that he very close too.
Sean is proceeded in death by his Father, Trace Mesteth; Grandfather, William "Bill" Mesteth; Grandmother, Sherry (Couture) Malatare; Auntie, Shelly Malatare; Uncle William "Bill" Streets; and Auntie Deana Streets. Sean was born in Sedro-Wooley, Washington on November 18, 1988 to Trace Mesteth and Kelly Malatare. Sean graduated from Arlee High School in 2007 and earned a certificate in building trades from the Salish Kootenai College in Pablo, Montana. Sean married his high school sweetheart, Miranda Fox on August 17, 2013. On October 13, 2006; January 1st, 2009; and December 18,2016 respectively, Sean and Miranda happily welcomed three beautiful children; Leah, Trace, and "Baby" Sean Mesteth to their family.
A funeral service was set for Monday, July 27, 2020 with a rosary proceeding on Sunday, July 26, 2020. Both will be held at the Arlee Community Center in Arlee.