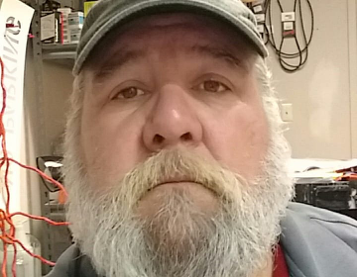 On Friday, May 8, 2020, the Lord reached out his hand and Rodney Allen Morigeau accepted. Thus, began our brother's, son's, uncle's, daddy's, cousin's, and best friend's journey home to be with the Lord and those who have went before him, to prepare his special place in Heaven. Rod was very proud to be an enrolled member of the Confederated Salish and Kootenai Tribes; he was equally as proud of his Irish ancestry!
Rod began his life on February 8, 1968, in Fort Carson, CO, born the 5th child to Jacque and Kathy (Reynolds/Smith) Morigeau. He was a strong hearted person from the get-go, as he was born with asthma and lungs that were not very good; you would never have guessed that as he could out do many people in various physical endeavors. We believe it was because Rod had somewhat bad health that he strived to be the best at all he could! He always had professional body builder Jack LaLanne's book and man Rod was stout and all muscle all through high school!
After his father Jacque left the military Rods life with his family brought him to various towns, such as Cheyenne, WY, Spokane, WA and then to Dixon Agency, MT where a good part of his life was spent, and lifelong friends made. If you ask anyone who lived in the Agency for a story about Lil' Rodney, you would certainly be blessed with a whopper! Whether it be the time our cousin Vicki remembered Rod stoking the fireplace with marijuana (that was confiscated by Jacque whom was a Tribal Game Warden at the time) and made the whole Agency smell! Or the many times Rod would agree to be at the end of the line of kids who would touch an electric fence! Rod went for it every time, either because he was fearless or so trusting. We will never know because I don't think anyone every got up the nerve to ask!
In 1979 the family moved to Ronan, MT, where once again with his athletic ability he thrived in baseball. Playing baseball with the McCrea boys, Jay Brothers and many others was a time in life Rod truly loved! They had an amazingly good team that brought them to tournaments through the North West and into Canada. Rod loved that time in his life and still spoke of it last summer when he blessed us with a rare trip home, an entire week we were able to spend with him. Had we known it was the last time we would ever see him perhaps we would have stayed up at the bonfire a little later each night.
When Rod was 16 he fell deeply in love with Lisa (Vallee) Charlo and they were gifted a beautiful baby girl in 1985 RaeLynn (Morigeau) Charlo ♥ Rod and Lisa were quite young and after a few months decided it would be best if Rae was raised by her Sela' Neil and YaYa' Clara Charlo. I am sure Raelynn was at Heaven's gate to welcome her Daddy Rod home.
At the age of 18 the south started calling Rod, at that time he moved to Little Rock, AR, to begin a new life. While there he met, and married, Loretta (Bourdon) Morigeau, Rod became a Daddy to Loretta's 3 rambunctious young southern boys. They moved home to MT for a couple of years and Rod went to work at the Flathead Post and Pole Yard. After the business closed, they decided to move back to Arkansas, where things didn't quite work for the marriage and Rod moved home to MT as a single man. As Rod was quite debonair, and handsome, he left a trail of broken hearts! He enjoyed Missoula and the many motorcycle trips he took with his mom and friends, a couple of trips they took to the Sturgis Bike Rally in SD are still talked about today! I think it was in Sturgis where the 'youngsters' of the group, Chazz', Steven and Tony, grew up pretty quick!! Rod always had a motorcycle while in MT and a pool stick that he knew how to use with the best of them!
Rods traveling bones could not stay still for long, so once again he headed out. He lived in Chehalis, WA, where he worked as a manager/handyman for a large corporation in an apartment complex. Rod truly excelled at all he did, and the company was so impressed they offered him a larger property, more responsibility and more money in Houston, TX, and Rod went for it! When he got to Houston, he found a job and a new love with Margarita (Sanchez) Morigeau, to this union Rod was blessed with a ten-year-old daughter Liliana (Sanchez) Morigeau and a year later his son Carlos Morigeau was born. Rod loved all of his children with his entire heart and sole and always spoke of them. He and Rae were just beginning a relationship through telephone calls, letters and a couple of in person visits before she was called home to Heaven in 2016. Rods heart was severely broken when this occurred, however he kept up in life and showered more love onto his remaining children.
Rod had just moved back to Little Rock this year, as his marriage did not work out, he had the amazing fortune of living with our Aunty Tonie and Uncle William, whom I believe we would all say is like a mother to us ♥ About a month ago Rod contracted a skin infection that was more serious than anyone realized, the infection took a toll on him and he passed away due to this. He will be forever missed and loved by all whom were fortunate to have crossed paths with him.
Rod was greeted at Heaven's Gate by his Father Jacque, Mother Kathy, Stepfather Kenny Smith, his precious daughter Raelynn, brother Steven and cousins Troy and Roy Morigeau and Greg Sorrell who were more like brothers than cousins.
He leaves behind so many whom will miss his many stories, his smooth southern accent. Stepmother Jeanie Morigeau, son Carlos Morigeau, daughter Lili (Sanchez) Morigeau, brothers Dane (Malissa) Morigeau, Chuck (Serena) Morigeau, Christopher (Ionela) Morigeau and sisters Michelle Morigeau, Lisa (Lenny) Hales. Nieces and nephews Jacinda (Michael), Samantha, Nicholas (Turquoise), Elizabeth (Trevor), Tristan Vanderburg; Steven (Katreena) Morigeau, Ginger Morigeau, ShaVonne Whitworth; Stephanie Morigeau, Arty Matt, Anthony (Anna) Morigeau, Kody (Tamberly) Morigeau; Lauryn Hales, Bryant Hales, Evelyn Morigeau, Gabriel Gagnon-Rusnac; numerous Great-nieces, Great-nephews and extended families within the Morigeau, Charlo, Sorrell and Reynolds families. 
Till we meet again Baby Brother we know you will be watching out over us all. You will be missed.
Services will be announced when we can join to celebrate Rod.