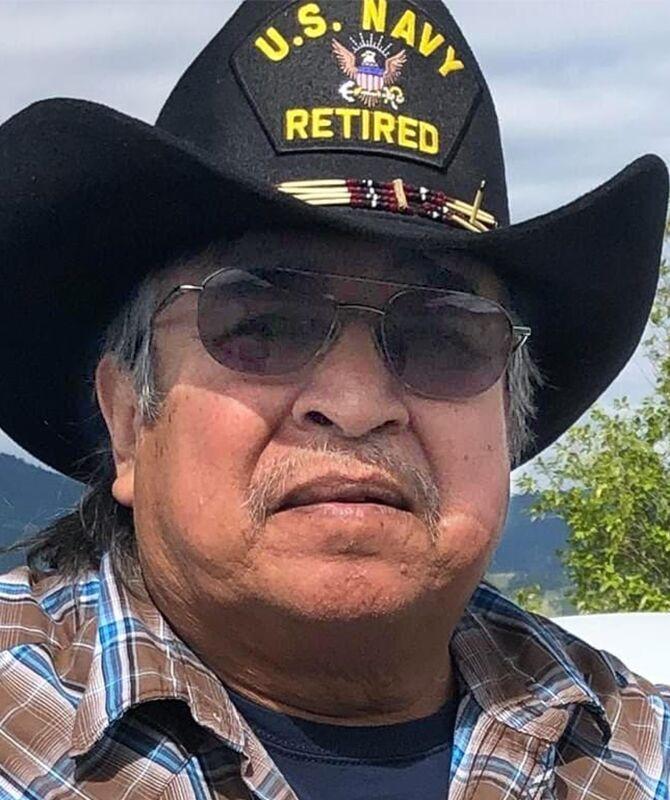 MISSOULA — Robert Eugene Fyant was born in St. Ignatius, Montana on July 6, 1952 to Adeline and Louis Fyant.  Bobby passed away on Monday, September 20, 2021 surrounded by his family in Missoula.
Bobby was a proud member of the Confederated Salish & Kootenai Tribes, and a retired Navy veteran.
Bobby began is life as the youngest of 18 siblings, being raised at the family's homestead in Valley Creek, MT.  He attended schools at Ursulines, and eventually going on to Arlee Schools and graduating from Arlee High School.  He then continued his education at Western Montana college in Dillon, MT for one semester.  Bobby then began his career in the Navy in 1975 until his retirement in 1996.  Upon his retirement he returned home to the Jocko Valley.  He began his culinary career at Two Eagle River School, and then Kicking Horse Job Corp.  He mentored and shaped many students' lives during his time at these institutions.  
Bobby could always be counted on for cruising the back roads, "taking a loop".  He always wanted to stop by the homestead in Valley Creek, and would stop to remember, pay his respects, and think of family.  He was proud to carry on his family's brand, -YK.  Bobby ranched for years, until this past year he retired due to health reasons. 
Bobby could be found whipping up some food, usually his legendary menudo, and gathering his loved ones for any occasion, whether it be making dry meat, going out to breakfast, having a BBQ, or taking a cruise to go check fence and cattle. 
Bobby loved all his grandchildren and was often found cheering them on and supporting them in their sporting events and school activities.
Bobby is proceeded in death by his parents, Adeline and Louis Fyant, former wife Yvonne Lumpry Fyant, infant daughter Sheila Marie Fyant, siblings Mary Pierre, Cecilia "PeeWee", Eddie, Rosie, Everett, Charles, Marie, Jerome, Wayne, Virgie, Frank "Butch", Ben, Art, Jimmy, and Joseph.
He is survived by his children and grandchildren, Robert "Buz" Fyant (Roxanne) and his children Shandynn, Danica, Josephine, and Elias; Debbie Roberts and her children Cheyenne Roberts; Shane Robertson; Bobbie "T-tot" Fyant and son Jordan Corona; William Fyant; Michael Fyant (Abby) and son Cameron; Crystal Meija (Christina) and children Layanna and Ruben; Christina Fyant (Harris) and children Thunder, Mayson and Shamous; Mary Rose Morigeau-Brodie (Anthony) and children Kenny, ShyAnne, and Aiyona; Rhonda Morigeau and children Tayen, Dainien and Ravin.
Bobby is also survived by his partner Charlotte Wheeler, siblings Frances Vanderburg and Gordon (Gale) Fyant, and numerous nieces, nephews, and cousins. 
Wake services will begin Thursday, September 23, 2021 at the Arlee Community Fitness Center, with Rosary being cited at 8pm.  Funeral services will be Friday, September 24, 2021 at 11 am. Burial with military honors will be held at the Jocko Cemetery.