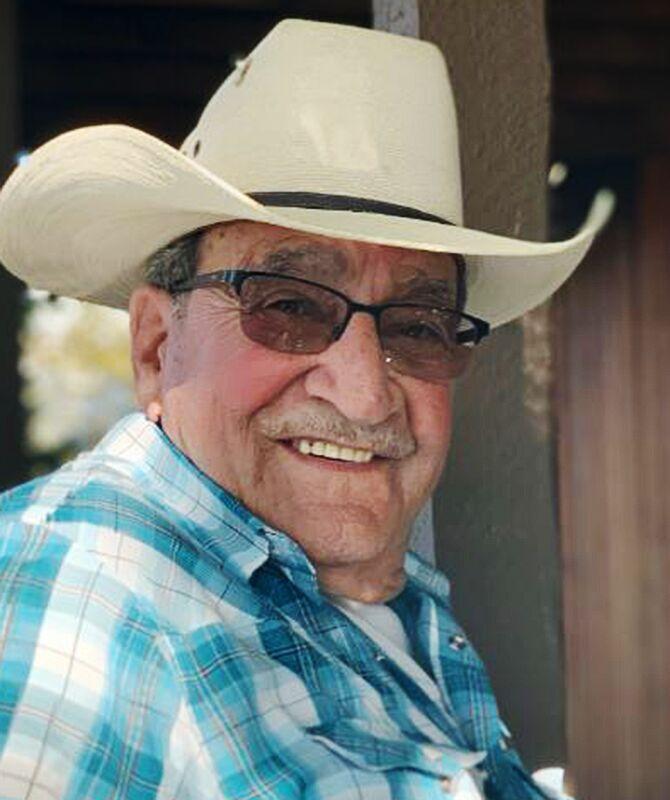 ARLEE — On September 27, 2020, the world lost an honest man, a man of integrity and a true cowboy when Patrick Espinoza moved on to his next rodeo. 
Pat was born May 28, 1938, to Pablo and Annie Espinoza of Arlee, Montana. He was raised with five siblings (Sarge, Carl, Anita, Dib, and Lolita). The lessons he learned from his father as a young man living in a rural community towards the end of the great depression shaped his work ethic and values his whole life. 
In June of 1958, Pat married Sharron Stevens. This marriage brought him three wonderful children (Debi, Tori, and Chad). On April 11, 1979, Pat met Carmen Solheim at the Nirada Rodeo. Carmen was the true love of his life, his queen. He loved telling stories about how he had to grovel back into her good graces and how she took care of his every need. Cancer took her from him twelve years ago; he spent those years missing her and explaining how any possible relationship could never work because she was irreplaceable. This marriage brought him his youngest child Nichole Buck. Most of Pat's working life was spent operating heavy machinery of all types. From building the Libby and Oroville dams, the Seatac Airport in Seattle, or working on road construction throughout the Northwest, Pat had been there and done that. He would happily tell you facts about the projects the designing engineers probably didn't know. He was a walking and talking encyclopedia of Caterpillar machinery. 
His uncanny ability to remember facts and numbers was not limited to machinery. He could tell you the phone number of his boss from 1964, the number of steps at the Kerr Dam, the last date and time he ate a Snickers, and the birthday of everyone he has ever encountered. Birthdays were very important to Pat. You could count on him to call you as soon as he thought you were out of bed to sing to you on your birthday. Hearing him sing has been the highlight to a lot of birthdays over the years. 
Some of the great joys of his life were his days as a pickup man at rodeos across Montana, working with Charlie Hanson, riding his mule with Bob and Vicki Doty, attending any athletic event his Moon Pie was in, and giving people a hard time especially his little sister Lolita. If he was giving you a hard time it was because he loved you and that's probably why she got the most of it. Pat loved telling stories about his adventures in the mountains, his multitude of work experiences, and his road trips with Larry Clinkenbeard. 
This celebration of Pat's life would not be complete without mentioning his big heart and generous spirit. To Pat, money was to be spent on your friends, family, and the people you loved. He would say, "Money isn't worth anything unless you spend it." Anyone that has ever had dinner with Pat or been to the watering hole knows that when he said he was buying, there was no room for negotiations. For his granddaughter and her friends, he was a walking talking ATM that would hug you and give a little dance as he opened up his wallet. 
Patrick Espinoza was a true cowboy in every essence of the term. There has never been a man that acted with more integrity or honesty. If Pat said he was going to do something or be somewhere, come hell or high water, he would be there (usually 45 min early). His wife, daughters, or any other women in his life never opened a door, pumped their own gas, took the garbage out, heard him swear, or tell dirty jokes. His morals were non-negotiable and there were no exceptions. He set the bar high for any man around him. 
Patrick Espinoza was a fixture of the Jocko Valley. The Valley will never be the same without him. Friends and acquaintances from California to Kentucky and everywhere in between, especially the Flathead Reservation, are going to have an emptiness left in them that his passing has created. An emptiness that can only be filled with stories and memories of a life well lived. Pat would not want you to make any donations in his name to anything. All he would ask is for you to "go out on the town" have a drink and celebrate. Honor his life by holding the door, pumping the gas, being honest, being reliable, acting with integrity, standing by your morals, and living with kindness and generosity in your heart. 
Services are planned for this Saturday at 11 am at the Arlee Football Field. The family asks that you remember to bring your mask and if you would like you can bring chair for the service.