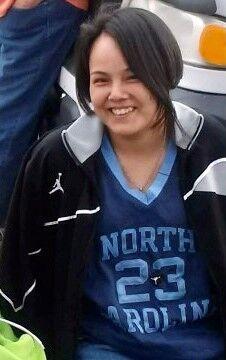 ELMO — Miranda Rose Kenmille was born in Polson, October 16, 1983, to Allan Kenmille and Alberta Caye. She was the 2nd oldest of 12 siblings—four on her mom's side and eight on her father's side. Being the oldest also meant she had many nieces and nephews who loved and treasured her. Rosie is the best sister, aunt, cousin, niece, and friend you could ever ask for.
Rosie lived with her mom and brothers Allie and Laurence, and sister Felicity at their Papa Albert and Grandma Alma's house, in Elmo, Montana. During some summers and various times of the year, she would stay with her Dad or Auntie Zaneta and Grandma Marie in Belcourt, North Dakota, where she loved spending time with her other siblings and cousins. Her cousin Kayla always said summers when Rosie was the most magical.
As a child, Rosie was silly, kind, patient, attentive, and a very hands-on older sister. She often spent the summer attending pow wows where she danced Fancy Shawl and a Jingle, which by far was her favorite. She experienced other fond memories with her family, like when their Papa Albert would take them to Buckhorn to go huckleberry picking.
In 2001, Felicity, Rosie, and their best friend Colleen were a part of a student exchange program where they went to New York City! A highlight of that trip was attending a Broadway show. While in high school, Rosie participated in basketball, volleyball, and track. In 2003, Rosie graduated from Two Eagle River School.
Always young at heart, Scooby doo and Batman were among her favorite characters, but the one that stole her heart would be Sam Winchester from the show Supernatural. Rosie, a person of many talents and hobbies, some of them being a movie guru with exquisite taste in music, beading, and a master at baking. Her banana bread was the best.
Spending time with family and friends was a must for Rosie.  Her kind, silly, caring and attentive nature with a laugh that would spark joy and a smile that would light up the room made her a special person in the hearts of many. Especially with each of her nieces and nephews with whom she had a special relationship. 
Rosie is preceded in death by her brother Laurence Kenmille, her Grandma Marie Kenmille, her Aunt Zaneta Kenmille, her Great-Grandma Oshanee, her Papa Albert Caye, and Grandma Alma Caye. 
Rosie is survived by her Mother Alberta Caye and Father Allan Kenmille, brothers Allie Kenmille, Cam Kenmille, Hunter Kenmille, sisters Felicity Caye, Raylynn Kenmille, and Alex Kenmille. Her grandparents Lawrence Kenmille (Lovette), and many nieces and nephews.
A graveside service will be held at 10 AM on Saturday, May 8, 2021, at the Dayton Cemetery. Messages of condolences may be shared with the family online at www.lakefuneralhomeandcremation.com. Arrangements are under the care of The Lake Funeral Home and Crematory.