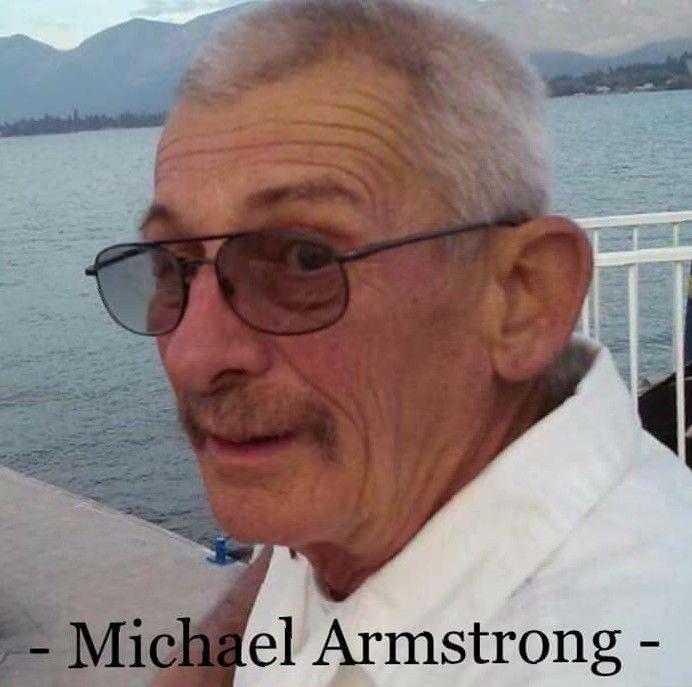 Michael Ranold Armstrong was born in St Ignatius on December 5, 1951 to Ranold McCoy Armstrong and Dede Hulett Armstrong. He lived in the Ronan area until 1962 and then Dad went to work on I-90 (road building) and they relocated to Butte and then to Clinton. He finished grade school in Clinton and graduated from Sentinel High School in Missoula.
After high school he joined the United States Navy and served on board the aircraft carrier USS Ranger as an aircraft mechanic. After he discharged, he stayed on in Whidbey Island WA for some time and worked on renovating boats.
He was a very good carpenter and a talented artist. In 1976 his father died and he moved back to Clinton to help his mother. He married Bev Edey in 1978 and they had four children, Gale, Deniya, Keehn, and Brody. They lived in Grande Prairie, Alberta, Canada. He and Bev divorced, and he moved back to Polson where he met the love of his life, Mary Lou Eder Flynn and gained another son, Billy.
Mike was an outdoorsman through and through. He loved to fish all year round, hunt morel mushrooms every Spring, gardening, canoeing, camping. He also had a deep love for his fellow human beings and of course all of his large and extended family.
Mike Armstrong was a good man!
He died peacefully on January 28, 2020 at home. It was a long hard battle he fought with lung cancer and the aftermath of chemotherapy.
He was preceded in death by his parents, Ranold in 1976 and Dede in 1987; his sister Dawna Jean Armstrong in 1980; and his brother Byron John Armstrong in 1983.
He is survived by his wife Mary Flynn and children, Gale ( Mary ), Deniya (Jay), Keehn (Nicole), Brody, Billy ( Malissa) and eight grandchildren. He is also survived by his sisters, Linda (Gary) and Connie, and his brother Dallas. And many nieces and nephews and cousins. He is survived by his Aunt Peaches (Dona Martin) and Uncle Tom Hulett of Condon.
We love you Mike. Rest In Peace
Memorial pot-luck will be at the VFW in Polson on Saturday February 1 at 2 p.m.