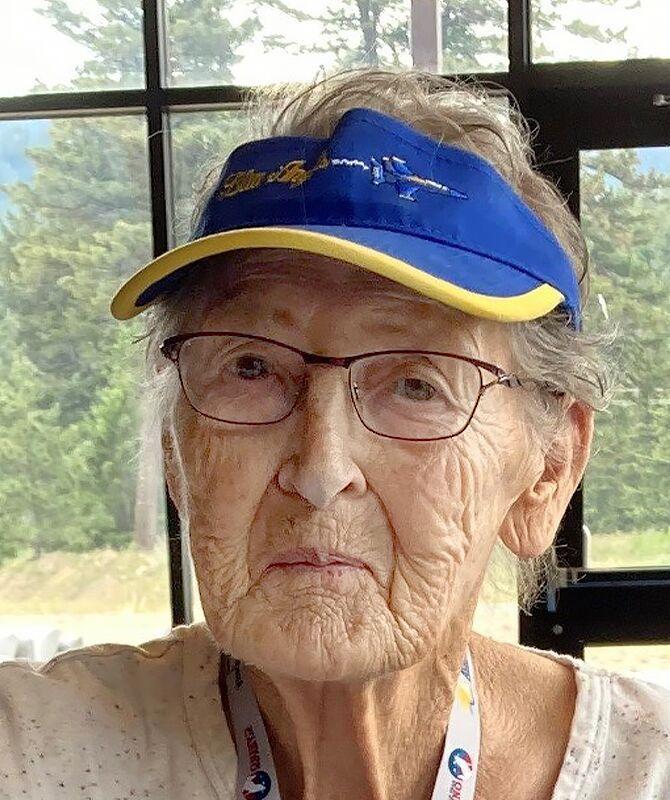 Marian Campbell Hohman, 92, left our world and journeys to our Creator's happy hunting grounds.
Born to Michael and Stella Campbell on June 3, 1930 at the family home in Savoy, she joined brothers Tommy, Bud, Malcolm, and sisters Sylvia and Ruby who were later joined by Vida Ione (Toto), Donald, and Levi.
Marian was practiced in the art of storytelling and captured our imagination of what life was like for her family growing up in Assiniboine, Gros Ventre, and Sioux country during the Great Depression. 
Marian's life was profoundly impacted by the early loss of both parents and must have felt sometimes like a ship without a rudder, drifting off course without the benefit of others around to steer her back. Her inner strength and fortitude to face life's challenges was found in 2 Thessalonians 3:10 "For even when we were with you, we gave you this rule: 'The one who is unwilling to work shall not eat."
Life during the Great Depression was hard and work was her north star. These times instilled in her a compassion for helping others and her home became a safe haven for drifters searching for a north star.
Marian graduated from Flandreau Indian Boarding School where lifelong friendships were forged. She started working at a young age washing dishes, waitressing, bartending, factory worker, rifle manufacturing where the supervisor held a contest for who could dismantle and reassemble a rifle the fastest – she won, nurse aid, semitruck driver (oops, was that a gas pump), medical records supervisor. Dr. Eden Well's farewell included "...Marian, you are the heart and soul of this clinic."
Upon retirement she moved to Polson and Pablo to be close to family and worked part-time for Lake County Department of Health. Marian was a "Jill of all Trades" and unlike "Jack," she was a master and excelled as a seamstress, cook, gardener, horsewoman, knitting, crocheting, – always busy, never one to sit and watch television, until she fell in love with the Seattle Mariners and one summer rode in a rickshaw pulled by Iron Man through the streets of Seattle to a Mariners game. One of her Lake County coworkers gifted her a signed Seattle Mariners baseball.
She loved to travel and was ready at a moment's notice to hit the road.
She began married life in Ogden, Utah and maintained lifelong relationships with the Hohman family. In her mid-twenties she participated in the Indian Relocation Program in Chicago, Illinois. Eventually, all roads led back to family and friends in Montana.
Her favorite past times were fishing, camping, branding time, playing cribbage with grandson Joe, and going to the casino.
She is survived by daughters Bonnie, Jude, Maraiah, Toni Rae, and adopted daughter Mayme Tattoo Wise, Tabery McConnell; sons Brad, Andrew; grandsons Danny, Joseph, Hunter, Ben; niece most endearing Billie Jean [Cookie] Desjarlais & family, granddaughters RaeAnna, Jen, Caren, Valerie, Terri, Tiffany, Dawnelle; great grandchildren most endearing Marita, Starlena, numerous nieces, nephews, cousins, great grandchildren, and many who knew her as mom, auntie, or gramma.
Marian was the last of the Campbells from Savoy to depart this world. Preceding her were her parents, stepfather "Tuffy Enemy Boy," brothers, sisters, sons Daniel, Dane, adopted sister Naomi Adams, and special friends Mary Hayes, Jonnie Jackson, Arleta Feather Earring, Suzy Peterson, and Pearl Boysun.
We are grateful to mom's Pablo neighbors and friends who offered food and deer as is their custom when a tribal member passes. We are grateful to Dr. Rausch, Melissa Grandchamp, Partner In Home Care, and for the dedication, love, endurance, and fortitude of Jude, Joe, RaeAnna, Maraiah, Tabery, Jeff, Scot, and Bon when not on travel assignments, who saw mom through to the end where she was surrounded by loved ones in her own home.