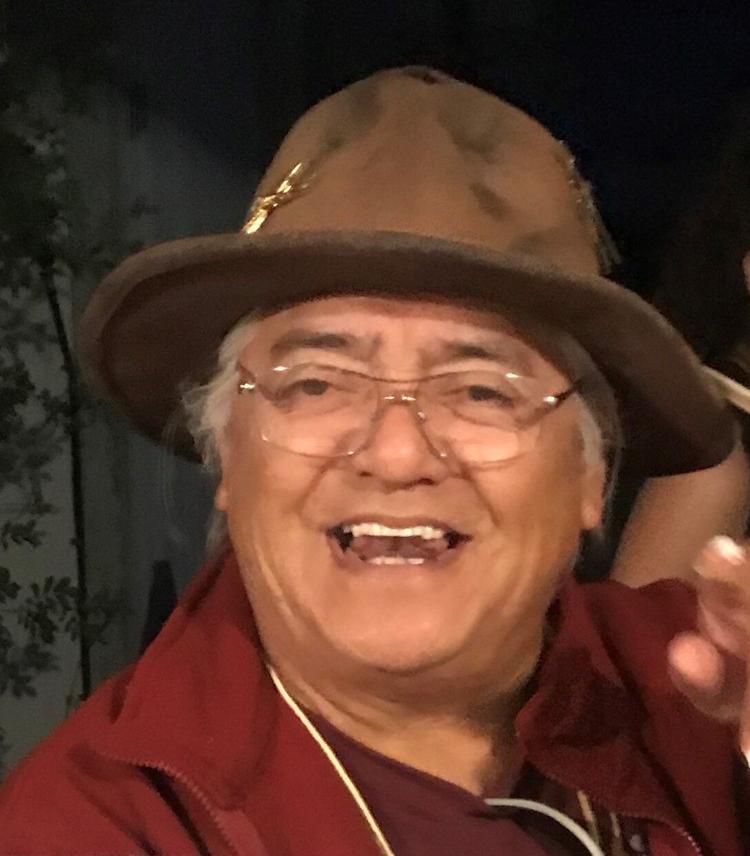 POLSON – On November 20, 2020 "Willie" Llewellyn Caye from Polson crossed over to his ancestors. He was born on July 16, 1947 in Elmo. One of midwife Madeline Couture's home deliveries. Madeline took the privilege of giving him his unique name. He was blessed with his parents Lucy (Tenas) and Louis Caye, Sr. and of being a full blood Ksanka.
Growing up he attended Elmo school, later attending Flandreau Indian Boarding School with his sister Loraine, later Monica and Wanda joined him. He enjoyed his wrestling days at school, and he was a state champion. He went to Treasure Island Cooking School in California where he learned to be a chef. He worked many years in his cooking career, working for KHJC Ronan and Fort Simcoe in White Swan, WA. He retired from KHJC and went on to earn his CDL from SKC enabling him to drive and enjoy the United States. He always said he never seen any place more beautiful than Elmo. He would spend many summers traveling the northwest Pow Wow's with his Willie Burger Stand. He would put youth to work cleaning around his stand, paying monetary, burgers and fries & pop saying, "you got to work and earn the good things, nothing is free.
He was a great storyteller. He shared stories of the old timers he learned from passing on his teachings to the younger generations. He was always singing or whistling and when you asked, he would tell you the story of who and where he learned it. He told many stories of running around up in the hills, ice so thick on the lake you could drive a car across it. He told stories of traveling to Buckhorn, West Fisher, Pleasant Valley, gathering of berries, playing stickgame  into the morning with his brothers, fishing in the creeks. He learned to hunt with his dad, brothers and uncles in many aboriginal areas. He worked hard all of his life bucking bales, Christmas trees, cutting wood. He worked for his late mother in law Nettie Moses, as her tractor driver / ranch hand for many years. He was one of the earliest days of Chief Cliff Drum with Alec Lefthand, Doug Caye, Clifford Burke and Antoine "Tony" Mathias. He found the time in his last years to learn and expand the Ksanka language.
He met his first wife Stephanie Moses at Parker Dam Pow Wow, she followed him to California. They were married in Wapato, Washington. They made their home in California, Washington and Montana. Their children, Louis & Melinda were adapted to moving wherever his job would take him and they worked hard in the Willie Burger Stand. Willie always said they worked, and Stephanie played stickgame. They enjoyed and fed many family and friends and added new friends throughout Indian country.
He was a cherished elder, teacher, traditional culturally active to his family and his community. He will be dearly missed each and every day. He always said, "learn these songs, Chop Chop." Lastly always remember each and everyone of you were very important to him. You made him so proud with every little accomplishment. Remember his words, teaching, and that he loved you all.
     He married his second wife Arlene Bigcrane in 1996 in Coeur d'Alene, ID, adding John Bigcrane, Alicia Bigcrane, Susette (Eli), Marcia (Isaac) & Molly Leonard Billedeaux to his family.
He was preceded in death by his parents Louie and Lucy Caye, brothers Earl Auld, Alan Caye, sisters Loraine Caye, Evelyn Joseph and several aunts, uncles and cousins.
He is survived by his daughter Melinda Caye, his son Louis Ted Caye of Polson; his wife Arlene Caye and his daughters Llewella "LaLa", Ellen "Ellie" Caye of Ronan, brothers, James Auld (Diane), Douglas Caye, Louis, Jr. (Gigi) Caye, Arthur Louie Caye (Kimberly) of Elmo, sisters, Monica Caye (James) of Big Arm, Wanda Caye (Melvin), Debra Caye, Joni Miller, Rosemary Caye, Marilyn Caye of Elmo, eighteen grandchildren, five great – grandchildren, along with his Bigcrane in-laws.
A wake began on Sunday, November 22, 2020 at Elmo with a Rosary on Monday evening. Funeral services were held on Tuesday, November 24, 2020 at with burial following services at Dayton Cemetery. Memories and condolences may be sent to the family at www.lakefuneralhomeandcremation.com.
Arrangements are under the care of The Lake Funeral Home and Crematory.