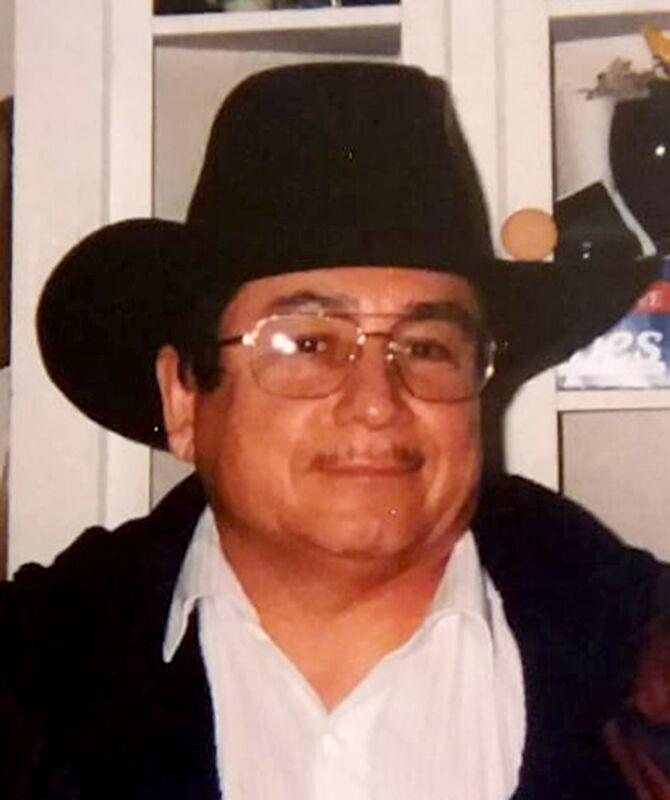 Well known tribal cultural preservationist and environmental activist Joe Azure passes on
Joe William Azure, is the founder of Fort Belknap based Red Thunder, Inc., that promotes the preservation of tribal language, cultures and traditions, and sacred sites that have been severely damaged by Western incursions to tribal lands and its people. Its focus was on the tribal people at Fort Belknap, and the Zorman-Landusky open-pit leach gold mine in the Little Rocky Mountains that were once part of the reservation. The leach mine runoff polluted the once pristine Mission Creek that runs through Hays.
"Our long-range goal is to preserve Native Indian Sacred Traditional and Cultural sites and values from destruction and systematic eradication, such as has been seen in the past 500 years," Azure said in his statement at the 1990 founding of Red Thunder, Inc. "We love our children and grandchildren, we cannot stand idle while their futures are being jeopardized by foreign influences, such as the devastation taking place in the sacred LittIe Rocky Mountains by big mining corporations, under the 1872 Mining Law, which is nothing more than a loop-hole for the giveaway of billions of dollars' worth of public resources. The final aftermath is to leave our children with the clean-up bill for billions of gallons of cyanide solutions and tons of mine waste, long after the mining corporations are gone with the profits. This is not to mention the health hazards created by such massive disturbance of the natural environment we all depend on for clean food and water."
Azure was also instrumental in founding of the Red Thunder History Oral Project in 2013 along with his son, Dr. Joseph Gone, an academic psychologist and Native American Studies professor at the University of Michigan in Ann Arbor. That collaboration eventually resulted in the telling of the history of Red Thunder and the group's successful battle to end cyanide heap leach mining in an effort to protect sacred places in the Little Rocky Mountains for the purposes of student and public education. 
Azure began his journey to the Spirit World Oct. 2
Joe was born on January 30, 1948 at Fort Belknap Agency to William "Billy Rose" Azure and Inez (Brisbo) Bagley. 
He was raised in Harlem, where he attended school. He lived all over the Ft. Belknap reservation but felt most at home with his grandmother Annie (White Cow) Brisbo. 
Joe attended Flandreau Indian Boarding School, where he had met many walks of life that later became his life-long friends, after high school he went on to become a mechanic and would move to Dallas, TX where he would make a life for himself and his family. 
Joe eventually moved back home to Montana to be with his grandmother to help take care of her and became a seasonal firefighter for a source of income. 
He devoted 25 years of his life to fighting fires and teaching new recruits to put out the fires safely. Joe looked forward to firefighting, every season but had to stop due to health concerns. 
Joe decided to go back to school and major in elementary education, he felt he had learned many cultural teachings throughout his life, that he had to share with the youth. 
Joe had many accomplishments during his time here, he was a natural leader, and born advocator. He felt most passionate about the rights of his people, you would often hear him speak on injustices done onto Native Americans. 
He stood alongside Russell Means, John Trudell to fight for Indigenous people's rights in the American Indian Movement, back then Joe was a young AIM activist who took on the many teachings from spiritual leaders, elders and continued to learn more about his culture and the traditional ways of our people. 
Joe devoted his life to learning and teaching others about our traditions, so that it would not become lost throughout the generations to come. 
Joe was also a founder, former president of Red Thunder INC., a cultural organization that played a big role in stopping the mining companies from mining in the Little Rockies.
Joe led a life of advocacy for his people, he had so much knowledge on our history and cultural teachings. 
For anyone that knew Joe personally, knew that he was full of incredible stories that even throughout the years he could account with great detail, he was a man full of knowledge, highly intelligent, and had tremendous wisdom. 
Anyone could go to him for advice, without judgment and he had nothing but kind words to say. Joe had a big heart, for he had loved and cherished Mother Earth, his family and loved ones. 
Joe was proceeded in death by his mother Inez Bagley, father William "Billy Rose" Azure, grandmother Annie "White Cow" Brisbo, grandfather William Brisbo Sr., Auntie Vernie Main, uncle Jimmy Main, brother Jeffrey "Buzzy" Lavonne Azure; his close adopted family: David W. "Snip" Healy, Dorothy Gopher; sisters: Lulu (Brisbo) Sullivan, Gaileen Dolly "Teeny" (Brisbo) No Runner, Daisy (Brisbo) Gilliam, Brenda Matte, Rose "Shuggie" Main; nephew Michael "Mike" Main; sons: Maxbiya Yat Gan, David James Azure, Derrick Azure, among other family members and loved ones who had passed on.  Joe is survived by his beloved children, grandchildren and great-grandchildren among many other family members and loved ones.