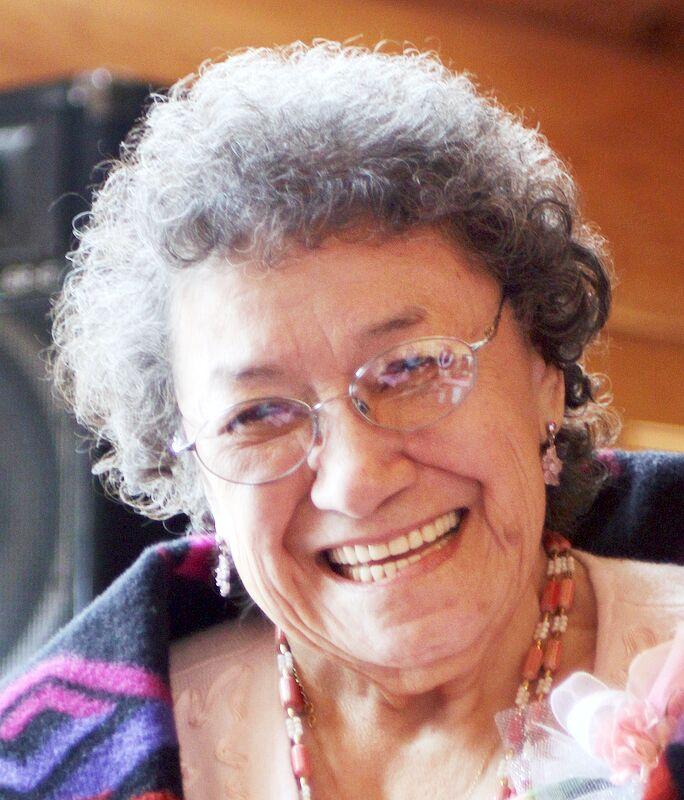 Former Missoula and Polson resident 99-year-old Gladys Marie McDonald Disney — Glady —passed away Sunday, Oct. 3, at the Hot Springs Health and Rehab Center. 
Gladys was born May 11, 1922. She was one of 13 children born to Lydia (Ludington) and John McDonald, and raised on the Flathead Reservation.
At her passing on to the Spirit World, the great-great granddaughter of Scotsman Angus McDonald and his Nez Perce wife Catherine, was the eldest living member of the Confederated Salish and Kootenai Tribes. 
Glady had to give up independent living five years ago due to health issues and lived in an assisted living center in Missoula for two years, then a Ronan supportive living center for two years. For the last year of her life, she lived in the Hot Springs Health and Rehab Center.
The family wishes to express its gratitude for the Confederated Salish and Kootenai Tribes' Elderly Services Program and Tribal Health Department whose services and support enabled Gladys — a fiercely independent woman — to live independently as long as she was able. 
Her young life was one of monetary impoverishment but blessed with the riches of the large extended multi-generational caring and concerned McDonald and Swaney families, whose doors and hearts were always open. 
She attended school in Dixon until she was 14 years old, then attended Flandreau Indian Boarding School in South Dakota. She valued the education she got there that included a heavy emphasis on trade crafts, and the value of hard work. Her sister Alma also attended Flandreau with Gladys before getting homesick and returning home.
Gladys stayed until graduation then went to Minneapolis to work and eventually moved to Seattle to work in the shipyards during World War II, along with sister Alma. 
She often talked about going back for one of the all-class reunions, and finally talked daughter Kim into taking her back for the 2000 reunion. However, her hopes of reuniting with former classmates were dashed when none were in attendance. Still, she got to check it off her Bucket List, and was uplifted by seeing her and Alma's class photos still on display. That brought back joyful and melancholic memories of days long gone.
While working in the Seattle shipyards — along with sister Alma — she met her first husband Larry Lynde, Sr., a career Navy non-commissioned officer and lived the typical Navy life, moving many times that included stations in Hawaii, Texas and California.
The couple had two children, Larry Lynde, Jr., and Kim Marie. They eventually divorced, and with Larry, Jr., and Kim in tow Gladys moved to Missoula where she worked in a variety of restaurants until returning to the Flathead Reservation in the early-1980s and lived in Polson with husband Don Disney.
Upon returning she began working for the Elderly Nutrition Program and Head Start/Early Childhood Services as a cook from 1982 until retiring in 2006 when she was 84 years old. For her long service there as an Elder, she was recognized by the Flathead Nation Tribal Council. She would have worked longer but daughter Kim convinced Early Childhood Services to let her retire.
Gladys was a proud member of the VFW Auxiliary, and was honored by the VFW in 2008 for being in the VFW Auxiliary for 60 years.
Gladys enjoyed being in the company of her grandchildren and great-grandchildren, and in the waning years of life, her great-great grandchildren. In Polson her great-grandchildren Jasmine and Robert John aka RJ would visit her daily after school and in the summer, and they had a special bond to each other.
Gladys is survived by daughter Kim (Bernie) Azure; Grand-daughter LaNada Delores Azure-Hamann, great-grandchildren Ben Azure-DeFrance, great-great grandson Kellan, great-grand daughter Aurora Aggie-Jo Azure, great-great granddaughters Evelyn Skye and Esme Vera Moon, great-granddaughter Jasmine Hamman, and great-grandson Robert John (RJ) Hamman; Grand-daughter Casey Mishel (Jason Pierre) Azure, great-granddaughter Natasha LaNada McLeod, great-great grandsons Carter Jason and Anthony James, and great-grandson Jace Scott Bear Pierre; and Grandsons Mitchel Joe-Bear Azure and Augustus Skye Azure.
She also leaves behind her brother Wyman (Thelma) McDonald, and numerous nieces and nephews and other relatives.
Gladys was preceded in death by her parents, son Larry Lynde, Jr., and husbands Larry Lynde, Sr., and Don Disney; and siblings Lona Olson, Evelyn McDonald, Mabel Felsman, Alma Branson, Mary Lou Howlett, Betty McDonald Lester, Jack McDonald, Donald "Boots" McDonald, Dan McDonald, Tom "Satch" McDonald, and two siblings who died in infancy.
Rosery will be held Sunday, 7 p.m. October 10, at Foster Funeral Home. Wake closing ceremony will be at 10 a.m., Monday, October 11, at Foster Funeral Home. Funeral services will follow at 11 a.m., at the St. Ignatius Mission Catholic Church. Burial will be at the Snyelmn Sntmtmne Cemetery. A luncheon will follow at the St. Ignatius Tribal Community Center.