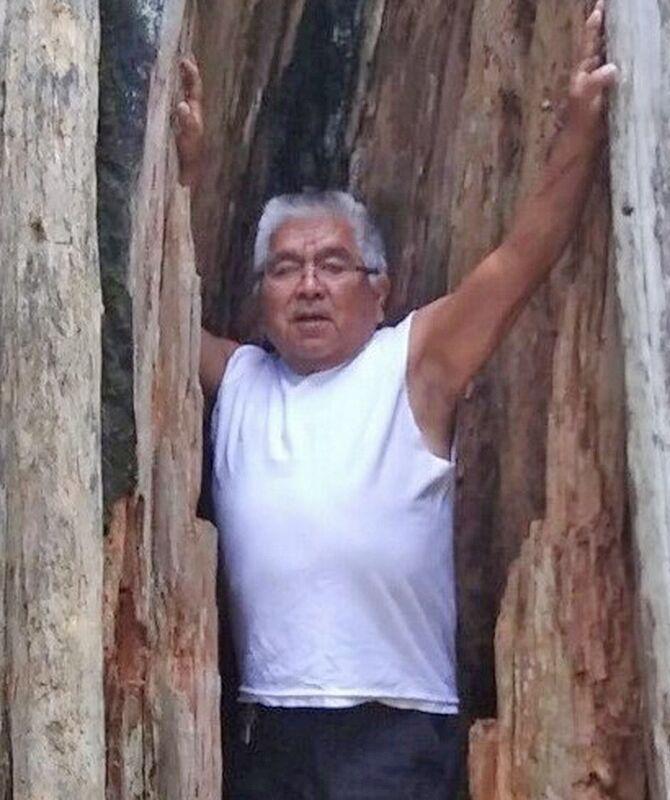 ELMO — Gilbert Lee Buckskin was born March 29, 1947, in St. Ignatius to Mathias Buckskin Michel and Lucy Moody Michel. He passed away on October 28, 2021, at his home in Elmo with his wife, Eudora and son, Alex by his side. 
Gilly, as he was known to family and friends, was the second oldest of ten children. He grew up in the Big Arm, Elmo, and Dayton areas. In his early years he attended school at Ursuline's in St. Ignatius and Pierre Indian School in South Dakota. His formal education ended with 8th grade. 
He was an avid outdoorsman and a hard worker. Gilly looked forward to camping with his brothers or going out 4 wheeling. He spent many years working in the woods, cutting Christmas trees, post, and pole work, cutting wood, planting trees, and thinning. When he moved to Polson's west side, he became a grounds keeper for the housing units. He will be remembered for his work on the Kootenai Cemeteries. His job as caretaker was passed on to him from his father, Matt. He retired in 2020 and passed the job on to his brother, Leonard, but came back this summer to "help". He told his wife "Maybe next year I will retire". 
When his sister-in-law was attending school, he took on the role of babysitter for his nieces and nephews. He was known to be a jokester and when he won the lottery and called his niece, she didn't believe him, because it was April fool's day.
In December of 1979, his daughter, Sharon was born. Not long after he became a single father and raised her with the help of his sisters. In 1995, he met the love of his life, Eudora Nephi, and three years later they welcomed their son, Alexander. With Eudora and Alex, the world opened for him. He gained a family in Utah, a special niece, Molly Auld, traveled and attended concerts. 
Gilbert is preceded in death by his parents Matt and Lucy Buckskin Michel, brothers Wilbert Michel, Junior Michel, Keith Michel, Lee Michel, brother-in-law Ronald Seminole and sister Linda Michel, nephews Leo Hammer, Mathias "Robbie" Michel III, Jacob Michel, and Ryan Lefthand, nieces Echo Michel, Rene Hunter Strahan, and great niece, Annmarie Michel. 
He is survived by his wife Eudora Nephi, son Alexander and daughter Sharon. His brothers Leonard Michel and sister-in-law Melissa, Victor Michel and sister-in-law Linnea of Lindenhurst, IL, sisters Diane Michel and Geneva Glenmore of Busby, sister-in-law Beverly Michel. His special niece, Molly Auld and her mother Darnell. His grandchildren RaeShawn, Savannah, Mathias and Lydell. He has many nieces, nephews, grandnieces, and nephews. His friends Jimmy Auld and Wayne McCoy. 
A wake was held Saturday, October 30, 2021, Rosary Sunday, October 31, and funeral service Monday, November 1 at Elmo Hall. Burial was in Dayton Cemetery. Messages of condolences may be shared with the family online at www.lakefuneralhomeandcremation.com. 
Arrangements are under the care of The Lake Funeral Home and Crematory.