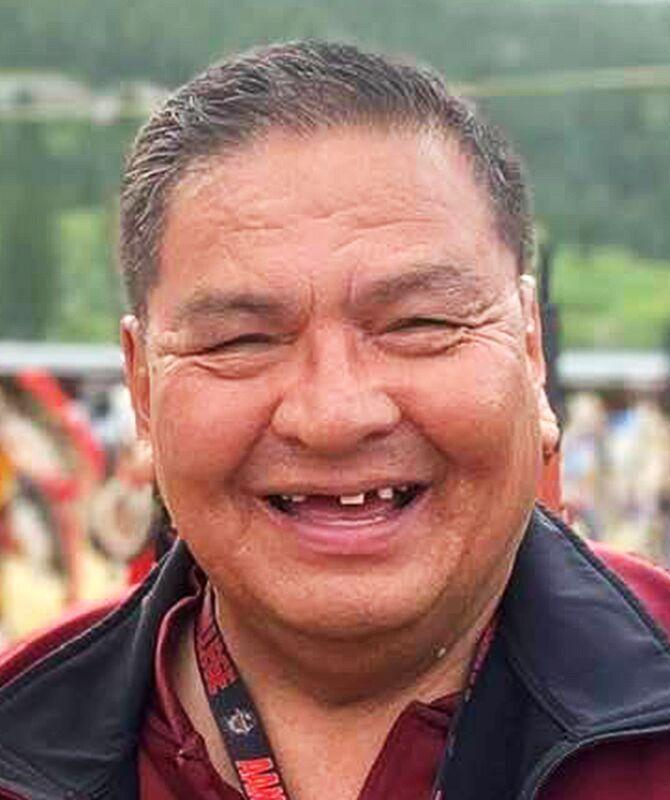 Our beloved brother, grandpa, uncle, and friend Gerald James Stiffarm — Wus Bee Ah Thot (Bear Shirt) — journeyed to the Big Sands on July 6, 2021. He was born to Tom and Vina Stiffarm on December 16, 1949, at Fort Belknap Agency. 
Wus Bee Ah Thot (Bear Shirt) is Aaniih of the Frozen Clan and loyal to the Harlem Wildcats as their number one fan.
Bear Shirt graduated from Harlem High School in 1967. He attended the University of Montana, and held the distinct privilege of 2nd place UM's debate team win at the Ivy League Dartmouth College National Debate. He graduated from Eastern Montana College with an accounting degree.
Gerald was a big part of Harlem Wildcats. He enjoyed working with athletes, as sports would always be laced in his life. He coached the Fort Belknap Warriors. Bear Shirt served as sport coordinator for the Aaniih Nakoda College Eagles. He was the Regional 8 basketball advisor that includes teams from Montana, Wyoming, Washington, Idaho, North Dakota, and South Dakota. For Bear Shirt, attending UM Grizzly football home games and tailgates were memorable times with friends and family. 
Wus Bee Ah Thot was a founding member of the Whiteclay Nakoda Travois Walkers. He was passionately involved in registering voters.
Gerald possessed an uncanny ability to connect with all people. He was larger than life with a heart and sense of heritage pride to match.
His laughter, cheer and spirit, and making people cheer was easy for him. Hearing Wus Bee Ah Thot roar "Harlem Wildcats" was medicine. Gerald was the creator of the Wildcat cheer clap. 
Bear Shirt brought pride to his family and community. He held significant traditional and spiritual beliefs that he often shared with those devoted to learn. He spoke for many families at powwows and special events. He possessed knowledge of families' histories across Indian Country. He faithfully helped those in need, attending ceremonies accompanied by his sisters, Geri Rutherford and Delores Stiffarm.
Gerald worked at Fort Belknap Housing and Tribal Government 477 Indian Education; His devotion and pride, was his role as manager of the ANC KGVA radio station.
Bear Shirt was proceeded in death by his parents, Tom and Vina Stiffarm; siblings Tom E. Stiffarm, Glorraine Cichosz, Joseph Stiffarm, Cynthia Kirkaldie, Bill Stiffarm, Marge Ironmaker, Doug Stiffarm, Judy Stiffarm, Leroy Stiffarm and Preston Stiffarm.
Gerald is survived by his sister Delores Stiffarm of Polson, MT; Michael (Becky) Kai, Flagstaff, AZ; Vina, Nee-Thone, Jeremiah and Tae-Resa, Polson; Crystal, Whisper and Kaia, Polson. Adopted sister Geraldine Rutherford; adopted brothers Bruce Plummer, Josh Jones, Kelly Mills, Kenny Ryan and Russell Standing Rock, adopted daughter Paula Fowler of Atlanta, GA; adopted family Harlen (Mary) Mount, and family Julie Swanki, Audrey Hoops, Anna Hoops, Myron Hoops, and Warniky Hoops. Special nieces/nephews Kent Mount, Richard Hoops, Whisper Little Owl and Tae-Resa Little Owl. 
Wake services were held Friday, July 9, 2021, at Montana Indian Ministries Campsite in Lodge Pole, MT, (Bruce Plummer Bible Camp). Funeral Mass was at Harlem High School July 10, 2021. Burial was at Stiffarm Cemetery in Hays, MT.