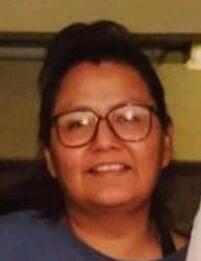 POLSON — Our beloved Mother, Grandmother, Great grandmother, Sister and Aunt Genevie (Gen) Jo Caye-Eneas, 60, of Elmo, began her Journey Home Thursday, December 2, 2021, in Missoula. 
Gen was born in Polson to the late Albert and Alma Caye on August 4, 1961. She grew up in Elmo and attended school in Elmo then Polson. She met her husband Brad Eneas while in school and they were together for 45 years. Together they had 5 children but raised numerous extended family as their own and she met her first great granddaughter recently.  
She was a member of the Confederated Salish and Kootenai Tribe. Genevie worked for the Adult and Juvenile Probation Department for many years, due to health issues she was forced into retirement early. Genevie loved her family. She loved the time they shared together. Genevie enjoyed camping, harvesting berries, harvesting Christmas trees every fall with her husband, she enjoyed attending powwows, and taking the kids to the fairs every year. Gen enjoyed her annual trip to buckhorn for berry harvesting with her family.
She was preceded in death by her parents Albert and Alma, brothers Aaron, August, Jerome, and Francis Caye, nephew Laurence (La), niece Miranda (Rosie) Kenmille. 
Gen is survived by her husband Brad Eneas of Pablo, daughters Valerie of Portland, Christine (Phillip) of Elmo, Sons Youstah (Crystal) of Pablo, Bassu of Pablo, Phillip of Pablo, Grandsons Ozayo, Makeelin, Zeke, Lucas, Granddaughters Rakeena, Nisa, Justine, Arron, Isabella, Great Granddaughter Rosie, sisters Velma and Alberta of Elmo and Felicity (Randall) of Bozeman. She is also survived by numerous nieces, nephews, extended family and children of the community who called her mom and auntie.
A wake was held on Friday, December 3, 2021, Rosary was held on Friday, December 3, 2021, and funeral service on Saturday, December 4, 2021 at Elmo Hall. Burial was held at Dayton Cemetery. Memories and condolences may be sent to the family at www.lakefuneralhomeandcremation.com.
Arrangements are under the care of the The Lake Funeral Home and Crematory.