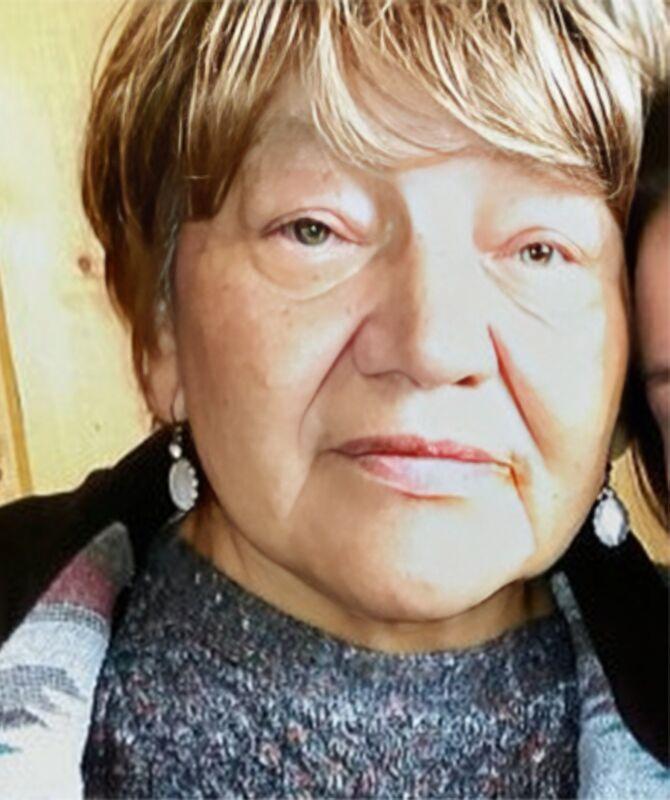 Edna "Kay" Finley was born August 6, 1952 in Fort Belknap. She passed away on May 17, 2023. She was proudly Chippewa-Cree and enrolled in Rocky Boy. Her parents were William and Virginia LaMere. Both of her parents were Cree speakers. Kay attended schools in Great Falls and in Box Elder where she graduated in 1971. She played on the first girls' basketball team her senior there when sports first opened up to girls. 
Kay loved sewing her own clothes when she was young, and she loved dressing up. In high school, she worked after school for her HomeEc teacher and had plans to be a professional woman. After high school, she moved to Kansas to attend what was then Haskell Indian Junior College where she majored in physical education. Her plans changed when she met Jim Finley from the Flathead Reservation. She and Jim married and had two daughters Jennifer and Kari and a son who passed away. She and Jim later adopted a son Skyler. She also loved many of her nieces and nephews like they were her own. 
Kay devoted her life to her family. She cooked dinner every day and made sure her kids went to school and church. She read the newspaper daily and had a sense of adventure. She liked taking road trips. She loved bingo, country music, watching Westerns, taking walks, wearing nice clothes, and, most of all, she loved her grandchildren Alexa, James and John. 
A creative person, Kay made beautiful beadwork. She had a knack for numbers and a sharp memory. She remembered the birthdays of everyone in her entire family. She also dreamed of all the babies in her family before they were born. 
Kay lived on the Flathead Reservation for over 50 years and will be deeply missed by her family and friends. She is preceded in death by her son Timothy, and her siblings Bo-Boy, Beebs, Allie, Jimmy, Ronnie, Francis, David, and Danny. She is survived by her husband Jim; her children Jennifer, Kari and Skyler; her grandchildren Alexa, James, and John; and her siblings Ennie, Wilma, JoAnne, and Ricky and numerous nieces and nephews. 
A rosary will be held at the Arlee Community Center on May 18th, and her funeral will be at the same location on Friday May 19th at 11 am. A feast will follow the funeral.