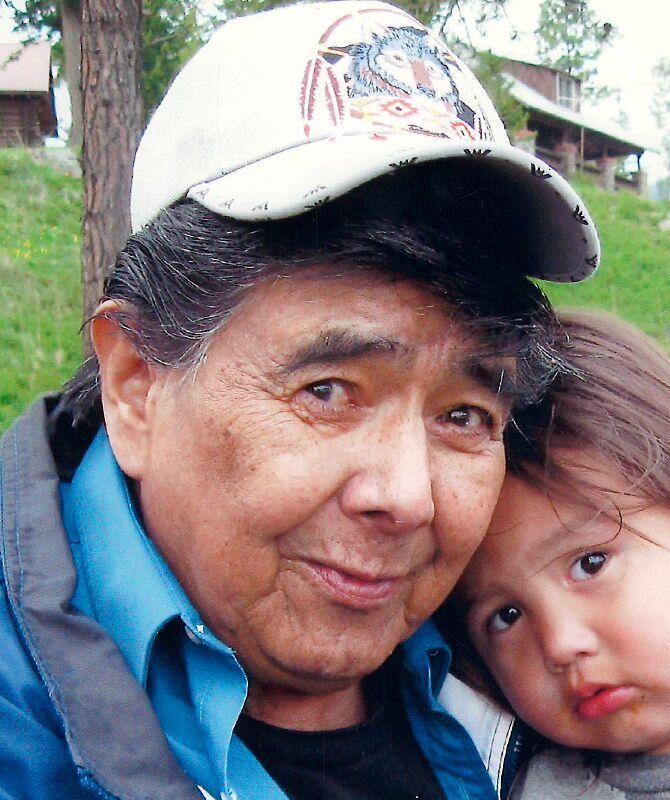 "Red Warrior" 
October 6, 1939 to September 1, 2020 
E. Patrick Matt, Sr took the hand of the Lord September 1, 2020 during the month of the chokecherries.
Pat was born October 6, 1939 to William J. Matt (Selis/Qlispe) and Felicite "Myrtle" Forker (Pierre) (Selis) in St. Ignatius. He later was raised with the help of Abraham Bullrobe and family in Nirada. Pat spent much of his childhood fishing the Post, Mission and Jocko creeks and rivers. He later attended the Ursiline, Pierre, SD and Chemawa Indian Schools. There he met lifelong friends and lady folk of whom he'd tell stories about from time to time. 
In the early 60's dad married and created a large family with Lucille Marian Oldhorn (Qlispe, K'Sanka, Crow), daughter of Fredrick D. Oldhorn and Christine Pierre. Pat and Lucille worked and lived in different areas including Portland, OR, Kellogg, ID and in Helena, Butte and Libby. They eventually owned a home in Polson and finally settled in Turtle Lake. It was there he remained until his final days with us. Pat wore several kinds of work-hats over the years. Whether working the mines in Butte or in the local area lumber mills, dad kept himself busy. 
After working for the Soil Conservation Service, dad chose sobriety and began working as a MT Certified Chemical Dependency Counselor. Between working for the Tribes at "Detox" in Ronan, the "Youth Ranch" in Moiese, or the Lake County Chemical Dependency Program running DUI classes, Pat managed to positively touch and impact many lives. Dad was an encourager, was non-judgmental and walked alongside many who would call him their counselor and their friend. 
Later on in life Pat began working at Two Eagle River School. He later attended SKC and earned his certificate in Heavy Equipment. After retirement, dad enjoyed his golden age with his daughters and sons, eating candy and huckleberries with is grandchildren and eventually their children. He welcomed and helped his neighbors, keeping his door open, his prayers available and his coffee on. 
Pat was preceded in death by his only wife Lucille, and by Julie (daughter), Laurie (daughter), Traci (daughter), and by Steven (grandson), Joshua (grandson), Jerriah (great-grandson) and by Sharon TwoTeeth (only sister). 
Pat is survived by his children John Hernandez (Laura) of Torrence, CA, Patty Matt (Slicker) or Butte, Phillip Matt of Butte, Fredrick Matt of Portland, OR, William "Johnboy" Matt of Missoula, Jeffery Matt (Stephanie) of Missoula, Angela Matt (Joe) of Ronan, Patrick Matt, Jr (Marcy) of Pablo and Marie Matt (Anthony) of Rancho Cucamonga, CA. Pat is also survived by his TwoTeeth family of Helena, and by his many, many grandchildren and great grandchildren. 
Pat's services were held at the Longhouse in St Ignatius and laid to rest near his grandsons and elders at the Jocko Valley Cemetery in Arlee.