May 24, 1987–May 10, 2020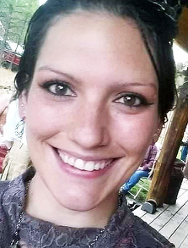 Danelle Roberta Lazzari, "Nellie Bug", 32, passed away peacefully in her home on May 10, with her husband and her momma by her side. Danelle was beautiful and loving, a devoted mother, wife, daughter, sister, granddaughter, auntie, cousin and friend. Danelle loved to spend time with her husband, mom, dad, family and friends, and especially with her three sons and stepson.
On May 24, 1987, Danelle was born in Butte, making the world a brighter and better place. She was the first-born daughter of Mary Azure-Dinius and Daniel Lazzari. Danelle was a delightful child with beautiful black curls, ivory skin and an adorable smile. She grew up in Butte and Helena. Danelle graduated from Helena High in 2005, and went on to attend Montana Tech, with a major in Drafting and Liberal Arts.  
Danelle was an extremely hard worker and she took great pride in the work she did. Her laughter was contagious, and we will miss hearing her giggle and seeing her beautiful smile. Danelle was a hilarious prankster, who enjoyed teasing and joking in the most wonderful ways. Danelle loved music and loved to read, especially books by her favorite author Tiffani Jenkins
Danelle is survived by her loving husband, Matt Rutz; her three sons, Ezekiel and Lazarus McEwen, Samual Rutz; and stepson, Jacob Rutz. Her mother and stepfather, Mary and Ed Dinius; father, Daniel Lazzari; sisters, Nikol Lazzari, and Shayna and Alex Baker; brother, Maximus Baker; maternal grandfather, Robert Azure Sr.; nieces, Jor-eja and Maria; nephew, Chester; numerous aunts, uncles, and cousins who all dearly loved and adored her.
Danelle was preceded in death by her brother, Robbie Lazzari; grandma, Ramona Bell Azure; grandparents, Edward and Angelina Lazzari; aunt, Barbara Ann Azure; uncles, Robert Jr. and Steven Azure.
Danelle's remains were in Wayrynen-Richards Funeral Home. Express condolence at www.wayrynen-richards.com.