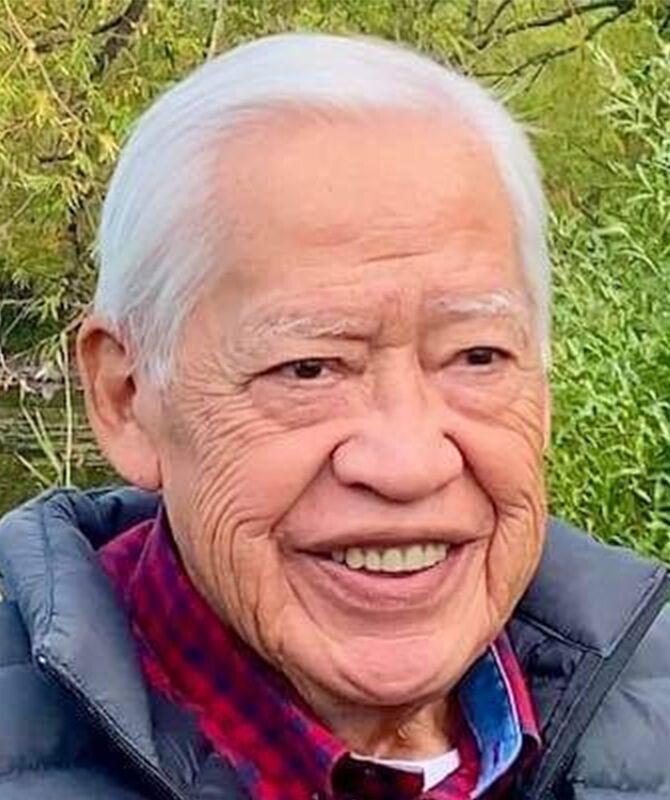 On Tuesday, June 7, 2022, Atwen Ntišúlexʷ — Antoine "Tony" Incashola, Sr. — began his journey to the Creator and the ancestors. He leaves behind a large, beloved family, and a record of decades of service to the Confederated Salish and Kootenai Tribes, the nation, and the world, including more than 47 years with the Séliš-Ql̓ispé Culture Committee (SQCC) and 27 years as its Director. 
A few years ago, elder Joe Vanderburg said that Atwen was the closest thing we have to a chief. He now takes his well-deserved place of honor beside the past leaders of the Salish and Kalispel nations. 
Tony was born November 10, 1946 in Snyel̓mn (Place Where You Surround Something — St. Ignatius) to Thomas Incashola and Mary-Louise Beaverhead Incashola. Tony was the fourth of Mary-Louise's children, following Jean-Baptiste (called Bap), born in 1935, Louie (Sav), born in 1937, and Peter (Snya), born in 1941. But when Atwen was only a year and a half old, his mother died at the age of 27. So Atwen and his brothers were raised by their paternal grandparents, Polasssie and Agnes Woodcock Incashola. 
Tony's first language was Salish, and he was raised in the traditional cultural ways of the Ql̓ispé (Kalispel or Pend d'Oreille) and Séliš (Salish) people. He was close to many of his relatives, including nunu? (maternal uncle) Piel Qlaw̓qn (Pete Beaverhead), the Woodcocks, the Smallsalmons, Alec Adams of Camas Prairie, and many others. People would regularly visit and stay with each other for a week at a time. Around big church days, people often came here to Snyel?mn and stayed with the Incasholas. 
His family followed the traditional seasonal cycle of life—harvesting, drying and storing many foods for the long cold winter months: digging bitterroot at Camas Prairie, berry-picking in the Mission Mountains and at West Fisher, fishing for suckers and whitefish in the Jocko River, and, together with a number of other families, traveling by horse and wagon to the west side of the Lower Flathead River for big fall hunting camps, often to the area called Snłpaʔpʔa, meaning a cliffy area of draws and breaks of light-colored clay. Tony worked with elders and SQCC staff to document dozens of Salish-language place-names in that area. That was the foundation for Tony's later efforts to protect the river. For many years, he and elder Pat Pierre led the opening of the annual River Honoring environmental education event. Tony worked for more than a decade to help develop the Cultural Waterways Ordinance, passed by the CSKT Tribal Council in 2021, protecting the lower Flathead River for all the generations to come. 
Tony would sometimes reflect on how his family, and so many others, survived without jobs and with very little money. They supplemented the traditional foods with produce raised in extensive family gardens. 
Tony attended school at the Ursulines, and then the St. Ignatius public schools. During his sophomore year at St. Ignatius High School, Tony enrolled in the Army. At 19, he went to Ft. Hood for basic training, then to Ft. Lewis, Washington for advanced training. The Army soon shipped him out to the war in Vietnam, where he served as a gunnery sergeant. His brother Bap was already in Vietnam, stationed in Saigon. In the artillery camps, Tony recalled sleeping no more than four hours per night for months on end. Soon the terrible news arrived that Bap had been killed in Saigon. Tony escorted his brother's body home. After a couple of months serving as an artillery instructor at Ft. Sill, Oklahoma, Tony was discharged and came home. 
During this time, Agnes Woodcock Incashola sold part of her land for the building of a community center, whose primary purpose, in her vision, was to serve as a place for wakes. Before that, hundreds of wakes were held in the Incashola home. Tony was part of the construction crew that built the community center. 
Tony soon met Denise Brown. Her family had moved up from Kansas when she was just two years old. In February 1974, Tony and Denise were married in a ceremony at the St. Ignatius Mission Church. 
Tony and Denise were blessed with four children: Darren, born in 1971; Brian,1976; Brandy,1977; and Tony Jr., 1983. Tony also considered his brother Snya's children Tony Jo, PJ, and Aggie as his own. 
For all the work and all the achievements that are known more publicly, Tony's heart was always with his family. Tony and Denise created a welcoming home full of love and support not only for their four biological children and many grandchildren and now great-grandchildren, but also for so many others, including their foster kids Destry Henderson (Peggy); I was told Destry came home with Daren after school one day and stayed for five years; and Marietta Meuli (Jeff). Their kids Skylar and Jasper are now part of the family too. And there's special daughter Marlene LaFrombois and her son Tre. They and so many others — unofficial foster kids, friends of kids, grandkids, — were raised in part by Tony and Denise. They also welcomed into the home Brian and Aspen's foreign exchange students from places as far-flung as Finland, Azerbaijan, Tajikistan, and Germany. All of them regarded Tony as Papa. As Daren said, Tony Sr. had a way of just making everyone feel comfortable — so much so that Daren's high school class asked Daren's dad to be their commencement speaker. 
Tony loved following all the kids and grandkids in sports. He was a huge Mission Bulldogs fan and a huge UM Griz fan (Tony would be sure to wear his Griz cap when going to MSU for meetings of the Native American Advisory group, which he did for many years with elder Louie Adams, and then continued after Louie's passing). 
Tony loved driving all over the place with his family, and any time at all, as we all know, he loved driving fast. He had many favorite foods, including coffee, donuts, red pepper flakes, salsa (hotter the better), and salt on absolutely everything: (rhubarb, green apples arrowleaf balsamroot, and raw potatoes. As Brian and Brandy noted, Tony loved to go camping with the family maybe most of all. Twin Lakes was their favorite spot. 
In 1975, Johnny Arlee called Tony and asked if he would come to work for a small cultural program that was then just beginning its work, funded by a US Dept of Education grant that had been secured by Joe McDonald and Lillis Waylett and was being administered by Lloyd Irvine. Then called the Flathead Culture Committee, it was a response to the growing alarm expressed by traditional elders over the decline in fluency and cultural knowledge. The governing Tribal Council, recognizing the importance of cultural continuance to the well-being and sovereignty of the Confederated Salish and Kootenai Tribes as a whole, later established the Flathead and Kootenai Culture Committees as permanent tribal departments. Each committee is comprised of a small staff and an Elders Cultural Advisory Council. 
The committee began its work by establishing trust with the elders and then recording their stories. The first elders included Louise McDonald, Christine Woodcock, Pete Beaverhead, Agnes Vanderburg, and Pete Woodcock, soon joined by Mitch Smallsalmon, Eneas "Tom Puss" Pierre, Blind Mose Chouteh, Joe Eneas, Agnes Incashola, Charlie McDonald, Little Mary Finley, and John and Agnes Paul. Generations of elders have followed them in recording their knowledge. Tony often spoke of his obligation to honor the trust the elders had given in sharing their stories. He felt a deep responsibility to care for those priceless materials with utmost care and respect, while doing his best to continually put out what the elders told out in the form of books, pamphlets, websites and apps, CDs, signs and posters, museum exhibits, presentations, and many other things. 
Tony worked for the Culture Committee for the rest of his life — more than 47 years — serving as Assistant Director, and since 1995 as Director. He brought many exceptional qualities to his job, perhaps most importantly an ability to show respect to all parties and to bring people together. He was also known for his infectious joy in the traditional way of life; his powerful ability to inspire people and to remind them of the elders' teachings and their importance in our world today; his ability to maintain level-headedness amid conflict; his careful deliberation and consideration of evidence; and his gift for lightening any situation with humor. 
Tony ensured the continuation of the Séliš-Ql̓ispé cultural calendar, including many activities he led such as biannual trips to the Medicine Tree, the Bitterroot dig and feast, and monthly meetings of the Elders Cultural Advisory Council. On his own time, he helped lead the Jump Dance. He loved MCing the Arlee celebration for many years, and lent great dignity and grace to the Memorial that precedes each celebration. 
Tony and his staff regarded each other as family: Shirley Trahan, Language Advisor and Senior Translator; Sadie Peone-Stops, Historical Collections Manager, Office Manager, and Acting Assistant Director; Richard Alexander, Keeper of the Longhouse; Chaney Bell, Salish Language Coordinator; Thompson Smith, History and Ethnogeography Projects Coordinator; Steve Arca, Salish Language Teacher; Cierra Jeppesen, Salish Language Teacher; and Nalani Linsebigler, Receptionist. Tony was especially close to his past Cultural Advisor and Senior Translator, Felicite "Jim" Sapiye McDonald. 
During his tenure as Director, Tony helped restore traditional cultural values to the heart of CSKT operations. Most of all, the values of respect — respect for each other as human beings, and respect for the lands and waters, and the plants and animals. Respect for the ancestors, and respect for the generations yet to come. This can be seen in so many historic issues of the highest importance to the tribes: stopping the Montana Department of Transportation from turning Highway 93 into a 56-mile long Reserve Street, and instead building an alternative design that is both safer and less destructive; the historic water rights agreement and the return to the CSKT of Bison Range; the return to the CSKT of SKQ dam; designating the lower Flathead River as the first CSKT Cultural Waterway; restoration efforts carried out by the CSKT along the Jocko River and Little Prairie; and naming the bridge in the heart of downtown Missoula as Beartracks Bridge, in honor of both the great leader Sxʷúytis Smx̣e and the Séliš-Ql̓ispé people as a whole. Tony also lent his support to the transformation of the CSKT Forestry program to prioritizing the restoration of pre-contact forests. He was so proud of Tony Jr., now the head of CSKT Forestry, and so happy to work with him in a number of education efforts on CSKT relationships with the forests and fire, and trying to save whitebark pine. 
It's impossible to convey the full scope of all that Tony did. He was constantly being called on to offer opening remarks and prayers, to deliver presentations, to sit on panels, to engage in planning efforts and many other consultations, to assist in negotiations. Tony did all of these things both within the tribal community and for governmental entities, educational institutions, and other organizations across the state, region, and nation. The CSKT had no greater spokesperson in any of these contexts, no one who could convey more authority and dignity, who could better personify the strength and beauty —and perhaps most of all, the wisdom — of the Salish and Kalispel people. 
Tony was the recipient of so many awards and recognitions, including the 2017 Heritage Keeper Award from the Montana Historical Society and the 2017 Salish Trailblazer award at the Celebrating Salish conference in Spokane. He was the first Native American to open a session of Congress with a prayer. 
A traditional wake was held at Foster's Funeral Home in St. Ignatius, at the family home, and at the Séliš-Ql̓ispé Longhouse, where funeral services were held on Friday, June 10, 2022. Burial followed at the St. Ignatius Catholic Cemetery with full military honors. 
Tony is survived by his wife of 48 years, Denise; his children Daren, Brian (Aspen), Brandy, and Tony Jr. (Kim); his first cousin Steven Smallsalmon; his special daughter Marlene LaFrombois; his foster children Destry Henderson (Peggy) and Marietta Meuli (Jeff); his grandchildren Michael, Lesli, Madison, Kieran, Kysen, Kaylyn, Emily Rose, Lexy, Skylar, and Jasper; his great-grandchildren Taris and Hayden Louis; the many unofficial foster kids, friends of kids, grandkids, foreign exchange students, and others who regarded Tony as Papa; and his work family, the staff and elders of the Séliš-Ql̓ispé Culture Committee. 
A longer, illustrated remembrance of Tony will be posted as a PDF on the SQCC website, csktsalish.org.