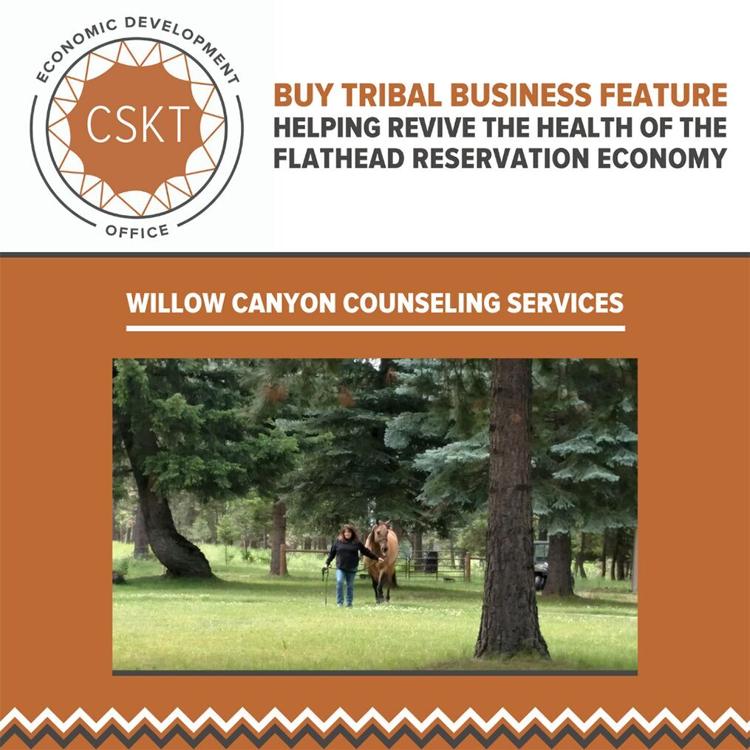 Shaunda Albert has always been driven to advocate for others, but it was at a conference for equine specialists and mental health professionals that the formative idea for Willow Canyon Counseling Services came to her. 
"It was a magical experience to be able to experience the equine therapy first hand and from that point I was hooked," reflected Shaunda Albert, owner of Willow Canyon, of her experience attending the equine therapy conference Eagala.
Combining her passion for helping people and her love of horses, Albert opened the doors to Willow Canyon Counseling Services in 2017. Headquartered along the peaceful headwaters of the South fork of the Flathead River in Polson, Willow Canyon is a state-approved facility that provides chemical dependency addiction and mental health services, along with the unique treatment methods of equine-assisted psychotherapy and equine-assisted learning.
"I am here to offer unconditional support for the individuals I have the privilege of meeting," said Albert who is certified as a Licensed Clinical Social Worker, Licensed Addictions Counselor, Certified Rehabilitation Counselor and Eagala Certified Equine Therapist.
As she explains, equine therapy helps people arrive at their own interpretation of what is occurring in their lives, through the horse's behavior. It also challenges the way people look at themselves and the world, while aiding those who have struggled to achieve treatment goals through traditional modalities accomplish significant breakthroughs. Equine-assisted therapy engages a hands-on approach to help people identify feelings, develop coping mechanisms and communication skills, and set boundaries to overcome fears and establish trust in others.
"Being able to see how horses can help people," Albert said, inspired her to start the business and keep it going today. "Just to see that little light, or the 'aha' moment when the client is able to apply the horse's action to their own lives, happens every time!"
Albert assists individuals and groups struggling with addiction, depression, social anxiety and life transitions. Currently she is offering Prime for Life DUI/ ACT (assessment course and treatment) courses online.
If you are interested in learning more about Willow Canyon Counseling Services' essential mental health and addiction services or would like to book a session, visit their website willowcanyoncounseling.com, or call (406 883-1207. Follow Willow Canyon on Facebook at facebook.com/willowcanyoncs.