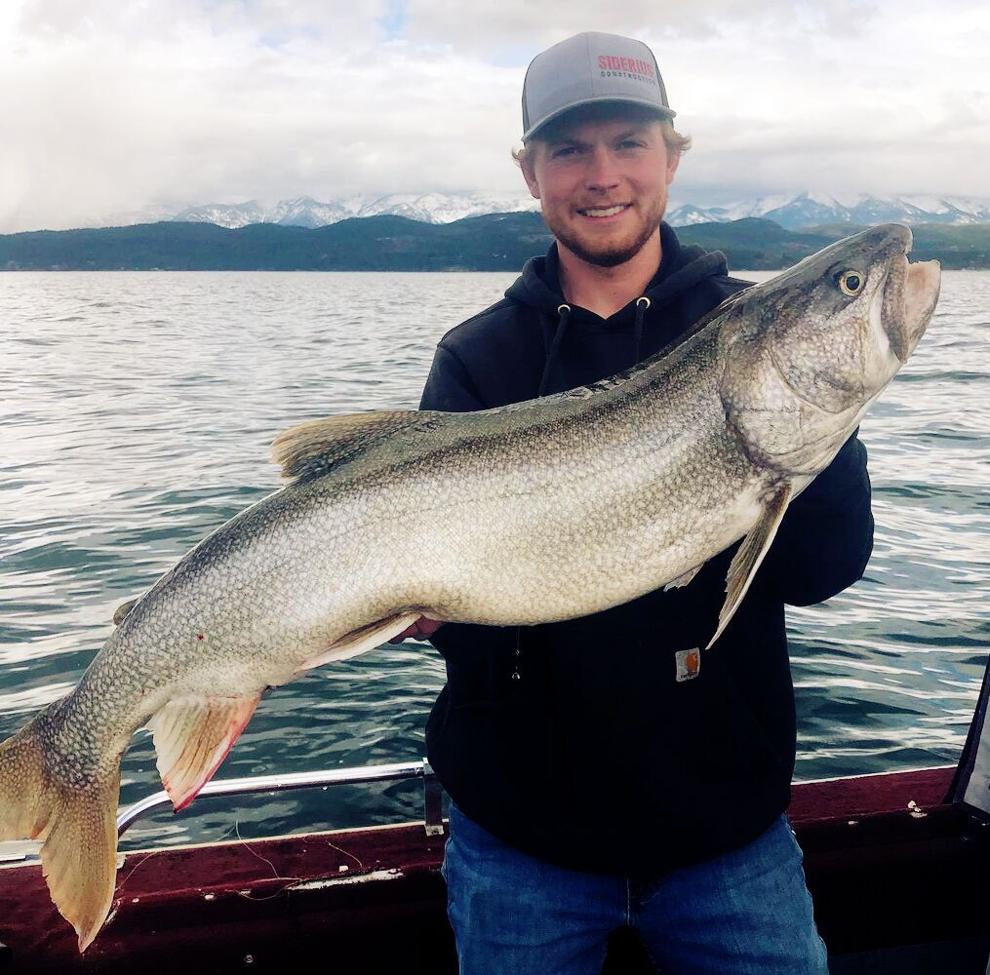 FLATHEAD LAKE — Five hundred fifty-eight anglers have registered so far in the 2021 Spring Mack Days Fishing Event with a total of one hundred and five anglers hitting the water and turning in at least one or more lake trout entries. Many anglers fished all three days of the first weekend hitting the water at daylight and coming in right before dark. 
Up to $225,000 in Cash and Prizes will be awarded at the conclusion of 2021 Spring Mack Days on Flathead Lake. The last day of the event will be May 16th, entries continue to be taken until the last day of the event, and there is no entry fee. There are fifty-nine fishing days in the Spring Event. The Confederated Salish and Kootenai Tribes sponsor the events and they are sanctioned by Montana Fish, Wildlife, and Parks. Mack Days events are used as a management tool to reduce the numbers of non-native lake trout and increase numbers of bull trout and westslope cutthroat trout. 
Anglers can fish one day or everyday it is their choice. The competitive categories are on Friday, Saturday andSunday. Monday through Thursday fishing counts for tagged fish and adds to their totals at the conclusion of the event for bonus amounts, plus there are now cash prizes for Monday to Thursday. Check out the prize list, fish pickup sites, rules, fish ID, etc. on the website www.mackdays.com. 
There is one $10,000 tagged lake trout, 3-$5,000, 5-$1,000 and over 9,000 with values from $100-$500 that are in Flathead Lake. Anglers who turn in tagged fish the first weekend were Christopher Shae of Kalispell and Toby Thompson of Bigfork-$100. Tyler Varga of Kalispell and Tristen Persico of Missoula each had $200 tagged fish. Tagged fish are caught all over the lake from boats and from shore. 
The first weekend total came to 3,586 lake trout entries. Temperatures were a little cool for the first weekend. There were some rough times on the water with cold, wind, rain, and hail. Friday's total was 1,486, Saturday's total was 1,129, and Sunday's total was at 971 lake trout entries. Anglers can donate their catch to be processed or they may keep their fish. All fish are to be kept on ice if they are donated. 
Riley Anderson of Kalispell turned in a 40-inch 21.25-pound lake trout entry. To turn in an entry for "The largest lake trout" competition, it has to be over 36 inches and weigh at least 20 pounds. "The Smallest lake trout" competition entries were Larry Ashwell with a 198mm (7.75) inches and Storm Kemppainen of Columbia Falls with a 192mm lake trout. 
The Top Ten Angler category ended with week one leader Mike Benson of Lonepine with 175 entries, 89 on Friday, 31 on Saturday, and 55 on Sunday. Jason Mahlen of Kalispell is currently in 2nd place with a total of 170 entries, 84 on Friday, 52 on Saturday, and 34 on Sunday. Scott Bombard of Missoula is 3rd place with 158 total entries, 67 on Friday, 55 on Saturday, and 36 on Sunday. Steven Benson of Spokane Valley is 4th with 147, 5th Ken Varga of Kalispell with 132, 6th Jack Kirkland of Missoula, with 128, 7th Bob Turner of Kalispell with 127, 8th Kolton Turner of Kalispell, with 120, 9th Sam Cusker of Bigfork with 119, and 10th Larry Ashwell of Missoula with 110. The limit for lake trout is 100 fish per day. 
Julie Perkins of Kalispell has a total of 45 entries to lead the Ladies, 2nd Laurie Kreis of Huson with 16, and 3rd Connie Jones of Kalispell with 4, Debbie Paine of Polson and Rebecca Spring of Kalispell are tied for 4th and 5th with 3 entries each. Matt Guckenberg Jr of Kalispell is leading the 13-17 Category with 35. Josey Mcilhargey of Kalispell is 2nd with 8. Brodie Smith of Kalispell with 25 leads the 12 and under group, 2nd is Tripp Bick of Arlee with 5, Gage Spring of Kalispell is in third with one.
First weekend winners of $100 each were: Chris Demmons and Tristan Persico of Missoula, Ken Varga, Shane Stratton, and Kolton Turner of Kalispell.
The Confederated Salish and Kootenai Tribes are still following COVID guidelines to keep everyone safe, so please follow procedures when turning in fish. Please keep a 6 feet distance and wear a mask when turning in your catch. There will be no awards ceremony or fish fry on the last day of the event.
Come out and join in the fun. Help to restore a balance to Flathead Lake for future generations. Get your lines in the water and get qualified to win in the lottery drawings that begin at $50 and go up to $1,000. There will be sixty-seven lottery drawings and every weekend there will be five $100 drawings. Monday to Thursday there will be fourteen drawings from $50 to $50 at the conclusion of the event. All entries turned in by anglers are entered in a computer file. Drawings are done electronically by a computer-generated program and are witnessed by staff. 
Safety on the water is very important. Know the daily weather report and watch for changes, have safety equipment available on board, keep your cell phone in a sealed bag, and have a plan! For more information, please visit www.mackdays.com. 
Tight lines everyone!