RONAN — CONGRATULATIONS to TERS Student Brandi Bigby and RHS student Kaileen Howard! Winners of two, all expenses paid scholarships, to the Intertribal Agriculture Council Youth training in Las Vegas, this December! 
Each year, my office, the MSU Flathead Reservation Extension Office (FREO) works with the Intertribal Agriculture Council (IAC) to engage youth in agriculture. One of these sponsored events is the annual Youth Essay Contest. This year the theme for the contest was focused on recognizing, creating, and proposing a work plan that supports Tribal food sovereignty by addressing food nutrition, insecurity, processing, and/or infrastructure. There were 60 full ride scholarships available (any indigenous youth across the U.S. can participate) for youth finalists and one guardian to attend the Intertribal Agriculture Council Youth Track in Vegas every December. This is a Monday – Thursday event filled with training opportunities specifically designed for youth and of course lots of fun along the way. 
This year six students from two reservation high schools worked on contest essays. Two of them won scholarships! I have attached their essays here and hope that you will read them and give a shout out to these young ladies! They worked very hard and will be joining me in Vegas, with their guardian for learning and fun. I would like to give a huge shout out to their families, teachers and community members that spoke with them and supported them throughout the essay process! THESE FOLKS ROCK!
Editor's Note: Kaileen's essay was published recently and can be found by clicking here.
Last, but not least, I would be remiss, if I did not take a moment to honor Councilwoman Anita Matt. For years, Councilwoman Matt was the IAC Representative for our Reservation, and a strong supporter of this IAC youth scholarship. I considered her a mentor and a friend. Her never give up attitude when it came to meeting the needs of her people, is still with us today. It is her perseverance and indomitable spirit that will forever push us to finding the path that supports and grows our youth, particularly in the field of agriculture. There are no words to totally capture how thankful I am, Anita, for your guidance and constant "push." Wishing you a peaceful rest.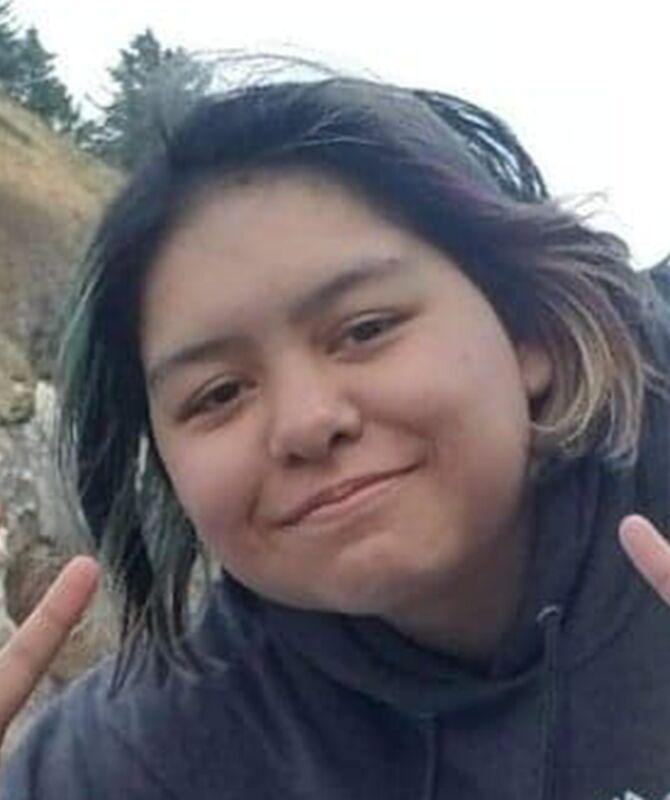 Brandi Bigby - TERS Essay Contest Winner
Food insecurity is a huge and very harmful thing. To put it simply, around 10% of people and about 13 million households (which is more than 35 million) in the US alone deal with food insecurities. In this essay, I will be talking about a plan to help overcome food insecurity, the risks that food insecurities put on kids, and why it's better if we lower prices to help people gain more nutritional food items. 
First off let's break this down. What are food insecurities? Food insecurity is "the state of being without reliable access to a sufficient amount of affordable, nutritious food." This can result in delayed development in young children; risk of chronic illnesses like asthma, anemia, and behavior problems like hyperactivity, anxiety, and aggression in school. The ways we can help find a solution to this is if we start a community farm and have multiple people all working on this project. We can start by buying Livestock to help us produce more food and distribute it amongst the people. With this we are able to solve the problem of not enough nutritional foods. This will also be able to help us attain money, jobs, and a stronger community. 
A community garden may have already been done on many reservations in the United States. For instance, there are places on this reservation that have started doing this to help their people. Some schools have also been putting in gardens to help offer kids better vegetables and more nutritious foods, so parents won't have to worry about their kids not getting enough nutrition. In my plan, we are able to take this one step further by having wild game and livestock in this, so we don't only have vegetables and fruits. The vegetables and fruits we would be growing will consist of the following: plums, strawberries, tomatoes, apples, pears, peaches, cherries. The veggies that we would grow would be; wheat, corn, lettuce, carrots, peppers, peas, zucchini, and we will grow leguminous plants like beans, with the additional Alfalfa and hay to feed animals. We will be able to have meat as well this way, so we have all the food groups we need. Having wild game gives us more valuable nutrients that our bodies need as different wild animals give us better nutrition such as iron. 
We can get everything we need by having local farmers and local meat processors help us. Local farmers can help us by providing animals and helping us with planting better crops so we don't have to have processed crops. For wild game, we can send people out during hunting season to bring back five or more deer, elk, buffalo, moose and turkey so we have more options and different meats to work with when cooking and or giving out food. 
Going back to the beginning I said I'd be talking about cons in this project that will be able to help our community. This will only be able to work out if we get everyone on board so we don't have to worry about it crashing. We would need farmers to be on board so we cover all the food groups. We would need the help of the youth because younger people will be able to work faster and longer and we need to have someone to teach them what to do so we need elders to teach the young people what to do as kids on this reservation are not familiar with farming and farm animals. We will be able to achieve more jobs only if we get everyone to work on this project to ensure people are not stuck working alone. Additionally, we cannot have the weeds overtake the farmland, so weed pulling is vital to ensure that we won't have to worry about paying so much for food that we so desperately need. 
Therefore, with all of these components, we are able to solve food insecurities with simple fixes. Starting a community food farm we are able to bring the younger generations in to this, as kids suffer the most from food insecurities not having enough nutritional food can impact a kids growth, learning experiences with others as their parents don't have the money to allow their kids to participate in clubs activities and more due to not having enough money to get nutritional food. Around 10% of the United States including food insecurity and that will be roughly around six million kids in the United States deal with food insecurities and development problems. Knowing these problems, we will have to make sure we distribute food well amongst everyone so we don't have people starving and by doing this we will be able to reduce the huge increase of diabetes rates that result from people not getting enough nutrition because the closest places with easy access to fast food restaurants. Having fast food restaurants closer to people with lower prices causes more people to go out and eat fast food, with fast food restaurants they do not give people proper nutrition. 
I believe my plan would help with food insecurities such as seen above with how it'll help impact lives from just learning about food insecurities. Knowing what it can do to the youth will empower us as a community to overcome it and the issues that come from food insecurities. 
Earlier I was talking about how this will help with jobs. Workers will be vital to this, so we don't have overworked people work 24/7 and we have enough workers all around. People's jobs will be to help plant seeds, harvest, take care of animals, slaughter, cook, distribute food, and much more. Farm hands and even people staying after work hours going into the nights to help with baby animals will be needed. Some animals, when they are younger, saying from experience, will need more attention so that they survive and thrive like the other babies. So, we don't lose meat or more babies 
later down the road. With the plants and harvesting, having farmhand workers will help us get more food making sure that we have everything taken care of so we have feed for animals and most importantly we don't want to have any crops go bad. They would also make sure Crops aren't eaten by any animals. 
I believe that my plan to help overcome food insecurities will help with money, jobs, youth and much more, as it will impact lives. Additionally, at the end of harvesting while preparing for winter we can have a food night to bring the whole community together celebrating the work that they've done to keep the community fed.