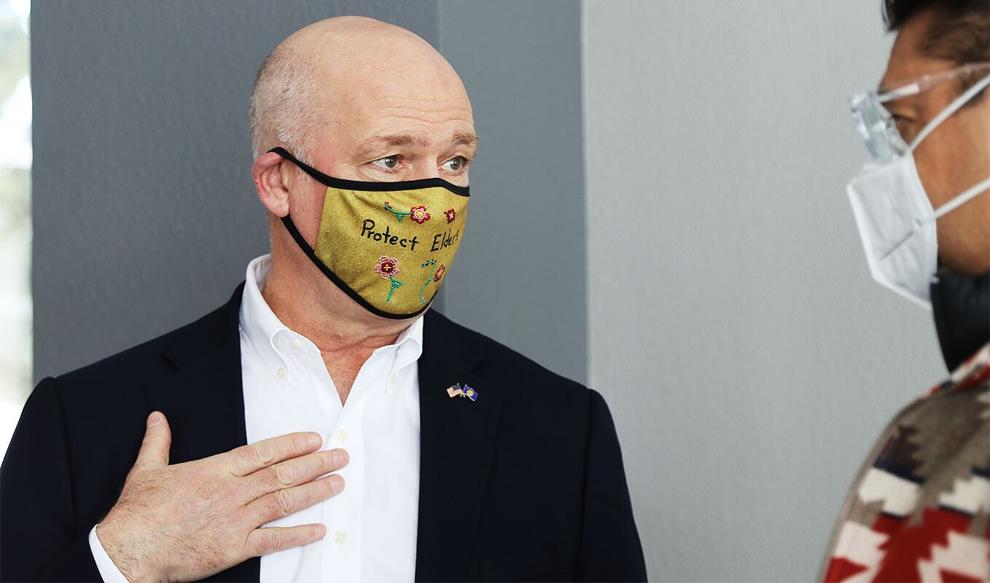 Gov. Gianforte's release of COVID-19 vaccines kicks THD's vaccination effort into high gear
Char-Koosta News
POLSON — The Confederated Salish and Kootenai Tribal Health Department was able to vaccinate far more people than before last week due to the State releasing 19,500 doses that were targeted to be used to vaccinate people in long term care facilities. As a result, THD vaccinated nearly 1,000 patients at vaccination clinics in Polson and St. Ignatius. The THD healthcare professionals were very pleased to receive the extra doses of Moderna and for the first time the Pfizer vaccine and shifted into high gear to ensure that the extra doses were injected into the arms of the THD beneficiaries.
Last week THD, as well as other health departments in the state, received increased vaccine allocations because Gov. Greg Gianforte released 19,500 doses of vaccine, including the Pfizer vaccine, from Walgreens and CVS pharmacies' inventory initially allotted for vaccinating folks in long-term care facilities. As a result, THD was notified it would receive 975 doses of the Moderna and Pfizer vaccines. That allowed THD to vaccinate more people than ever before.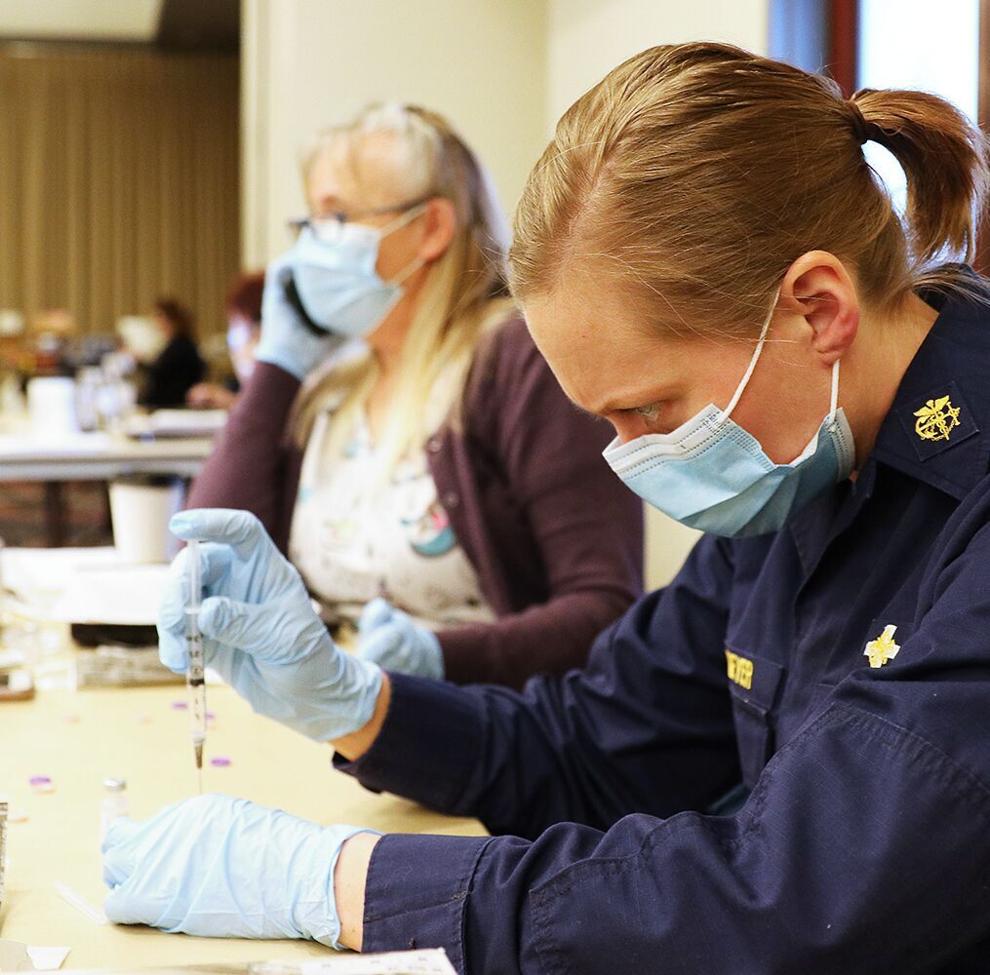 Tribal Health Department Community Health Director Chelsea Kleinmeyer said THD Pharmacy has been consistently allocated 200 Moderna doses per week from the Montana Department of Public Health and Human Services.
The Montana Department of Public Health and Human Services notifies THD each Friday on how many vaccine doses they will be getting for the upcoming week; the doses are received on the following Tuesday. THD has a plan on when to vaccinate patients in the prioritized groups which presently includes Tribal Elders aged 70+, and those with high-risk medical conditions as well as Tribal school teachers. Kleinmeyer said the inoculation of teachers isn't presently in the 1b phase as the State of Montana moved them to the 1c phase.
With the increased allocations THD had to gear up to vaccinate many more people than ever before. That meant they had to contact and vaccinate 775 more people than what has been the 200 a week average. THD maintains a scheduling list with contact information, and those next in line folks were scheduled to be vaccinated at either the KwaTaqNuk Resort and Casino in Polson, or the THD St. Ignatius Clinic. THD was able to vaccinate about 620 patients at Polson and 340 at St. Ignatius.
Kriss Murphy, THD Community Health nurse, said advanced training has allowed THD to quickly adapt to how many doses they have to vaccinate people, then schedule people for vaccination. That training was put to task this past summer with the mass drive-in flu vaccine inoculation, and the drive-in COVID-19 testing at different locations on the Flathead Reservation. Some of the other groundwork was laid with pre-COVID-19 health fairs and previous flu vaccination efforts. 
Kleinmeyer said she was excited in anticipation of the upcoming release in three weeks of the Johnson and Johnson vaccine if approved by the Centers for Disease Control and Prevention (CDC). The Johnson and Johnson vaccine requires only one dose and is around 70 percent effective in preventing COVID-19, and 100 percent effective in preventing extreme reactions and hospitalizations due to COVID-19. It also does not need to be stored at the extreme cold temperatures like the Pfizer and the Moderna vaccines, thus it better fits the needs for vaccinating the rural populations.
Presently flu vaccines are less effective in presenting influenza than any of the COVID-19 vaccines. According to CDC studies over the last 10 years, flu vaccines effectiveness has ranged from 19 percent in the 2014-2015 flu season to 60 percent in the 2010-2011 flu season. The 2019-2020 flu season vaccine was 39 percent effective. 
This flu season, the DPHHS recorded its first case of flu about three weeks ago. The decline is contributed to flu vaccination, as well as the precautions taken related to preventing COVID-19 spread. 
According to the CDC one of the most pivotal components of COVID-19 prevention strategy is layered mitigation. It recognizes that all mitigation strategies provide some level of protection and when implemented together, or layered, they provide the greatest level of protection.
The CDC, specifically, recommends five key, layered-mitigation strategies that include the universal and correct use of: masks; physical distancing; handwashing and respiratory etiquette; cleaning and maintaining healthy facilities; rapid and efficient contact-tracing, in combination with isolation and quarantine; and collaboration with the health departments.
The CDC recommends mask wearing as a top preventative strategy at mitigating COVID-19 spread.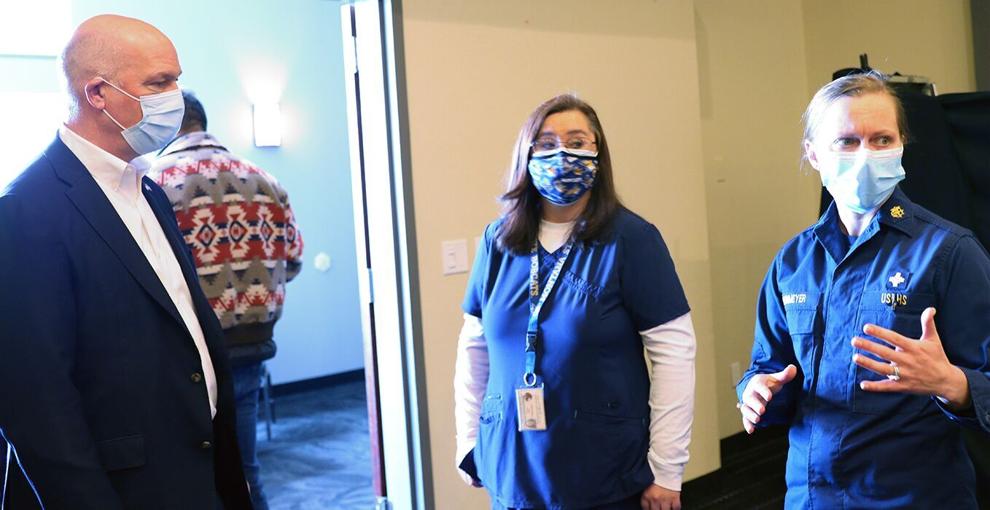 However, Gov. Gianforte issued a directive that lifts the statewide mask mandate Friday, Jan. 12, but allows some of Montana's largest counties still have their own measures that remain in place. The mask mandate officially expired last Friday.
"I laid out two criteria for letting the [mask] mandate expire. One, we were getting the vaccine to the most vulnerable. The second criteria was that I wanted protection for small businesses, nonprofits, places of worship, and health care providers from lawsuits related to COVID," Gianforte said. "The legislature acted and gave me that bill and it was signed into law on Wednesday this week. So, with those two things in place, the statewide one size fits all mandate expired this morning. Now local public health offices still have the ability to make decisions based on what's right for the community, but it no longer made sense to have a one size fits all model for everyone."
Gianforte was at the KwaTaqNuk Resort and Casino to check out the THD COVID-19 vaccination effort. 
"The pandemic is the number-one issue we face in the state," Gianforte said, adding that getting the most vulnerable was a priority of his and that's why he changed the state vaccination that targets them and a big part of that was the release of the 19,500 doses. He also lauded healthcare professionals for their part in vaccinating the public. "As of yesterday, 91 percent of all the vaccines we received in Montana is in someone's arms. They (health care professionals) have been very effective and they are doing it today in Polson."
Gianforte said the release of the extra doses does not indicate mission accomplished. 
"We're not out of the woods yet but this vaccine is safe and effective and it's the light at the end of the tunnel so we can get back to normal," Gianforte said, alluding to the Moderna and Pfizer vaccines and the anticipated of the Johnson and Johnson vaccine that is expected to be delivered to Montana in three weeks. "We are still not getting our fair share. This clinic is being conducted today because we reallocated vaccines that had been sent to our long-term care facilities but they weren't being used. So, I made it a priority to take them and to get them to communities. This clinic is possible today because we did that reallocation." 
Gianforte said despite the reallocation Montana ranks 45th in the US on a per-capita basis for vaccine distribution. 
"I just got off the phone with the White House less than an hour ago pleading our case that we just want to be treated fairly, we want equitable distribution, and please send us more doses," he said. "We can currently deliver about three times as many doses as we are currently receiving. I'm hopeful that the White House will be responsive."
What would trigger reinstatement of the mask mandate?
"We're going to keep an eye on infections and hospitalization. I'm encouraged by the vaccination and the trends we've been seeing," he said. "I'm wearing a mask. I'm encouraging Montanans to wear a mask. I think we do better by asking people to care for themselves and their neighbor rather than mandating it from the government. I'm wearing a mask because I want to protect my health and that of my loved ones and I want Montanans to do the same."
However, the lifting of the mask mandate did have some blowback from some state healthcare providers and State legislators.
Democrat minority leaders in the Montana House and Senate, Sen. Jill Cohenour and Rep. Kim Abbott responded to the governor's repeal of the statewide mandate in a statement.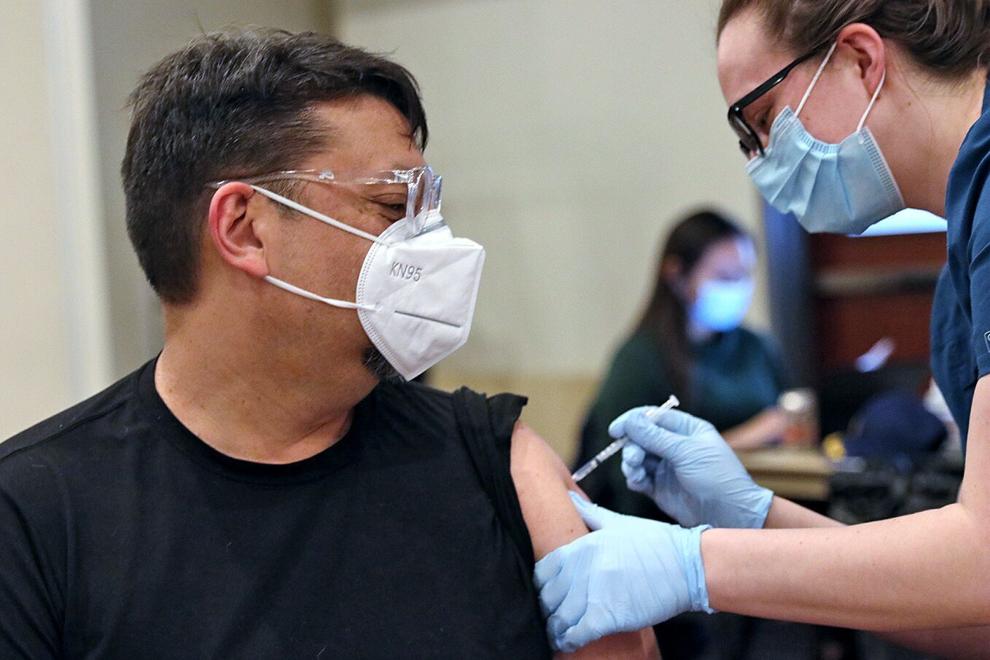 "Despite touting his commitment to vaccinating Montana's most vulnerable before lifting his mask mandate, Governor Gianforte is now going back on his word and endangering the health and safety of those he has a duty to protect," Abbott and Cohenour said in their statement. "By passing the buck on public health, Governor Gianforte is putting Montana businesses and workers in an impossible position and undercutting our economic recovery."
The Montana Association of Nurses released a statement criticizing Gianforte for lifting the mask mandate.
"In the middle of the COVID-19 pandemic that continues to infect an average of 273 Montanans every day and with new variants of the coronavirus being reported almost every week, our governor decides to back away from one of the actions most effective at stopping the spread of the virus: wearing a face mask," the statement reads. "The governor's lifting of the mask mandate directly contradicts the latest guidelines from the Centers of Disease Control and Prevention (CDC). Just one day ago, the CDC recommended that people should wear two masks to slow the spread of coronavirus variants that may be more contagious than the original virus… Until vaccination is widespread, the governor's decision to ignore the medical science poses a threat to all Montanans. Masking, social distancing, and hand hygiene is the ONLY other way to combat this pandemic."