Char-Koosta News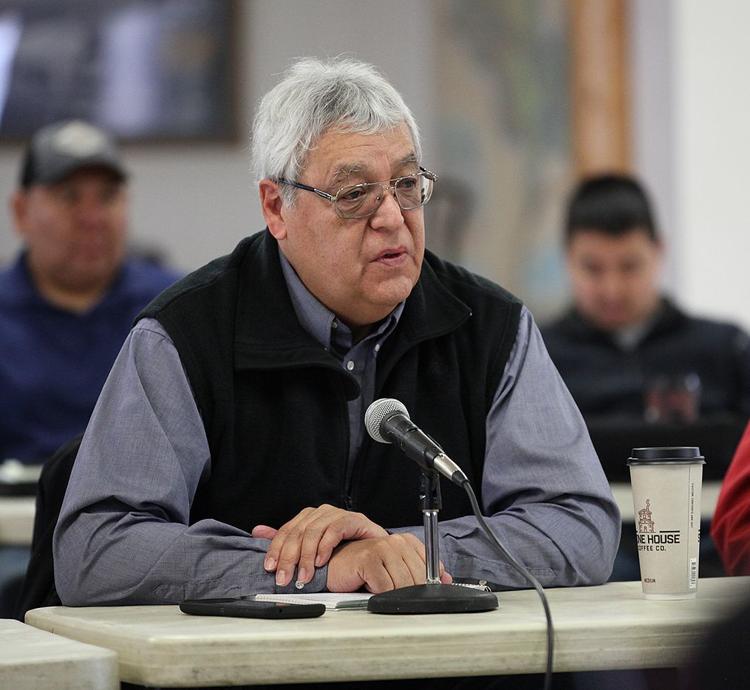 ST. IGNATIUS — Clayton Matt, acting director of the Tribal Health Department, informed the Salish Pend d'Oreille Culture Committee Elders Council and others at last week's February meeting about an assessment review of THD that would gauge its present state and map its future. 
The Tribal Council has empowered a committee with the assessment review, and they report to Matt as well as Tribal Council about its findings.
Under consideration is the establishment of a THD Board of Directors with bylaws and policies that guide the management of THD. Once the THD Board is in place, the search for a THD director would begin. Matt said that could be completed by this spring or summer. Until then Matt will continue as acting director of THD.
When all those pieces are in place then THD would potentially seek to go through the accreditation process. That is a huge step in the history of THD.
"The accreditation process involves assessment of every aspect of the Tribal Health Department," Matt said. "An outside agency will do the review and make recommendations."
Accreditation is regarded as one of the key benchmarks for measuring the quality of an organization. Preparing for accreditation gives a healthcare entity like THD an opportunity to identify its strengths and areas for improvement.
Receiving accreditation demonstrates a healthcare entity's commitment to compliance with industry standards and best practices, containing costs, and practicing performance improvement. Accreditation indicates and ensures quality healthcare for patient.
Ronan District Councilwoman Carole Lankford said accreditation does not necessarily equate to THD becoming a corporate model of healthcare provision. 
However, the current THD Committee assessment in considering what type of entity it will become. Presently it is a CSKT organizational department. 
The THD Committee told the Tribal Council Thursday that it is researching various healthcare entities' operational umbrellas including corporations, limited liability corporations, self-governance entities such as Mission Valley Power, Salish Kootenai Housing Authority, a tribal department, something similar to Two Eagle River School with a board of directors, some other type of organization or a mix of the aforementioned. To this point the type of healthcare organizational structure is up in the air.
"There has been a lot of discussion on what type of entity Tribal Health would be," said Vern Clairmont, Committee Member, adding that some of the organizational choices could be a detriment to federal assistance such as participation in the Veterans Affairs prescription drug program that provides low cost pharmaceuticals to THD and funding. "We are presently looking into how to figure out the effects organizational choices would have on those. We can't afford to not have them. Third party billing is a big issue too. We must keep the federal umbrella."
CSKT Legal Department attorney Lana Paige is assisting the committee in its mission to figure out what type of healthcare organizational entity best fits THD. It cannot be one that doesn't serve eligible beneficiaries regardless of tribal affiliation as that would jeopardize or eliminate federal funding.
"The Tribal Council has to make a resolution on what type of entity designation it would be," Paige said. "You have to decide what kind of entity you want."
Clairmont said the committee will continue its mandate and provide more information for the Tribal Council to consider for making its decision about the future of the Tribal Health Department. That could be sometime in March.
Road to accreditation
This the process THD would have to undergo to become an accredited health care provider: 
Accreditation Process Overview 
• Seeks to help identify known or unknown risks to quality and patient safety by conducting a meaningful assessment 
• Aims to inspire organizations to improve their care, treatment and services 
Standards 
Joint Commission standards are the basis of this objective evaluation process that can help health care organizations assess, measure and improve performance. The standards focus on important care and organization functions that are essential to providing safe, high-quality care. The Joint Commission's standards set expectations for organization performance that are reasonable, achievable and surveyable. The standards are published electronically in the E-dition® and in hard copy manual by Joint Commission Resources (JCR), the official publisher and educator of The Joint Commission. 
Survey Process 
Joint Commission surveys are unannounced, with some exceptions, such as non-deemed initial surveys. A survey is designed to be individualized to each organization, to be consistent, and to support the organization's efforts to improve performance. During the on-site survey, Joint Commission surveyors evaluate an organization's performance of functions and processes aimed at continuously improving patient outcomes. 
They do this by: 
• Tracing the care delivered to patients, residents or individuals served. 
• Reviewing information and documentation provided by the organization. 
• Observing and interviewing staff and, if appropriate, patients. 
Accreditation Decisions 
The scoring and decision process is based on an evaluation of compliance with Joint Commission standards and other requirements. Compliance with the standards is scored according to specific performance expectations called elements of performance. While a preliminary Summary of Survey Findings Report is provided at the conclusion of the on-site survey, the final accreditation decision is made at a later date. 
The accreditation decisions that can be awarded are: 
• Preliminary Accreditation 
• Accreditation 
• Accreditation with Follow-up Survey 
• Preliminary Denial of Accreditation 
• Denial of Accreditation
Expectations of Accreditation 
An organization's accreditation cycle is continuous, as long as the organization has a full, unannounced survey within 36 months of its last survey, and continues to meet all accreditation-related requirements. 
Accreditation and Certification Decisions  
• The following is an overview of accreditation and certification decisions. 
• Specific information about accreditation decisions, policies and procedures can be found in The Joint Commission's accreditation manuals. 
Accreditation Decisions
Accreditation is awarded to a health care organization that is in compliance with all applicable standards at the time of the on-site survey or has successfully addressed all Requirements for Improvement (RFIs) in an Evidence of Standards Compliance (ESC) submission within 60 days following the posting of the Accreditation Survey Findings Report and does not meet any other rules for other accreditation decisions. 
Accreditation with Follow-up Survey results when a health care organization is in compliance with all standards, as determined by an acceptable ESC submission. A follow-up survey is required within six months to assess sustained compliance. 
Limited Accreditation results when a health care organization is in satisfactory compliance with the limited set of standards and elements of performance (EPs) assessed in the first of the two surveys conducted under the Early Survey Policy. 
Preliminary Denial of Accreditation is recommended when there is justification to deny accreditation to a health care organization as evidenced by one or more of the following: an immediate threat to health or safety to patients or the public; submission of falsified documents or misrepresented information; lack of a required license or similar issue at the time of survey; failure to resolve the requirements of an Accreditation with Follow-up Survey status; or significant noncompliance with Joint Commission standards. This decision is subject to review and appeal by the organization before the determination to deny accreditation. 
Denial of Accreditation results when a health care organization has been denied accreditation. All review and appeal opportunities have been exhausted. For an organization undergoing an initial survey, the organization has failed to demonstrate compliance with all applicable Joint Commission standards. 
Certification Decisions
Certified programs meet all the requirements for their particular program. They either received no RFI or successfully addressed any RFIs through an ESC submission involving either clarifications or evidence of corrections for the review findings. 
Not Certified programs are those that: apply for certification and – recognizing during their on-site review that they would not meet the requirements – requested that the review be changed to an education visit; or, failed to meet the requirements and did not have their review converted to an education visit. Programs that fail to meet the requirements will have to address any RFIs and submit an acceptable ESC.