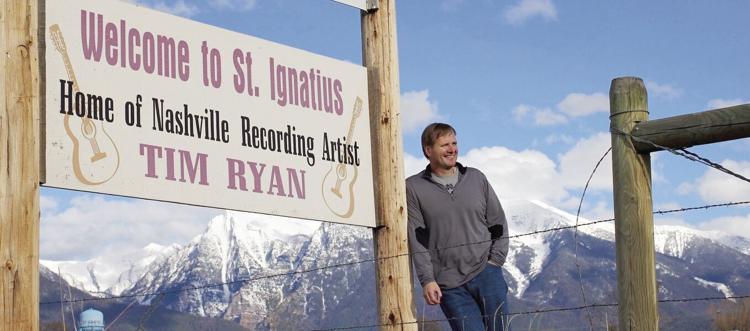 Char-Koosta News 
NASHVILLE — The ecstatic Nashville Cat, and St. Ignatius and Flathead Reservation homeboy, Tim Ryan Rouillier, who announced last year that he has begun work on a new musical, recently completed new contracts to broadcast "Play Me Montana."
Rouillier said the Public Broadcasting System (PBS) has purchased the rights to broadcast his "Play Me Montana" musical for three more years. It will be broadcast beginning in December as part of the PBS holiday entertainment fare. 
Also, the Canada Broadcasting System has purchased the rights to broadcast the musical that is based on his musical journey alongside his fiddle playing grandfather, Vic Cordier, that began on the Flathead Reservation when Tim was four years old and culminated in Nashville, the hallowed home of Country and Western music and its Mecca, the Grand Ole Opry.
Grandpa Vic Cordier, a self-taught musician, was, of course, his musical mentor and guide whose lesson number-one to young Rouillier was, "Keep it simple, stick to the three notes." That meant not going beyond the three major chords — C, F and G — when playing. "Grandpa was a genius," Rouillier said. "There is a magic in those three chords."
And there was magic in the grandfather-grandson relationship that led to "Play Me Montana" and now continues with an ever-expanding journey and audience.
"I got a call yesterday from my promoter. We're in negotiations to show the musical in Europe and Japan," Rouillier said last Wednesday. "By the time we get going in Canada well over 200 million people will have viewed 'Play Me Montana.'"
That viewing number will potentially at least double once it is shown in Europe and Japan.
And Rouillier isn't a one-trick musical pony.  
Late last year, Rouillier began work on a new musical based on the life of artist Charlie Russell. He has been busy conducting research on Russell and working on musical tracks. He has a preliminary date of completion set for April 2021. However, the COVID-19 pandemic has entered into the calculus, and just as it has altered the lives of all Americans, it has resulted in some unforeseen obstacles in the process. But work will continue and hopefully any obstacle delays will be short lived, and the resulting Charlie Russell musical will be as colorful as its subject and as long lived as the art of the premier artist of the waning days of the Old West.