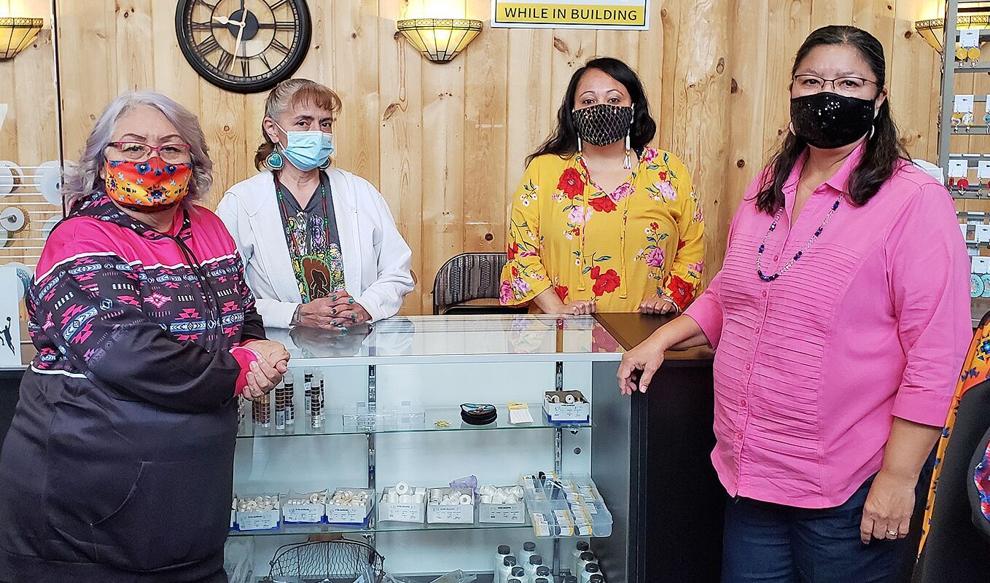 Char-Koosta News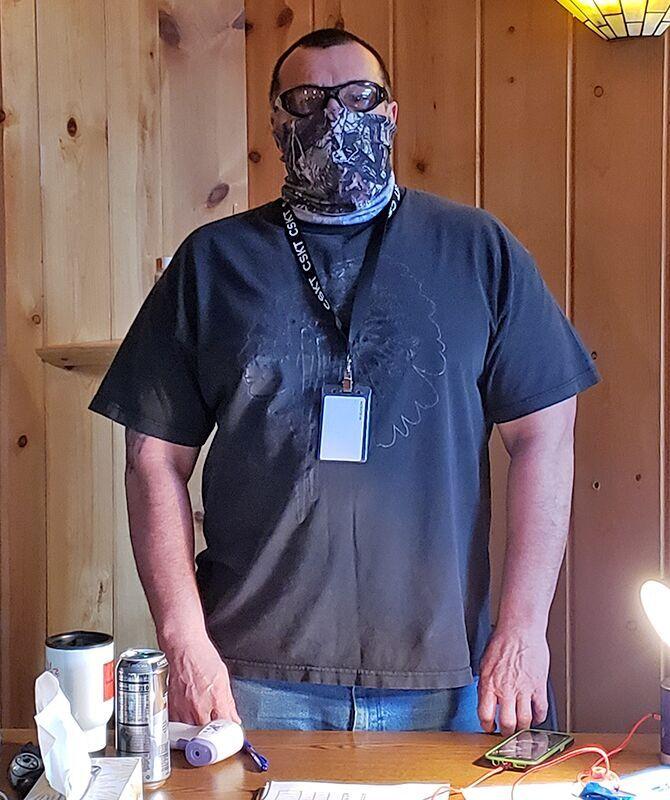 ST. IGNATIUS — The Peoples Center in Pablo was consumed by an arson-caused fire this past Labor Day weekend. It was a heartbreaking loss of a big slice of cultural preservation for the Séliš QÍispé and Ksanka people. The heartbreak was greater for those who worked in the Peoples Center, some for nearly 20 years. Their sorrow and grief also extended to the arsonist who died in the fire. And to some extent that sorrow and grief still hover but since that awful and sorrowful time a new cultural center, albeit temporary and mission has arisen from the fire, smoke and ashes of the former Peoples Center.
The formally named Peoples Center is now rechristened the Three Chiefs Culture Center and is now located in the Allard Stage Stop on Highway 93, across the highway from the Tribal Health Department Fitness Center.
Compared to the former Peoples Center the former Doug Allard restaurant and bar is a bit of cramped quarters for the display exhibits that were salvaged from fire as well as new ones and for the gift shop inventory. 
Also, due to its size and the Confederated Salish and Kootenai Tribes COVID-19 protocols that allow for only 10 people at a time besides staff in the building, Three Chiefs Cultural Center Director Marie Torosion said that all things considered, traffic has been picking up and surely will even more with the summer tourist season.
The gift shop, managed by Looshie Charlo is fairly well stocked with seasonal merchandise but the beading and traditional items like that have heretofore been difficult to stock, especially beads as well traditional fabric prints to a lesser extent. The beads are mostly made overseas in Europe and the supply and the transportation chain has been greatly altered due to the pandemic and not close of be as time reliable as before. 
Torosian said the normal order-delivery turnaround was a dependable two-week process but now it's not nearly as predictable.
"We have about 50 percent of the regular merchandise as before," Charlo said. "There is just no room, the space here is so much smaller, it looks very crowded." 
Charlo said that restocking the gift shop was quite a sticker shock since it had to be a total inventory restock as nothing from the previous gift shop was saved from the fire.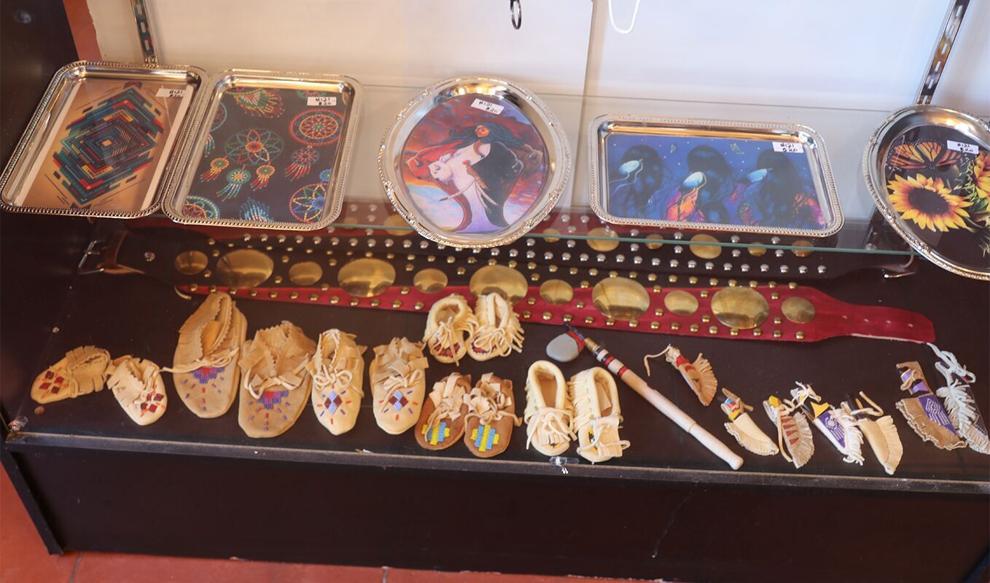 "We were starting over, and the first order was $32,000," Charlo said. "Even with that large of an order, I was scared it wasn't enough, but we pretty much have everything that we had before."
Charlo said the Labor Day fire that destroyed the Peoples Center still causes her some grief. 
"I am still sad about losing the building and the collection. It was such a shock to seeing it burn to the ground after working there for 17 years," Charlo said. "Since then, till now, I had a job but not any purpose and nowhere to go. Now we have a workplace but not the collection we had before. You just can't replace the pictures and artifacts that were lost. Some of those were salvaged and that's cool. They will be displayed again once restored."
"It was great to be able to work at home, but something was missing. I was going through some of the things that were salvaged and going through the pictures made me realize how much was lost," Torosian said. "Those priceless items were gone for good. My head was just filled with questions. That was hard to deal with when all you have are questions but no answers. Loosie and I had worked there for so long, we established deep connections to the place. It is a big relief when we were able to come back to work in a building like this. We're excited to be here. Everyone in the community is glad we're here."
Torosian said she is looking forward to the summer and the ability to schedule COVID protocol safe outdoor cultural activities at various open spaces in the area.
Geri Hewankorn is busy sorting through things for display. However, the old display inventory that was damaged by fire is in storage and/or undergoing or will undergo restoration by various museum conservators.
Hewankorn is presently working on her first display that will pay homage and attention to the Missing and Murdered Indigenous Women tragedy. It will, among other things, feature red dresses that represent MMIP that people have loaned for the display.
She will also work on a "Story of the Fire" exhibit.
Torosian said the staff will meet with the conservators on March 17 to further assess the scope of potential for the restoration of the fire-damaged artifacts and photos. Some of those items might be ready for display in the "Story of the Fire" exhibit.
Torosian said the requests for logo submissions have been closed but only two submissions were received.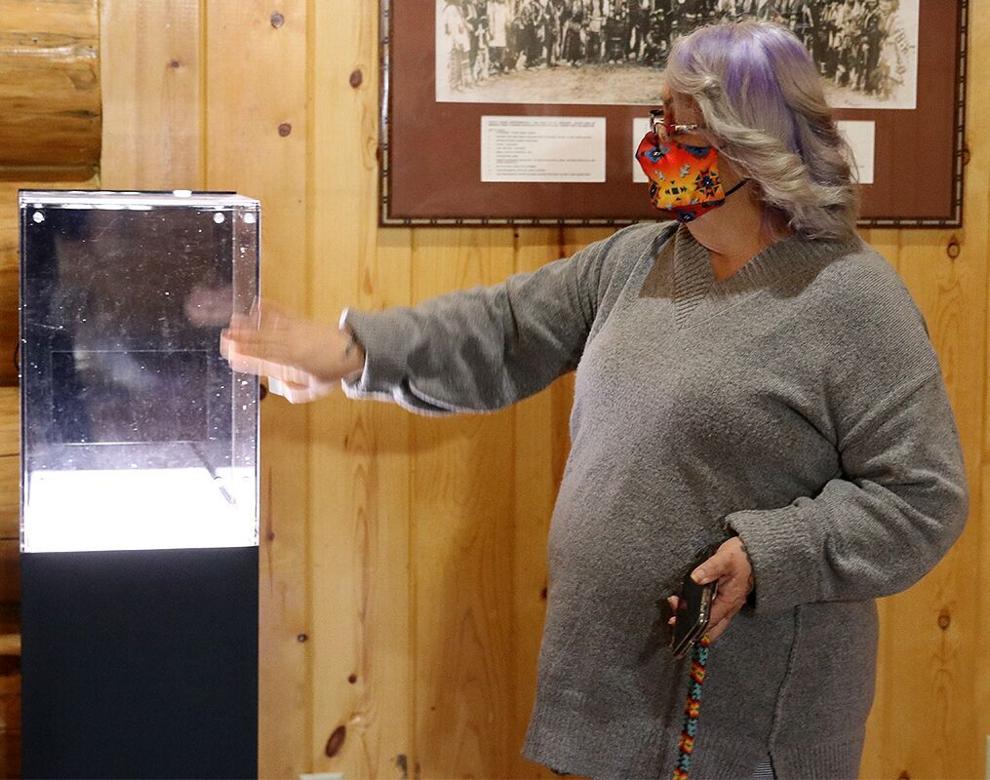 "We will talk with both (Séliš-Ql̓ispéCulture Committee and Ksanka/Kootenai Culture Committee) culture committees to see if they are okay with the designs," Torosian said. "They are good submissions but we'll see if the committees want to reopen the logo contest for more submissions."
The Three Chiefs Culture Center is open Monday through Thursday from 8 a.m. to 5 p.m.; on Friday from 9 a.m. to 5 p.m.; and on Saturday from 9 a.m. to 2 p.m.
The hours will change in June for the summer tourist season.
"Our staff (Looshie Charlo, Geri Hewankorn, and Aggie Incashola) will definitely be prepared for the summer traffic. They gave everything they had at the Peoples Center and they bring that same attitude here," Torosian said. "This is a team effort, and all we do here, we do it together, and that includes our new staff member, (COVID security person) Jableau (Arlee)."
Arlee ensures that people entering Three Chiefs Culture Center follow the COVID-19 safety protocols. His position is similar at all tribal buildings that the Tribal Council mandates for the safety of its employees and the general public.
Torosian also expressed thanks for her supervisor, Tribal Education Director Michelle Mitchell, for her support and guidance, especially during the rebirth of the Peoples Center as Three Chiefs Cultural Center.
For more information about Three Chiefs, call Marie at 406- 675-0160 Mondays thru Thursdays.