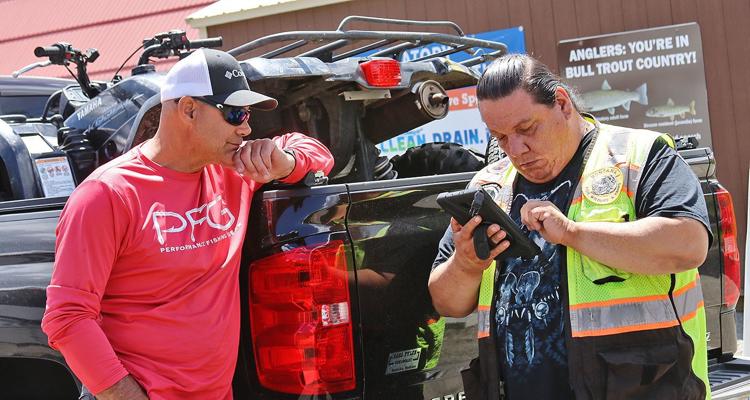 Char-Koosta News 
RAVALLI — The boating and inspections at the Montana Department of Fish, Wildlife and Parks inspection stations have increased lately with the full-blown arrival of the summer recreation season. The Confederated Salish and Kootenai Tribes operate two of the stations at Ravalli and Thompson Falls, and the Blackfeet Nation operate one at Browning under a contract with FWP.  
"The boating traffic is picking up but not like last year, so far," said JaBleau Arlee, CSKT Aquatic Invasive Species program inspection station supervisor, Friday. "There is more out of state boats than before and that traffic began earlier than before. I think that is do to the coronavirus and snow-birds coming back earlier than before.
"Yesterday we had more than 100 inspections by 11 (p.m.)," Arlee said, adding that Thursday, Friday and Saturday are peak recreational watercraft inspection days, and Sunday inspections are mostly for fishing watercraft."
Arlee said neither the Ravalli nor the Thompson Falls inspection stations have detected any mussel fouled watercraft. 
The CSKT Natural Resources Department's Fish, Wildlands, Recreation and Conservation Division's AIS program has employed 20 inspectors at its inspection stations.
The Friday traffic at the Ravalli was steady, keeping inspectors busy. One of the boats inspected belonged to Jim and Sharon Schroeder of Stevensville. The couple were on their way to Flathead Lake. They were in full support of the inspections.
"There should have been inspection stations at all border entries long ago, before they were detected," Jim Schroeder said, adding that the state should have been aware of the potential of mussel infestation because of the out-of-state infestations. "The testing is fine by me."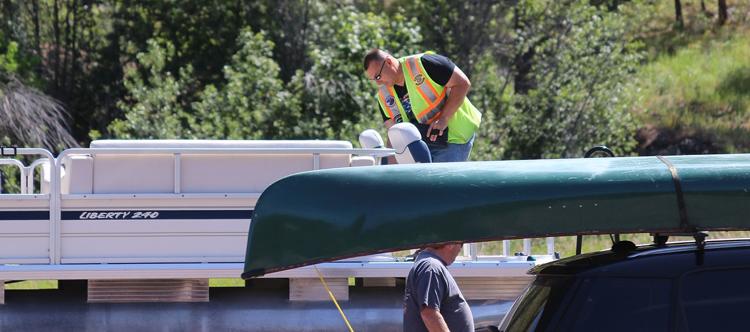 However, not by all and they have expressed that at Ravalli and Thompson Falls.
"Last week a guy wouldn't lower the motor on his boat," said David Sorrell at the Thompson Falls inspection station. "He said, 'I'm not going to do that.'''
Sorrell explained the reason for the inspections and why he had to inspect the boat. "I have to do my job," he told the disgruntled man. "I have to fully inspect every boat, every time they come here."
Sorrell told the boat owner from Idaho that he could talk to supervisor Arlee. He declined to talk to Arlee, and still refused to let his boat be inspected. Arlee told Sorrell to call local law enforcement. So, he did.
The police told him to acquiesce to the inspection or get ticketed and boat impounded. "Instead of being here for a few minutes for the inspection, he was here for an hour and a half and got a full inspection that included a hot wash on the lower part of the boat."
A couple of Missoula boat owners that stopped for inspections that day were aware of the need to test watercraft.
"They're a good thing, inspections," said Bob Evans. "We don't want a mussel invasion in the state."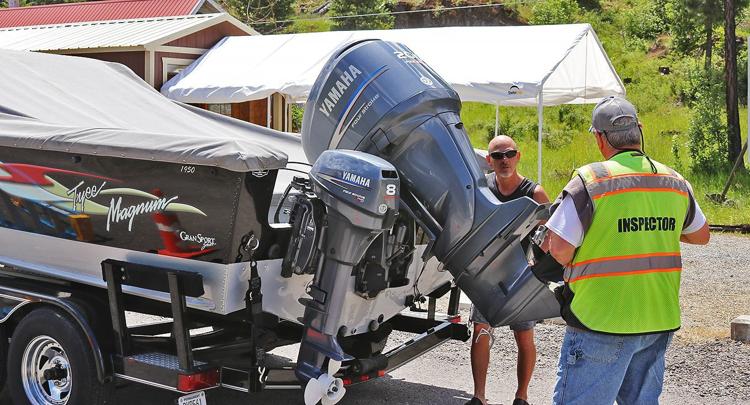 "The inspections are necessary. I'm willing to take the time to stop and get inspected because I don't want to be a transporter of mussels" said Jeff Mayfield. "I love to fish. Everyone has to do this to protect the waterways so they are here without mussels next year and we can enjoy fishing."
So far as of Monday, June 22, the Montana AIS inspection stations have conducted 24,938 inspections that found 2,261 high-risk watercraft and 16 mussel fouled watercraft. The high-risk watercraft emanate from areas known to contain zebra and/or quagga mussels or are watercraft with bilges.
Top inspection numbers of sites conducted near Flathead Lake
Clearwater Junction has conducted 7,624 inspections that included 77 high water-craft
Ravalli has conducted 3,396 inspections that included 192 high risk water-craft
Anaconda has conducted 2,168 inspections that included 452 high risk water-craft
Troy has conducted 1,380 inspections that included 14 high risk water-craft
St. Regis has conducted 796 inspections that included 42 high risk water-craft
Browning has conducted 430 inspections that included 21 high risk water-craft
Kalispell has conducted 309 inspections that included 13 high risk water-craft
Thompson Falls has conducted 293 inspections that included six high water-craft

Sula has conducted 205 inspections that included 23 high water-craft
Inspections by state
Idaho tops the top 10 of out-of-state inspections with 399, followed by Washington with 183, Arizona 159, California 150, Wyoming 132, North Dakota 112, Colorado 106, Minnesota 104, Utah 91, and Florida 89. 
The remaining inspections were conducted of on Montana water-craft.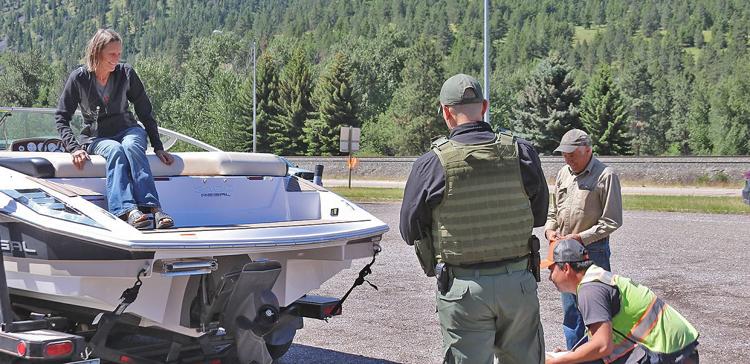 AIS fouled water-craft breakdown as of June 22, 2020
Inspection Station - Anaconda
Date: 6/14/2020
Water Last Launched: Unknown
State of Origin: New York
Inspection Station - Anaconda
Date: 6/11/2020
Water Last Launched: Lake Winnebago
State of Origin: Wisconsin
Inspection Station - Nashua
Date: 6/6/2020
Water Last Launched: Lake Michigan
State of Origin: Wisconsin
Inspection Station - Anaconda
Date: 6/4/2020
Water Last Launched: IL
State of Origin: Illinois
Inspection Station - Dillon 
Date: 5/29/2020
Water Last Launched: Lake Mohave, AZ 
State of Origin: Arizona
Inspection Station - Flowing Wells 
Date: 5/27/2020
Water Last Launched: Minnesota
State of Origin: Minnesota
Inspection Station - Anaconda
Date: 5/23/2020
Water Last Launched: Mississippi River, IL 
State of Origin: Illinois
Inspection Station - Dillon 
Date: 5/20/2020
Water Last Launched: Lake Havasu, AZ
State of Origin: Arizona
 Inspection Station - Hardin 
Date: 5/19/2020
Water Last Launched: Geneva Lake, WI
State of Origin: Wisconsin
Inspection Station - Anaconda
Date: 5/1/2020
Water Last Launched: Mississippi River, IA
State of Origin: Iowa
Inspection Station - Anaconda
Date: 4/30/2020,
Water Last Launched: Lake Havasu, AZ
State of Origin: Arizona
Inspection Station - Dillon 
Date: 4/28/2020
Water Last Launched: Lake Havasu, AZ
State of Origin: Arizona
Inspection Station - Dillon 
Date: 4/21/2020
Water Last Launched: Lake Pleasant, AZ
State of Origin: Arizona
Inspection Station - Dillon 
Date: 3/23/2020
Water Last Launched: Lake Havasu, AZ
State of Origin: Arizona
Inspection Station - Dillon 
Date: 3/20/2020
Water Last Launched: Lake Havasu, AZ
State of Origin: Arizona
Inspection Station - Dillon 
Date: 3/15/2020
Water Last Launched: AZ
State of Origin: Arizona