Char-Koosta News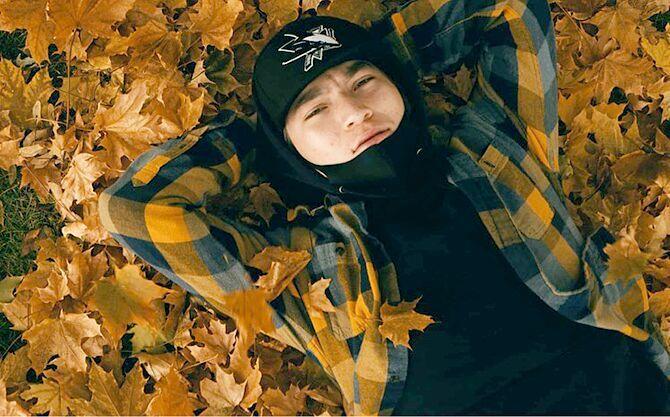 Eighteen-year-old Skyler Goss of Ronan, the latest Hip-hop artist to become part of the COVID-19 public information message aimed at young people, performed his video rendition live Saturday. However, due to the concern of the drastic uptick of COVID-19 positive cases on the Flathead Reservation and Lake County the performance wasn't conducted in public. Thankfully the performance and message still got out to the public via Facebook.
His performance was part of the Confederated Salish and Kootenai Tribes COVID Youth Community Care and Awareness Campaign with the Tribal Education Department leading the effort.
The hip-hop artist is not just focusing on music, he has a Plan B and is pursuing an automotive education online. But it is his musical talents that he is relying on to spread a positive message to his community, as well as motivating the youth to make a change. 
Through his music he speaks about the pandemic and how important it is to wear your mask and be cautious. Skyler said being a part of this COVID-19 campaign is a blessing in disguise and has motivated the young artist to compose more positive messages in the future. 
The basic message of the youth awareness is the importance of wearing a mask, social distancing and washing hands. The universal message is aimed at the young people who some feel, are not taking the practices seriously.
The safe practices mantra of wearing a mask, social distancing and washing hands is an effective way of limiting the potential of exposure and infection of COVID-19. Another very important key is limiting public exposure by only venturing out when necessary. 
COVID 19 Symptoms
People with COVID-19 have had a wide range of symptoms reported – ranging from mild symptoms to severe illness. Symptoms may appear 2-14 days after exposure to the virus. 
People with these symptoms may have COVID-19:
• Fever or chills
• Cough
• Shortness of breath or difficulty breathing
• Fatigue
• Muscle or body aches
• Headache
• New loss of taste or smell
• Sore throat
• Congestion or runny nose
• Nausea or vomiting
• Diarrhea
This list does not include all possible symptoms.
CDC will continue to update this list as we learn more about COVID-19.
When To Seek Emergency Medical Attention
Look for emergency warning signs for COVID-19. If someone is showing any of these signs, seek emergency medical care immediately:
• Trouble breathing
• Persistent pain or pressure in the chest
• New confusion
• Inability to wake or stay awake
• Bluish lips or face
This list is not all possible symptoms.
Please call your medical provider for any other symptoms that are severe or concerning to you.
Call 911 or call ahead to your local emergency facility: Notify the operator that you are seeking care for someone who has or may have COVID-19.
After seemingly dodging the COVID-19 bullet for the first half of the year, COVID-19 cases in Montana began to inch for a couple of months than plateau before skyrocketing starting in late-September. Sadly, the state is mirroring the nation with the dire rise of positive cases that are sapping limited medical resources.
Lake County, as of Monday, Nov. 16, has had 1008 positive cases; currently there are 310 active cases with 16 hospitalizations; and eight deaths. Montana has registered a total of 48,101 cases that has resulted in 525 deaths, and 27,496 have recovered. Montana has 20,009 active cases. Nationwide there have been a total 11.3 million total cases that have resulted in more that 247,000 deaths.
Public Health officials and frontline medical providers nationally and locally are concerned about the winter months and the accompanying flu season which will exacerbate health care facilities shortage of beds and medical professionals to properly address dire needs. 
Presently in Montana, St. Vincent Health care hospital in Billings. St. Peter's Health hospital in Helena, Bozeman Health Deaconess Hospital and Benefis Hospitals in Great Falls all had more than 90 percent of their hospital beds at the beginning of this week. St. James Healthcare hospital in Butte and the Billings Clinic both reported between 70 percent and 90 percent of hospital beds occupied.
It is highly recommended that people forgo or safely limit upcoming holiday gatherings this year as a precaution, due to the concern over the potential double barrel onslaught of flu and COVID-19.
There is a thick ray of hope when it comes to a COVID-19 vaccine. On Monday, Moderna (Bio-Tech Co.) announced that its vaccine against Covid-19 is strongly effective. In preliminary tests, the Moderna vaccine reduced the risk of Covid-19 infection by 94.5 percent. The news comes exactly a week after results from Pfizer and BioNTech announced broadly similar results in its vaccine. However, it could take months before they become certified by the Food and Drug Administration and become available to the public. Even then the initial dispensation would be to frontline medical providers and then the high at-risk population, that includes the elderly and folks with pre-existing conditions. 
The COVID-19 awareness message for Flathead Reservation youth is built on themes such as #ProtectOurElders and #WalkTogetherWell in order to inspire youth to carry the themes to peers, involve family, and positively impact health and safety in the tribal community. The hashtags with the video are #ProtectOurElders, #fixyourmask, #csktcovidchallenge, #csktchallenge, and #walktogetherwell. Youth "Challengers" will be asked to follow the artist and, in their post, include the hashtags, as shown above, in order to keep message branding and momentum.