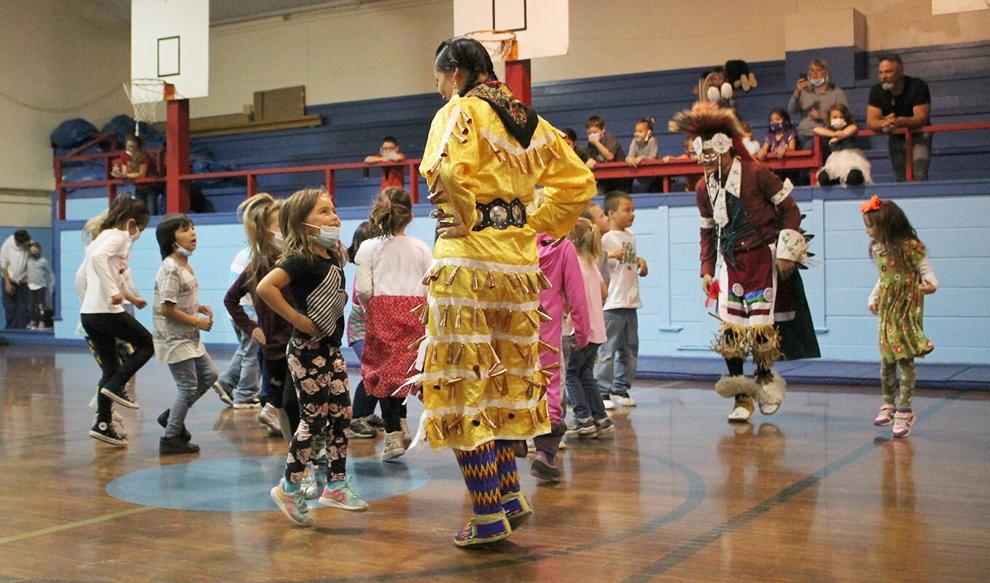 Char-Koosta News 
ST. IGNATIUS — On May 26, St. Ignatius Elementary organized a culture day event for students in Transitional Kindergarten Opportunity that included 1st through 5th grades. Local presenters attended and taught classes on Native American dance, tipi history and craft, Native flute performance, and the Salish language.
Colleen Frey, a Native American studies teacher at St. Ignatius Elementary School, organized the culture day because students would usually end the year with a pow wow, but due to COVID-19, students have had to miss out on cultural events for the last two years.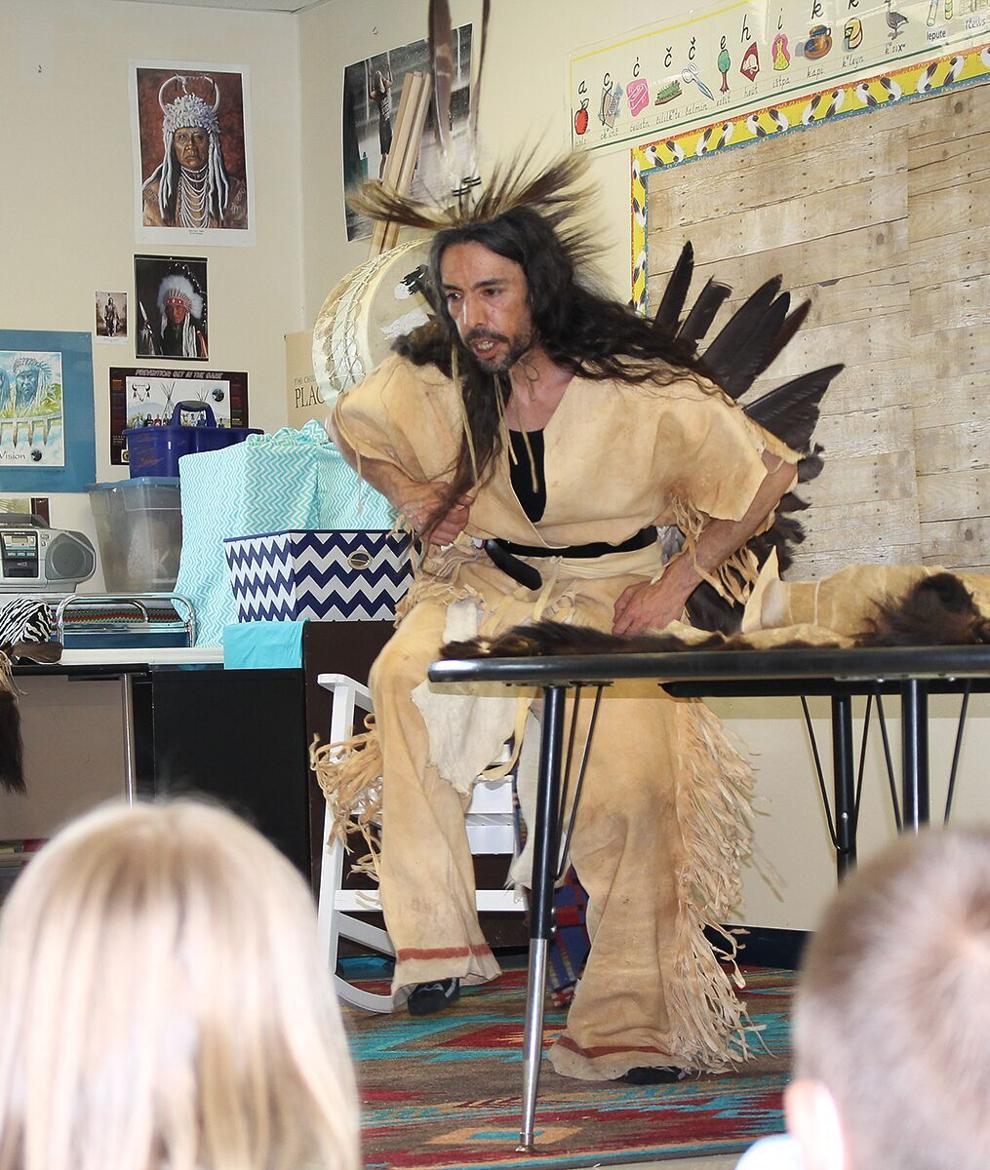 Buck Morigeau taught the History of Native American Dance class, focusing on Natives' traditional ways. He showed the kids his buckskin clothes and compared them to modern clothing. "There wasn't a Walmart back in the day where you could go buy what you needed," Morigeau said. He showed them the tools Natives used to tan hides and sew clothes. He discussed the significance of hunting and its role in the Native American dance. All of the kids were fascinated and eager to share their own stories about their father's hunting adventures. "Men aren't supposed to come home bragging about what they hunted," Morigeau joked. "My father killed a bear," exclaimed a child. Morigeau responded, "See, our children and wives brag for us." Morigeau also explained the significance of dancing and powwows and asked the children if they had ever attended or danced in a powwow. "We like to see the kids dance because it shows that the ways are being carried on," Morigeau said.
Aggie Incashola and Debby Demarais from the Three Chiefs Culture Center assisted with the tipi's history and craft class. They taught the children the meaning and purpose of a tipi before allowing them to design their own. The kids gathered around a box of crayons, comparing tipis and yelling for their teacher to come to see what they had created.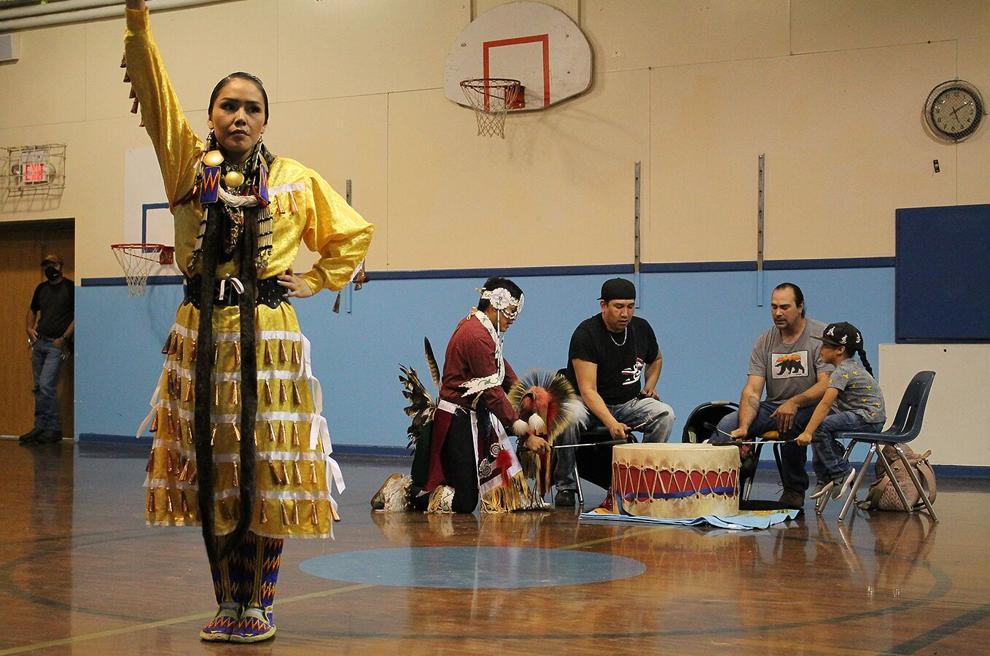 Ardon McDonald, Laurencia Starblanket, and Siliye Pete demonstrated a Native American dance performance in their regalia to music provided by drummers Jordan Stasso, son Peter, and Walden Twavina. 
McDonald demonstrated the chicken dance to the students, Starblanket represented the jingle dance tradition, and Pete represented the fancy dancers. The children were awestruck by the dances and had many questions. One child commented on how difficult it must be for the dancers to stay on their toes. Starblanket assured them that dancing is a sport that must be practiced. Other children inquired about the regalia and why the fancy dancer was dressed in such bright colors. Some kids were curious about the drum and asked Stasso if it had ever broken. After the dances and questions, Stasso invited the children to join the dancers. The kids were thrilled to participate and most didn't hold back.
St. Ignatius Elementary students learn about tribal culture
Former St. Ignatius teacher David Durgeloh presented a Native flute and historical performance class. He told the kids that his father taught him to stop and listen to the sounds around him and that they should do the same. "Listen to nature for healing," Durgeloh said. He shared a few songs he learned from listening to nature and animals.
Vance HomeGun, Daniel Brown, and Nadia Adams participated in the Salish language class. Together, they interacted with the children by teaching them vocabulary and singing a song to them in Salish. Towards the end of the course, the children played a game and were challenged to say a Salish word by themselves. 
Frey said, "We feel as a school sharing our Native culture with all students is important. It was fun to hear the students talk about what they learned on Culture Day." Frey and Elementary Principal Tyler Arlint were pleased with how the event went and plan to hold a cultural day every month in the next academic year. Frey said, "Some of the presenters have already said they would love to be a part of it. They were impressed at how respectful and focused our students were." 
Arlint said it is rare to be able to gain the children's undivided attention, but it was achieved on cultural day. "This is what learning and teaching is all about; to have our Native American culture represented and taught in our building by all the presenters was a real treat for our school."
The end of the event consisted of fry bread and huckleberry butter provided by Tyler Morigeau and Sarah Dempsey.