Samantha Friedlander's 'Untethered' art show displays body of work
Char-Koosta News 
PABLO — Salish Kootenai College art student Samantha Friedlander, 23, began her journey of creating art as a child drawing dresses for her dolls. In middle school her art transferred from doll dresses to anime-inspired characters until her senior year of high school. Her AP art class pressured her to create other masterpieces and different art forms to get noticed by colleges.
However, Friedlander, a member of the Confederated Salish and Kootenai Tribes, attended Salish Kootenai College to get into a different field. "I had this idea of where I was going; I was in psychology. I wanted to be a psychologist," said Friedlander. The course load and schedule, however, caused Friedlander to 'burn out. "I just couldn't do anymore. It sucked being burnt out; you just feel like you're not doing good enough, when in reality it was a blessing in disguise."
Friedlander realized her plans and goals weren't what she wanted for herself and decided to pursue a different path.
"I created all the work you see now," she said. When she started the transition from the Psychology Program to the Fine Arts Program, she created her art show 'Untethered,' which is her series about breaking away from her everyday routine.
The art exhibit was a series of astronauts in their own part of the galaxy with their own story. "The astronauts, they mostly are what I say to be sufficient of the title 'Untethered,' the idea of just free floating and being free of your worries, being unanchored of where I was going but also being stress-free about it."
A piece called 'Transcendence,' which features an astronaut sitting in lotus position while floating in space, made it into Ronan High School, where it hangs in the library to inspire students. The Ronan High School librarian said the piece is a way for the students to reach for the stars but be calm and understand that with patience you can do anything.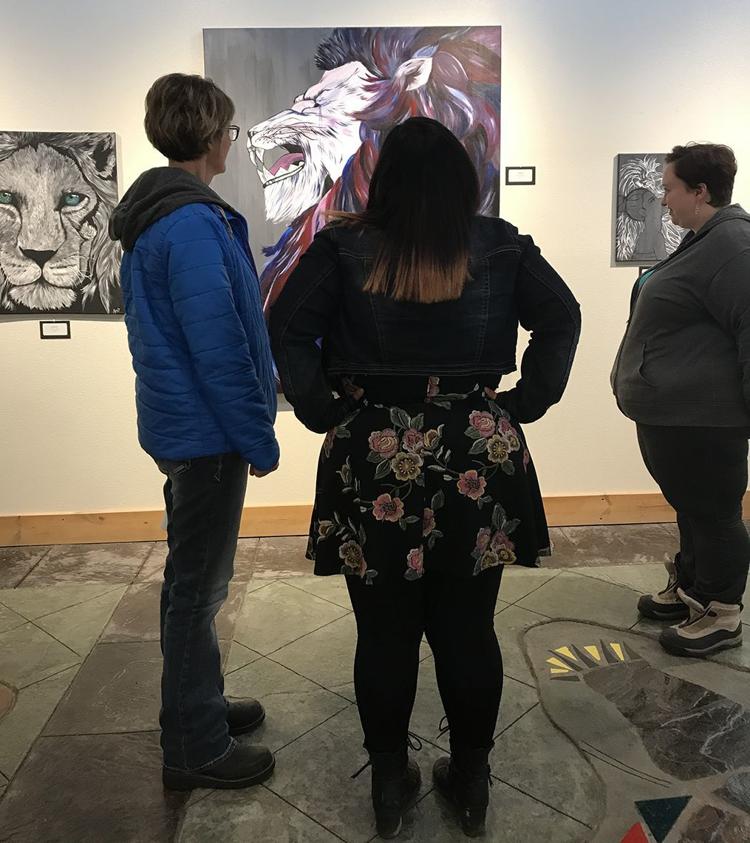 Her first piece of art was a self-portrait of her inside of a lion. When she created this piece, she felt angry and didn't appreciate her work, so she repainted her self-portrait. "I wanted to signify that I did have the strength and that I do have that piece of mind. I wanted to say that everyone can do something as well, but it may not be art for you. Although art is not something you are born with, people aren't born being able to do this. You get out of life what you put into it. So if you want to do great things, you can; you just have to put the effort into it. I hope to continue to grow and continue my art as well." said Friedlander.
"The big one (lion portrait) from when you graduated, I like the title of it, 'Growth,'" said Cameron Decker, Fine Arts teacher at Salish Kootenai College, to Friedlander. "That's what we're after here at the SKC art program. You come in and you grow one way or hope for the better and this was a huge leap as far as what we're doing here. I mean you're going even further, when you look at the work from before to now. I'm excited to see what you go into and I hope you don't stop; you have pretty amazing work and quality work."
Her process starts with a blank black canvas. She turns on her music and gets into her creative zone. "I kinda just go into a different world as I'm creating and I just layer colors as I feel they need to be layered and how I feel at the time which is what comes out of that," said Friedlander. When creating pieces for a person she keeps them in mind. Each color she uses is based on the person she is creating, what their favorite color is, what hobbies they have, and becomes a reflection of what the person feels to her. 
"My strongest piece, I wanted it to be as detailed as possible to signify who I am and that is kinda where I want the rest of my astronauts to be," said Friedlander. "This is nice and the look is also nice, but I would like more of a gradience to happen. More of a flow to happen and not so stalky." She works with pen portraits, watercolors, and she has done some oil paint work, but her favorite medium is acrylic paint. Friedlander wants to continue with her art major and get a bachelor's degree. She also wants to do bigger art shows one day.
Decker noted that attendees of the art show asked if the Friedlander's paintings were for sale. Usually, pieces in art shows are, but not so in this case; every painting already had a home to hang in.
"I think you have a lot of success coming your way and that's amazing," Decker said.