Good Samaritans awarded Challenge Coin by Lake County Sheriff's Office
Char-Koosta News 
POLSON — Ryan Running Crane, Salish Kootenai College student in Business Administration and a new banking intern with Glacier Bank in Ronan, went home in Polson at noon on Wednesday, August 21, and found himself on a scene that seemed to be fated for his presence.
"I took my lunch hour to switch cars with my wife. There was really no real reason to do it," he explained. 
As he took his regular route, a left turn off Highway 93 on Caffrey Road, he saw two vehicles demolished with debris scattered from the middle of Highway 93 to the corner ditch where the roadways intersect.
Immediately, intuition kicked in and Running Crane parked along the road and ran to the scene. The sedan was flung into a ditch from a high impact hit.
Three male juveniles, also accident victims, stood off a few feet away. Polson resident Kenna Luttrell called attention to an elderly man in the twisted vehicle. An elderly man in the driver's seat was severely bleeding. Running Crane stepped in, letting Luttrell know he was a certified Army Combat Lifesaver.
Luttrell, first on the scene, said she was behind the elderly couple when they were hit. Instinct drove her to the side of the vehicle to help. "His arm was bleeding heavily and one of the boys gave their sweatshirt to use to put pressure on it (arm)," said Luttrell. The three shocked young men stood in silence as spectators to the impromptu emergency support.
"I seen the boys standing there and figured they were okay (physically) and I went straight for the elderly man in the car," Running Crane said.
The first step was to ask the crash victim if it was okay to help, Running Crane explained. As soon as a rapid yes responded back to Running Crane he went to work.
"His arm was blown apart and ripped up," described Running Crane. "I had to make sure to keep his blood in him." 
Running Crane, an Army veteran, heard the OnStar emergency assistance announcing help was on the way while taking off the victims' seatbelts. He asked the severely injured driver questions to keep him from sinking deeper into shock.
"The man was a trooper. He tried to remain calm and kept asking if his car was okay," said Running Crane. Ryan said at the moment of crisis he had not looked at the front of the vehicle and responded with a courteous answer. "It's okay," he told him. "I was trying to keep him calm and as comfortable as could be," said Ryan. "I reassured him I would not leave his side until the medical team got there."
Despite serving three deployments overseas from 2005 – 2010 as an Armor Mechanic and certified Combat Lifesaver, Ryan said he has never witnessed something as "intense" as the accident on Highway 93.
According to the Army Study Guide, the U.S. Army Combat Lifesaver Course is an official medical training course led by the Army. It provides an intermediate step between the buddy aid-style basic life support taught to every soldier and the advanced life support (ALS) skills taught only to U.S. Army Combat Medics (MOS 68W). This training is offered to at least one soldier in every squad with some ALS training and equipment that focuses on time-sensitive battlefield trauma like arterial bleeding and blocked airways. "It's a common thing that could happen and you're trained to be universal," said Running Crane.
The additional training ensures the fastest response time to aid a wounded soldier on the battlefield and has been statistically proven to reduce the likelihood that a soldier will die while waiting for a battalion medic to arrive. "In case someone needs it, you're there," said Running Crane. The CLS program is of particular importance to infantry units who receive most of the battlefield injuries. He explained the certified CLS trained soldier goes directly to victim who is likely to live. "You save who you can save." The CLS Running Crane received back in his infantry days stuck with him years later.
"Majority of the war deployments I didn't have to use it (CLS) until I came here," said Running Crane.
The moment Ryan stepped on scene Luttrell, whose former partner was a military medic, understood Running Crane was more capable and stepped back and let him take over after hearing he had Combat Lifesaver certification. "I stayed next to the wife (passenger), held her hand and chatted with her until help came."
After minutes of medically attending to the elderly victims Lake County Sheriff Lt. Fernando Venegas came on scene and then the Polson ambulance team. Venegas said he was surprised and impressed by the Running Crane and Luttrell's teamwork.  
Both agreed, they didn't do this heroic act of response for recognition – it was merely intuition and, in Running Crane's case, training. 
A week after the accident
Luttrell went on after the accident knowing it was something she just had to with no thought of being "special." She was surprised yet appreciative of the Lake County Sheriff's Department Challenge Coin given to her a week after the incident. "It's just an instinct thing (to help). I would hope anyone would do that for me too."
Running Crane went about his business at Glacier Bank after his shocking lunch hour incident doing "work as usual" and trying to get the second-hand trauma out of his mind. "The real heroes are the ones who are on the line and do this every day," he reflected. He said when he shared what happened that day to his co-workers it didn't seem to sink in to them or him.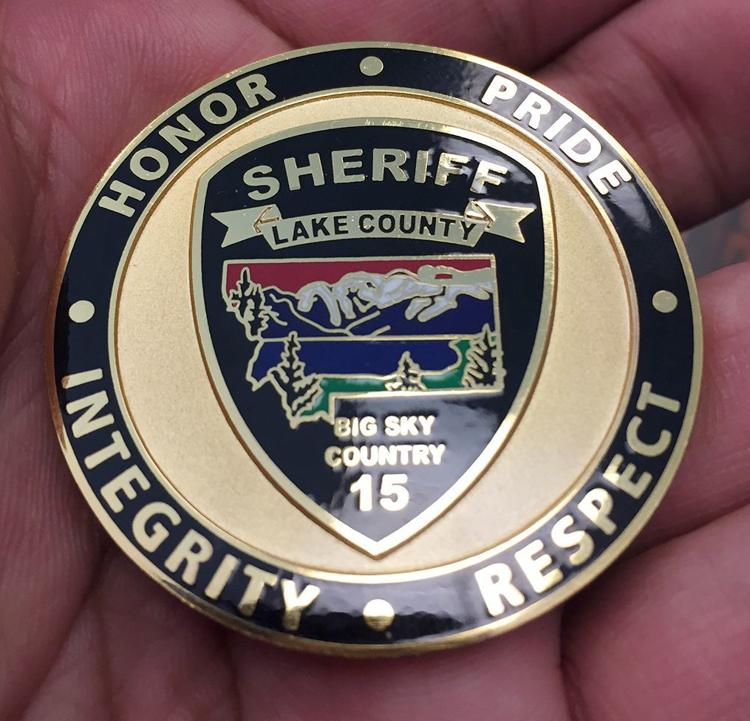 Shut away in the back of the building in his confidential office a week later he heard a knock on the door. "Someone is here to see you," a co-worker announced to him. Lake County Sheriff Lt. Venegas was standing at the door. A sudden sinking feeling hit his gut, but it quickly melted when Venegas grabbed his hand firmly with an abrupt handshake and coin inside and said with a smile, "Thank you for being there (for medic response)."
"I wanted to tell him in person. It meant a lot," said Venegas.
Running Crane said Venegas conveyed strong gratitude and told him there was a spot for him on the (law enforcement) force if he wanted. His response: "That's nice to know and hear, but I'm a business man now. I'm a banker."
Running Crane plans to finish his B.A. in Business at Salish Kootenai College and go into full-time banking.