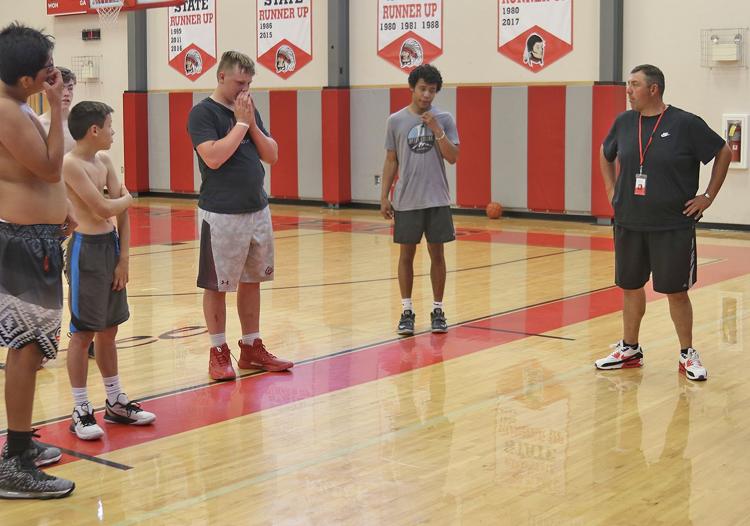 ARLEE — The Arlee Warriors boys basketball team now has one of their own as head coach with the hiring of 40-year-old Shawn Matt. The Salish Tribal member is the first former Warriors player to head coach the team and it's been a long time coming for him personally.
Matt is the epidemy of dreams coming true with hard work— his dream of being the Warriors head coach recently became a reality. He will be taking the reins of the Warriors basketball program that has a very successful run over the last decade. They have appeared in six consecutive state tourneys beginning in 2015 — five Class C state tournaments that resulted in two championships under coach Zanen Pitts, and one Class B state tournament appearance under coach Zach Conko-Camel last year after being reclassified. 
Matt, who graduated from Arlee High School in 1998 after four years on the hardwood wars as a player, has spent 14 seasons of coaching at Arlee — in junior high, high school junior varsity and assistant head coach.
Matt had applied for the Arlee head coaching position a couple of times before and now, as they say, the third time was the charm. Although the Warriors head coaching position didn't happen overnight his coaching attributes drew attention of another local team in need of a head coach, and he was invited to apply but didn't. He had too much of the Beach Boys "Be True to Your School" flowing through his veins being pumped by heartful loyalty. 
"After being turned down a few times, I finally got the job. I just didn't want to coach at any other school. Arlee is family," Matt said. "Once a Warrior, always a Warrior. I have had a lot of family members graduate from Arlee, my mom did. I would feel like a sell out if I went anywhere else but here."
Besides his mother, Sharon, he has had aunts and uncles, and cousins — two of which played basketball for the Warriors — attend Arlee. Now his children are attending Arlee schools. In fact, his eldest daughter Shawnlee, was a key member of the undefeated 8th grade team that went 16-0 this past season. 
"I am honored, and excited to finally get to run my own program," he said, adding that he had a good coach to emulate. He began his coaching career as an assistant coached on junior high teams under the tutelage of long time Warriors coach Clyde Tucker, who coached junior high teams after retiring from teaching. Once the word got out that Matt was tapped to be the Warriors coach, multiple congrats poured in on Facebook. "I am really thankful for the community support and encouragement. It felt good. My family supports me, now I feel the community supports me. It's one thing to get the job by the administration but the community support, the congratulations and encouragement was overwhelming, and welcome."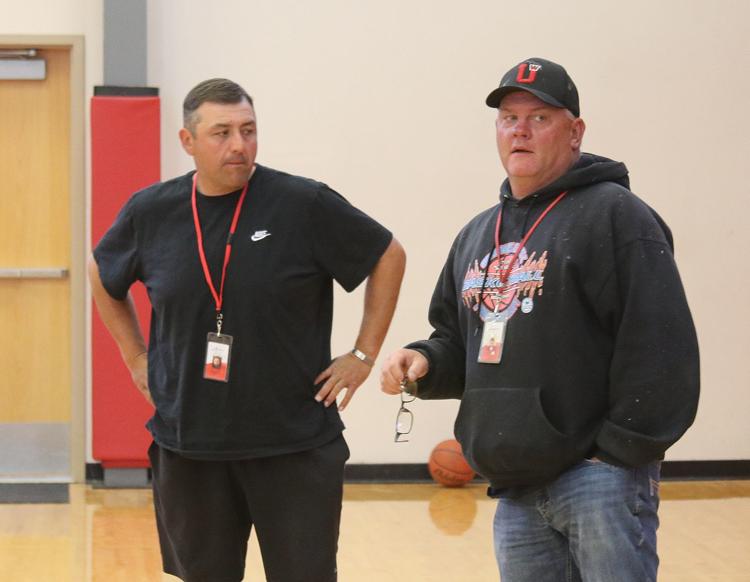 The Warriors will be a pretty young team but not an unfamiliar team in Matt's inaugural head coaching season. It includes seven freshmen that were a part of his undefeated (17-0) junior high team last season. Those seven players were brought up to the Warriors varsity team last season once the junior high season was over. The reason, besides being good players, was due to the low turnout for the varsity team. Last season, the Warriors moved up to Class B after several seasons in Class C. However, despite the low turnout and youth, the Warriors, after failing to win a regular season District 6B game, they placed fourth at the District tourney, then went on to win the Western B Divisional to earn a spot at the State B tournament. They went 0-2 and-out at state to finish 10-14.
"We are not a big team; we are a young team. We lost a lot of experience to graduation but we do have some seniors that had playing time coming back," Matt said. "I've coached the freshmen on the team, have a good relationship with them, they know me, trust me, believe in me. Good things can happen because of that relationship. I am here for them, they're here for me. The other returning experienced players also know me. They will provide leadership for the younger players."
Matt said the Warriors will play a press and push game that will rely on plays that set up good high percentage shots. Three-point shots will be an option but the Warriors will not live by them. "We will not live by three-pointers. We will run high percentage plays close to the basket and look for the easiest shot," Matt said. "We will kick it out when we need to for the long-range open shot."
On the defensive side of the ball, the Warriors will rely on an in-your-face match-up zone, with man-to-man when needed. "We want to take advantage of our quickness," Matt said. "We have a lot of players with quick hands. I think they will create a lot of problems for teams. We will be ready to adjust to whatever the other teams throw our way."
Matt said he won't spend much time sitting during a game. "I will be very into the game," he said. "The players will definitely hear me, the refs too. I respect the referees; they have a tough job but they will hear from me when I don't agree with their calls."
Matt, also thanked Arlee Superintendent James Baldwin, and AHS Vice-Principal Don Holst for their support and encouragement. 
We don't know about the ref calls, yet to come. However, we do know about the call to hire Matt. It was a good call for a long deserving coach who has put in 14 years on the hardwood learning the physical, emotional and mental intricacies of the game. Now, in the dream-come-true year-15 Matt has a chance to make his young team's dreams come true. It won't happen overnight but it could be a short journey to the light at the end of the tunnel with Matt at the helm.
Editor's Note: This corrected version identifies Shawn Matt as a Salish tribal member. The print edition incorrectly identified him as a tribal descendent.