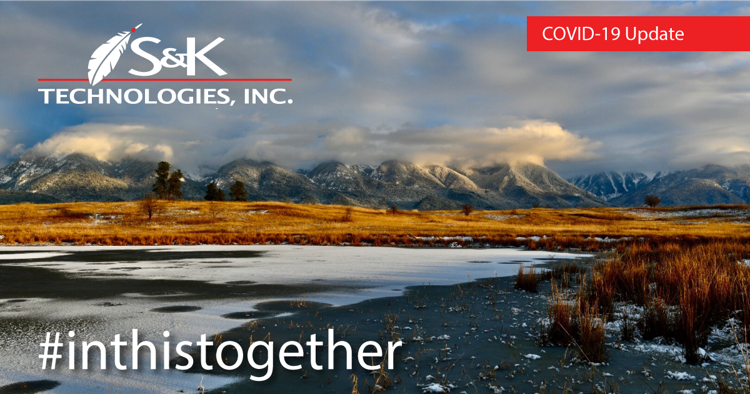 FLATHEAD RESERVATION — "Working in conjunction with Tribal Council, government contract officials, and legal/HR professionals, leaders across SKT are working hard to minimize any impact to service while ensuring the safety of employees, customers, suppliers, teammates, and local communities," says SKT CEO, Chad Cottet. 
SKT currently has over 1,000 employees at operational locations around the US and Saudi Arabia. Customers include State, Federal, and International governments where work is performed in support of 69 different contracts. Of those 69 contracts, 45 are priority-rated as part of the Defense Industrial Base Essential Critical Infrastructure Workforce due to their role in the delivery of components and materials to meet U.S. Military requirements.  This rating comes from the Defense Priorities and Allocation System (DPAS), which "prioritizes national defense-related contracts and orders throughout the U.S. supply chain in order to support military, energy, homeland security, emergency preparedness, and critical infrastructure requirements," said Cottet.
Focusing on safety, while continuing to meet contractual obligations, means that a large number of employees across the corporation need to telework (SKT has approximately 600 employees teleworking at this time).  "This expansion in telework has been a massive project for the IT, HR, and SKT leaders across the corporation and they have done an outstanding job making sure employees have the equipment and resources needed to continue providing uninterrupted service and support," said Cottet.  Ensuring all employees who are eligible to telework can do so improves the safety for staff at SKT offices whose jobs cannot be accomplished remotely.  
In addition to limiting the number of staff working on-site, SKT has taken extra precautions to protect the portion of their workforce that cannot telework. This includes social distancing measures, enhanced cleaning procedures, and restricted access for outside visitors. Corporate offices in St. Ignatius and Polson are not accepting visitors. Internal and external meetings and events, especially those requiring travel, have been rescheduled virtually, postponed, or cancelled.
SKT's leadership team have been communicating with the Tribal Council, US Government Contracting Officers, Legal Counsel, and their Board of Directors for over a month as the COVID-19 crisis spread to areas of SKT operation. According to Cottet, the amount of communications, collaboration, guidance, and compassion of the Tribal Council and Board of Directors has been truly amazing.  SKT will continue to follow their guidance as well as the guidance of the CDC and local health departments as they plan and react daily to the changes in this new, but temporary, normal.
Questions can be sent to info@sktcorp.com  
Be Safe, Stay Healthy.