Char-Koosta News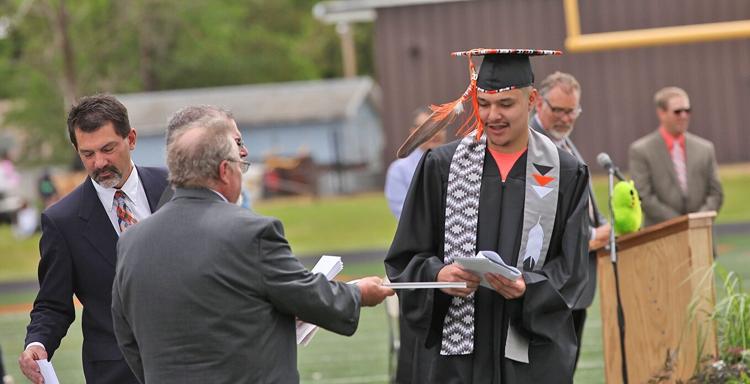 RONAN — The Ronan High School Class of 2020 graduation ceremonies were held outdoors on the football field due to the coronavirus. Only the eligible invited guests were allowed in the football bleachers, and the graduates were spaced apart on the football field according to recommended social distancing standards. Other spectators were present past the chain link fence that surrounds the field. However, the distancing didn't — couldn't — fence in the joy of the once in a lifetime situation for the graduates and their families, friends, acquaintances and fellow students. 
The weather was a tad crispy with a partial overhead covering of clouds as spring is slowly lessening its grip on its share of the seasons.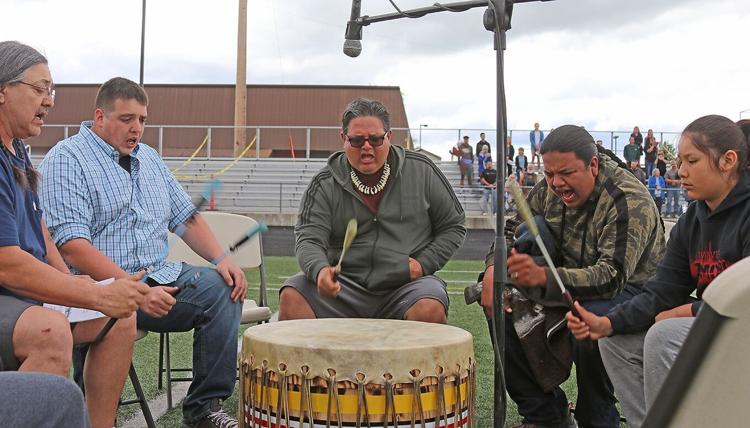 The Buckshot Drum sang the Honor Song to open the ceremonies, followed by the National Anthem by RHS choir. Then the Co-Salutatorians and Valedictorian gave their addresses.
Co-Salutatorians Madison Sevier and Brooklyn Kenelty tag-team the Salutatorian address. They called the major shift in their life's gears an opportunity to reflect on the past and the future. 
"Failure is not fatal," they said on a pre-recorded video address that was displayed on a huge video screen. "Look to your past but don't let it hold you back, let it guide your future."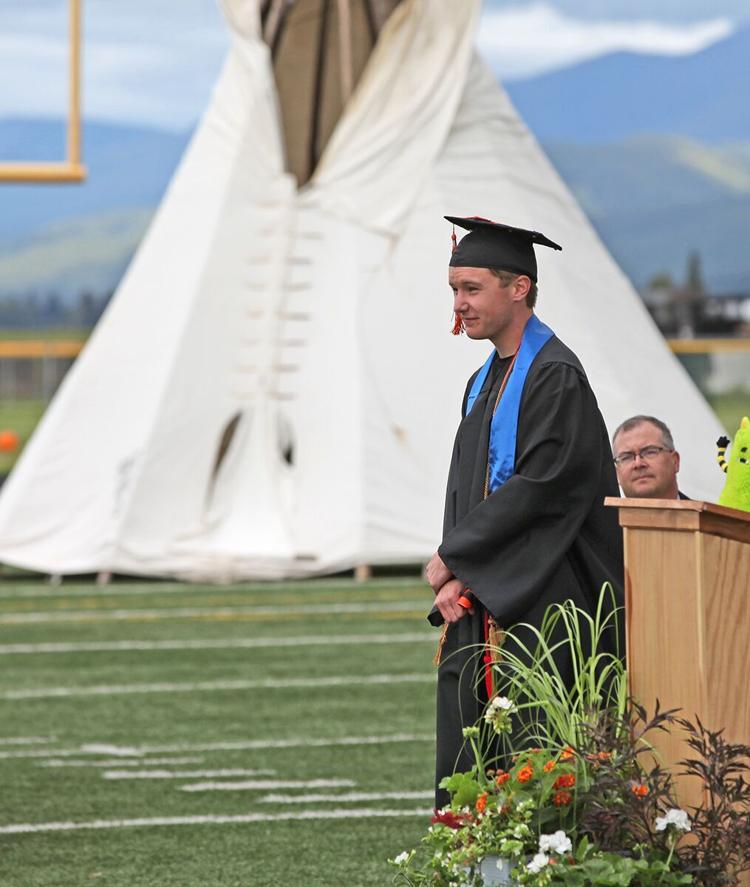 Valedictorian James Normandeau thanked all the people and the school for making him the person he is, and that will help him and fellow seniors face the pandemic world that altered their senior year, and will shadow their foreseeable future.
"We are a class of pioneers, of leaders. We must not let Covid-19 define us," he said. "Let love and compassion to make life better for others. Do great things regardless of your age. Now go start your new lives." 
In their new lives they will have to navigate a new paradigm with the pandemic, high cost of post-high school education, sparse employment opportunities, climate change and the forever dark shadows of racial animosity roughing the waters ahead. Their education at Ronan schools should help guide them to calmer bays.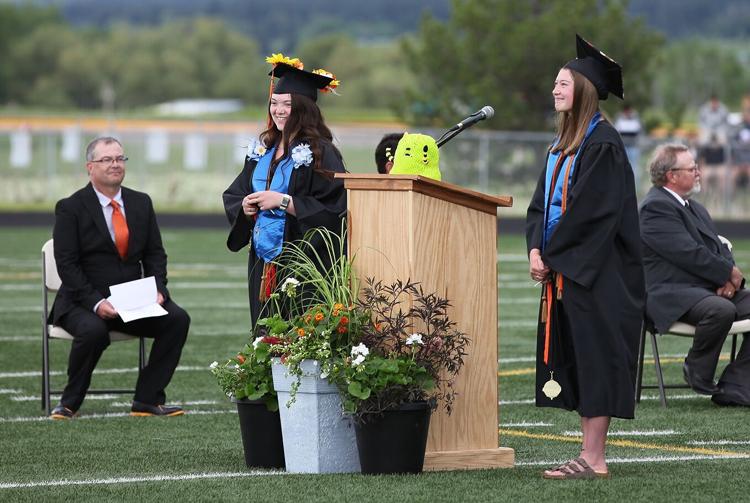 Ronan High School Class of 2020
Melanie R. Adams, Garrett H. Anderson, Rope K. Ardis, Kinsley L. Barney, Garrett T. Bartel, Antawnna I. Berthelote, Mary Jane B. Billedeaux, Jericho W. Billmayer, Julian C. Bisson, Saul J. Black Weasel, Elizibeth A.M. Bluemel, Reed A. Bocksnick, Kaymani R. Brings Yellow, Madison P. Clairmont, Regan E. Clairmont, Reid Doug Closson, Ethan C. Colman, Evan J. Denny, Kieauna S. DeRoche, Kuba K. Detwiler, Eric J. Dolence, d'Artagnan T. Dominquez, Lansing Trey Don't Mix, Jesse D. Fimbres, Kimberly L. Frisk, Cristina Garrido Huajaycucha, Kyia S. Hendrickson, Lilliana L. Ilac, Joshua Hunter Jore, Brooklyn O. Kenelty, Kindra J. Kirsch, Abigail Lynn Krause, Maggi A. Lake, Charles R. Lilly, Landon C. Lynch, LaNissa S. Mahkuk, Alexia R.M. Martinez, Aaliyah L. McElderry, Destiny L. Myers, James Z. Normandeau, RoxannaDay A. Parker, Deaken T. Qualtier, Megan R. Red Star, Kolby G. Reum, MaKenzie M. Rieken, Julian I. Schonbrod, Madison M. Sevier, Christian Z. Silgen, Ty J. Smith, Glen Dion Spotted Eagle, Dillon B. Toler, Matthew S. Victor, Haylee N. Walchuk, Kyra D. Waldoch, Blaise D. Wikstrom, Natalie A. Workman.