Char-Koosta News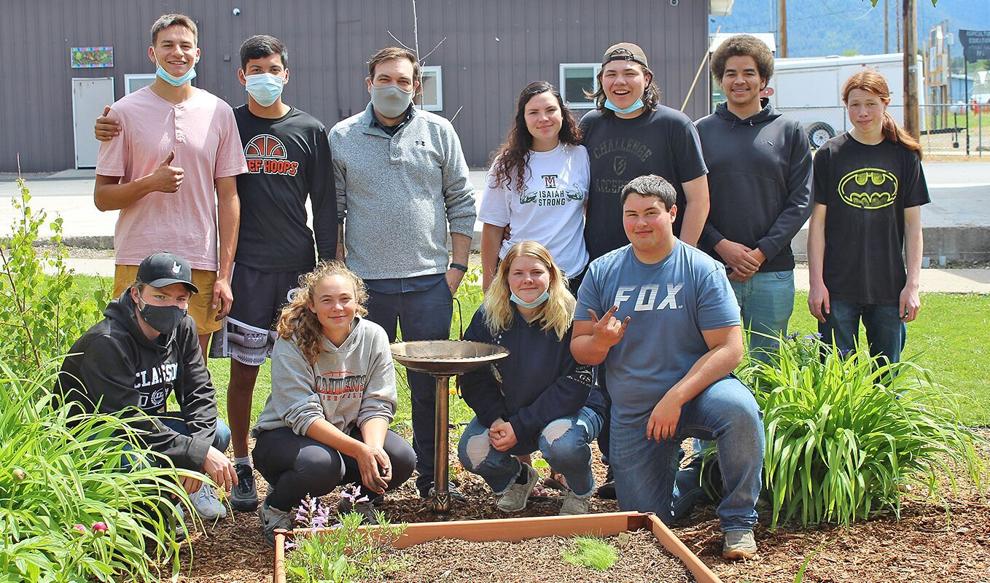 RONAN — Ronan High School science teacher Jedd Tougas's two Montana Natural History classes have been working on expanding and revitalizing the schools Native Plant Garden for the past school year that is located on the southeast side of the school. 
The classes were awarded a National Wildlife Foundation (NWF) Eco-Schools grant and their project aims to increase the habitat for native pollinators (birds, insects, etc.) in the garden by planting native plants. Along with the native plants the classes have put up a birdhouse, an insect house, a bird bath, and have planted wildflowers and some vegetables (kale, bell peppers, wild strawberries, and onions).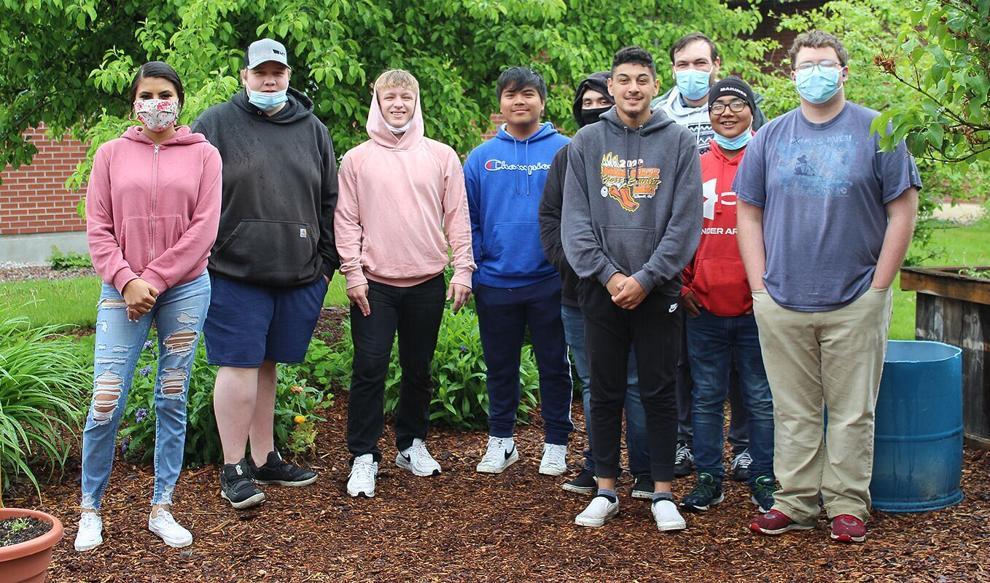 So far, the garden contains native plants that include elderberry, serviceberry, dogbane, kinnikinnick, northern sweetgrass, white sagebrush, arrow-leaf balsamroot, showy milkweed, poker alumroot, narrow-leaved purple coneflower, several varieties of beardtongue plants, thimbleberry, white spirea, Indian hemp, blue-bunch wheatgrass, blanket flower, and various mixes of wild flowers for pollinator species. 
Prior to the starting their work there was a garden space in place but it had become very overgrown and became a safety concern. RHS Vice Principal Jessica Johnson and a former Indian Education Coordinator, started the original project to create a welcoming space in the high school for outdoor activities, class, and community use. 
Johnson said the original funds for the garden came from the Pacific Source Grant, Headwaters Foundation, Title VI, CSKT Forestry donations, iGraduate grant, Running Strong grant, 21st Century Grant and the Lower Flathead Valley Grant.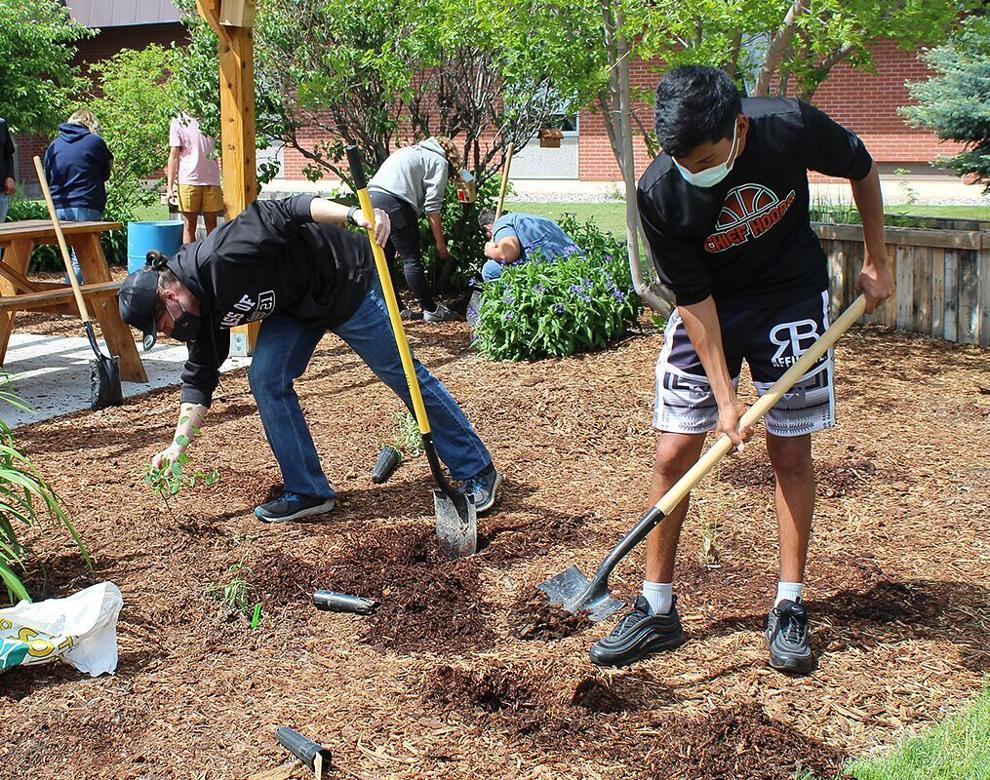 In the original garden space students, staff, and community entities helped creating it and it was set up in the early 2000s as a memorial garden to a student that had lost their life in a car accident. 
"The hope is that this space helps bring staff, students, and parents together in a non-threatening space," Johnson said. "It also allows for staff to utilize it as an extension to their classrooms. Many students helped with this project, and continue to do so, which also helps build pride and ownership over our school. Hopefully, this project carries on and each year we get more on-board."
Tougas received funding for his classes project from the NWF and the Dennis and Phyllis Washington Foundation for their Eco-Schools grant initiative. This year Tougas's classes worked on the Schoolyard Habitat Pathway for a bronze award that focused on water. The garden project introduces native plant species to support native pollinator species that adapt to their habitat and often require less water and added nutrients. With the project they were also able to tie in cultural components to native plants.
The classes will be putting up signs in the garden to identify plants that include the common, scientific, Salish, and Kootenai names. They will use a Cricut machine that was purchased with grant funds and the students will be put signs together this week. 
Tougas said they have talked to both culture committees for approval of using the Salish and Kootenai names on the signs. The classes spent time researching cultural uses of the plants, and the compiled information will also be sent to the committees for review before adding it to the garden.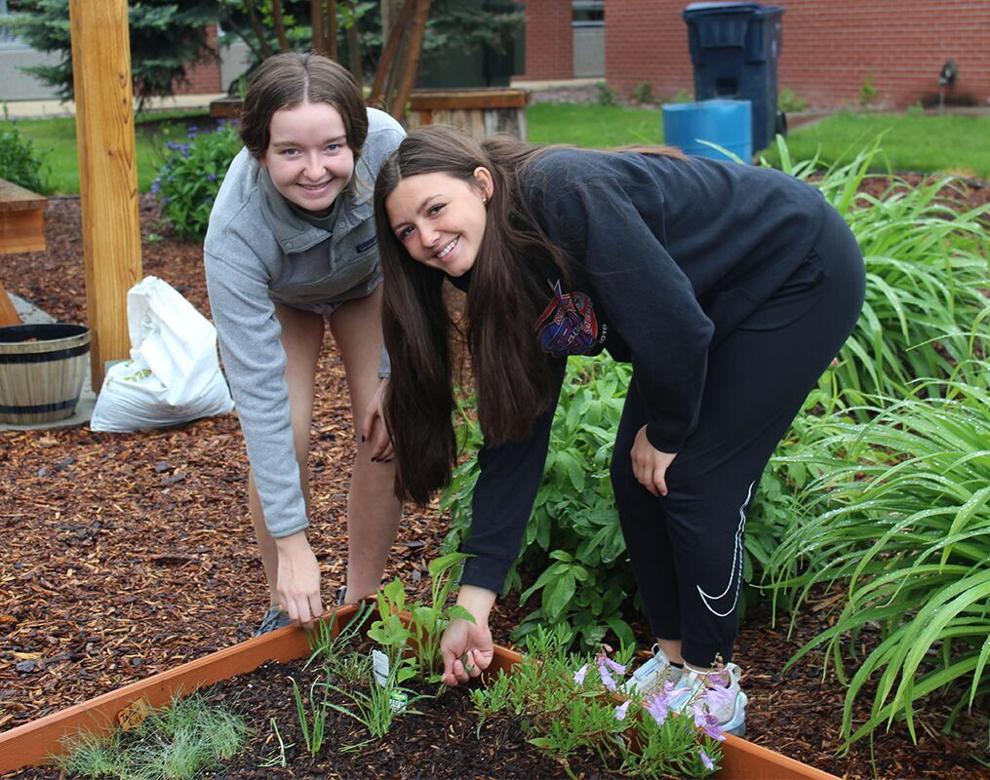 "The project is ongoing, so I will pick up where I left off next year and continue to develop the space with students," Tougas said. "I will also be putting in some work over the summer to further develop the area with native plant species and cultural knowledge."
The classes have been learning about native plants for most of the fourth quarter and planning for the NWF Eco-School habitat pathway all school year. They have been working outside in the garden since the end April. 
In addition to the native plants they have planted, they have also planted vegetables and flowers donated by Salish Kootenai College Extension Office and CSKTs nursery. 
Tougas feels that the project increased the engagement of students in the spring, a time when they traditionally see lowered student engagement. It also gave them the opportunity to put to use information that they learned throughout the year about nutrient cycling, water quality, soil quality, and the importance of biodiversity in a place-based learning framework.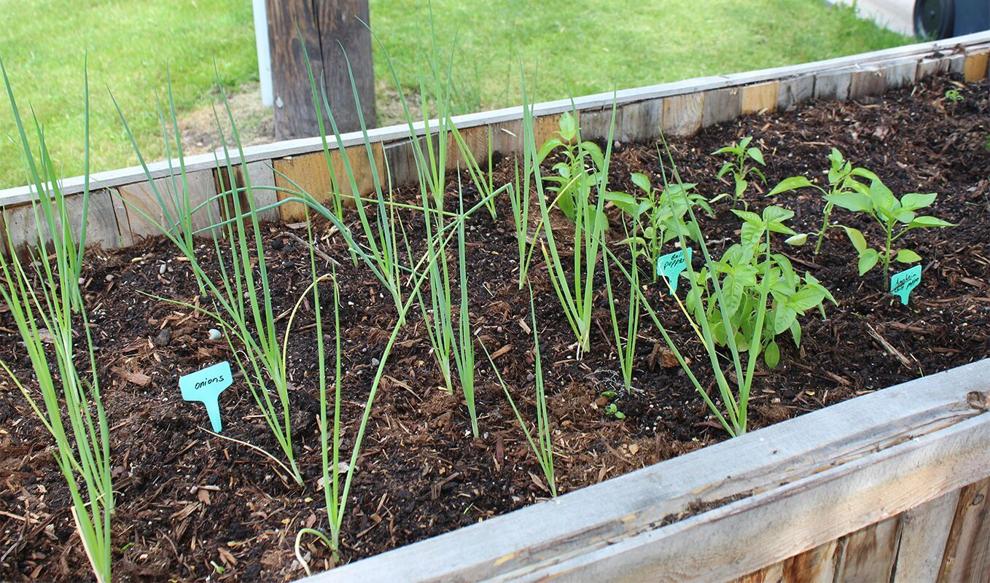 Through this project Tougas was able to create connections with local entities that can help him support the education of the natural world. Those connections, include the SKC Extension Office, Confederated Salish and Kootenai Tribes Forestry Greenhouse, and both culture committees of the Salish and Kootenai. He also received support from a number of community members and staff at Ronan School District 30.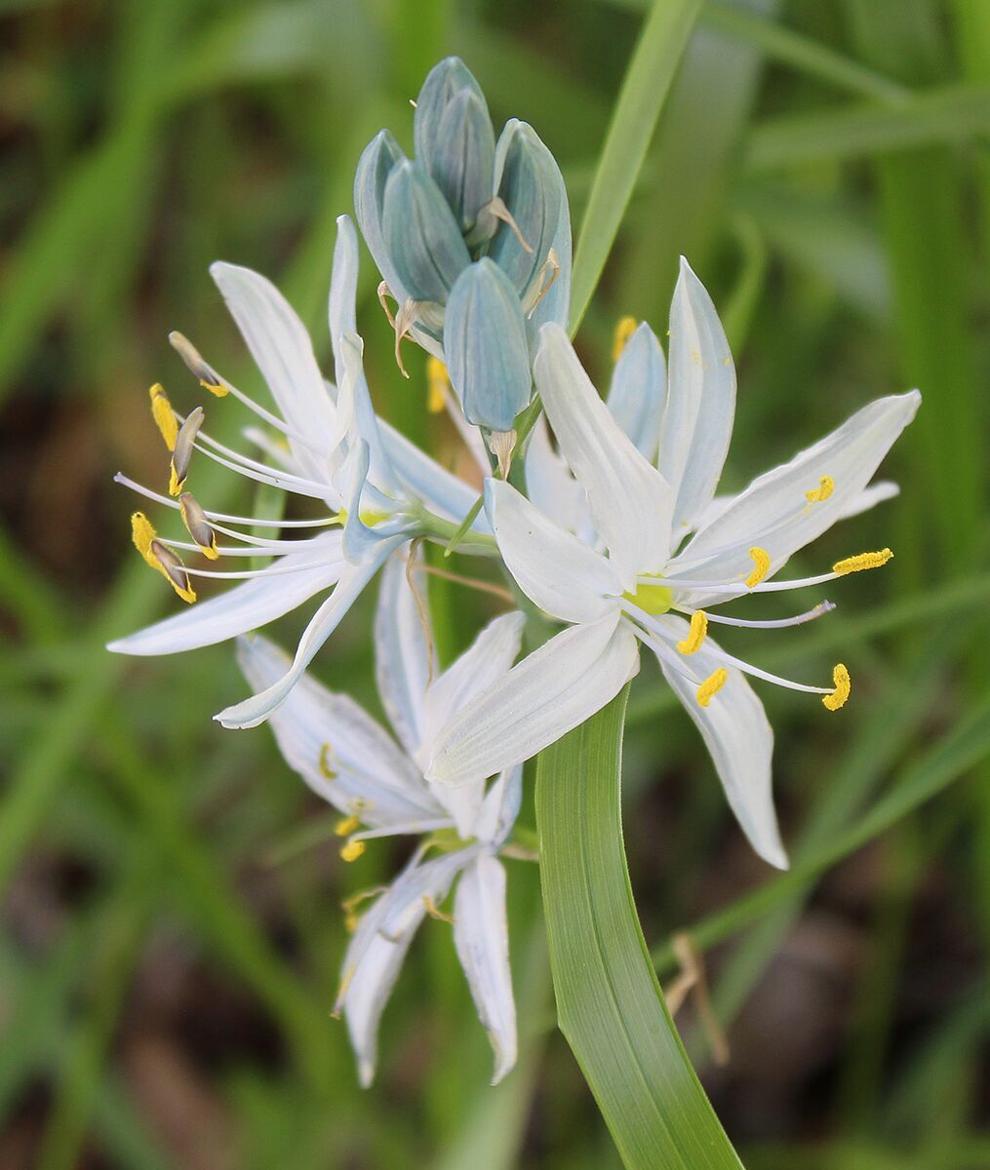 Johnson provided background knowledge of plants already in the garden and additional funding to support the project. They also received many flowers and vegetables for vocational agriculture teacher Casey Lunceford's greenhouse and ag science classes. 
Overall Tougas feels the project is going well. He said, there's been a lot of communication with different entities and thinks it looks really cool so far. He contacted several community members to help with the project and thanks everyone in the community that helped.
Students said they have become more interested in plants since starting the project and have learned how to identify plants.
Student Ashlie Welker said she has learned what plants are native and what's aren't, and what's going to take over the native plants and what not going to.
Student Dylan Pretty On Top said he has learned where plants can be planted, and about different native plant species.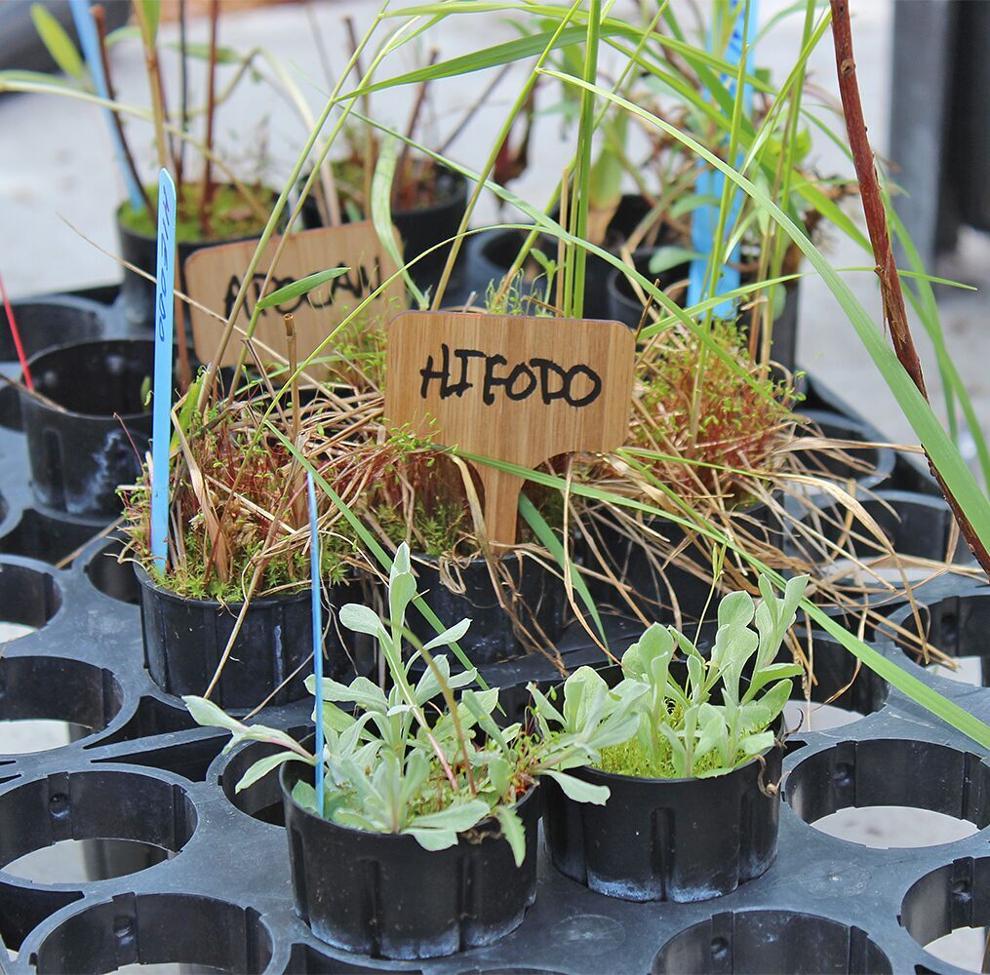 One of the classes last activities was to identify then create a map of the species currently in the Native Pollinator Garden and they did a BioBlitz (biological surveying) using the iNaturlist app. The students took images of the various plants and submitted them on the app so the community of can aid in plant identification: https://www.inaturalist.org/projects/rhs-native-plant-garden.
The Native Pollinator Garden at RHS is an ongoing project and it will continue to be developed for all to enjoy.