Char-Koosta News 
RONAN — In a small private ceremony on April 30, 2021, Ronan High School Native American Club honored four women in the community: Cleo Kenmille, Billie Rubble, Heather Grey, and Darealynn Juneau. These women were honored for their vital roles they play in their communities. This was part of a larger project for Missing and Murdered Indigenous Peoples Day (May 5) the club was working on. 
RHS's Native American Club has about 12 members and is led by RHS Native American Club teacher Gwen Couture. The club recorded the ceremony to include it into a larger video they were making that was played for the entire High School on MMIP day. There were several speakers and presentations throughout the week that also went into this video and project. 
Some of the speakers they included were Councilwoman Ellie Bundy and Kootenai Elder Francis Auld. Bundy presented the issue of MMIP to the seniors and juniors and Auld talked about the importance of women in our communities and culture. 
As the students presented flowers and balloons to each woman, members of the club read words from other students that were handed in with nominations. 
They said Cleo Kenmille dramatically changed the lives of three young boys when she took them in and raised them when their parents couldn't and that she provided discipline, structure, and love. They also said Kenmille tries to help everyone and does all she can do for her community.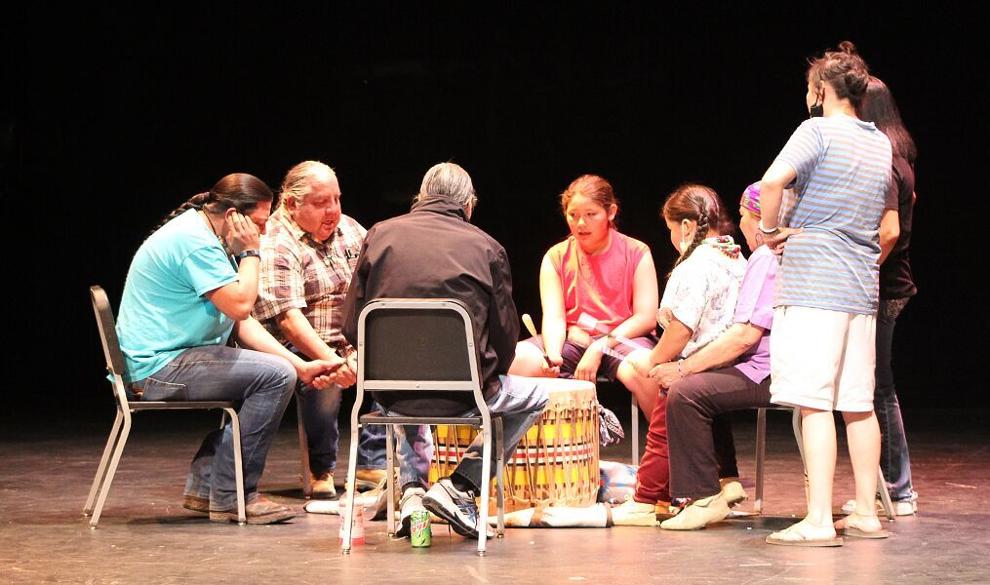 When reading the words honoring Billie Rubble they said she's a good influence and cared for many children that weren't her own and makes sure they live their best life no matter how rough it started. They continued that Rubble has done much for the foster program and that she is a great  influence for the community. 
The words read to honor Heather Grey said that she is an amazing woman and that she is important to the community because she encourages and helps other with their success. Grey pushes students to succeed and she's involved in an many important organizations in the community. The students said she always has a positive attitude while keeping up with her busy schedule and she's always willing to help others. 
The students honored Darealynn Juneau because she's a caring person and has helped one student find themselves while giving them the motivation to succeed. 
Honoring these four women in the community was just one small part of the club's efforts to bring awareness to the MMIP issue. The club picked the activities they included and also sent out a sheet school-wide for students to submit nominations. 
This is the first time RHS's Native American Club has done this for MMIP Day and they hope to keep doing it every year. They said they felt that after the tough year and with everyone being home it was important to honor women because they're the ones who have been taken care of them and they doing everything for them this past year.
After the week concluded Bundy invited the club to sit in on MMIP task force meeting in Helena next month as youth representatives which surprised and excited them.
Overall, the club thinks Missing and Murdered Indigenous Peoples Day, and the other events they hosted, was successful and they enjoyed doing it. This year they couldn't host an assembly due to COVID but next year their goal is to have assembly instead of doing in in little parts throughout the week to make a video.  "This is a test year and we want to improve everything for next year" said the club's president Christian Birdsbill.