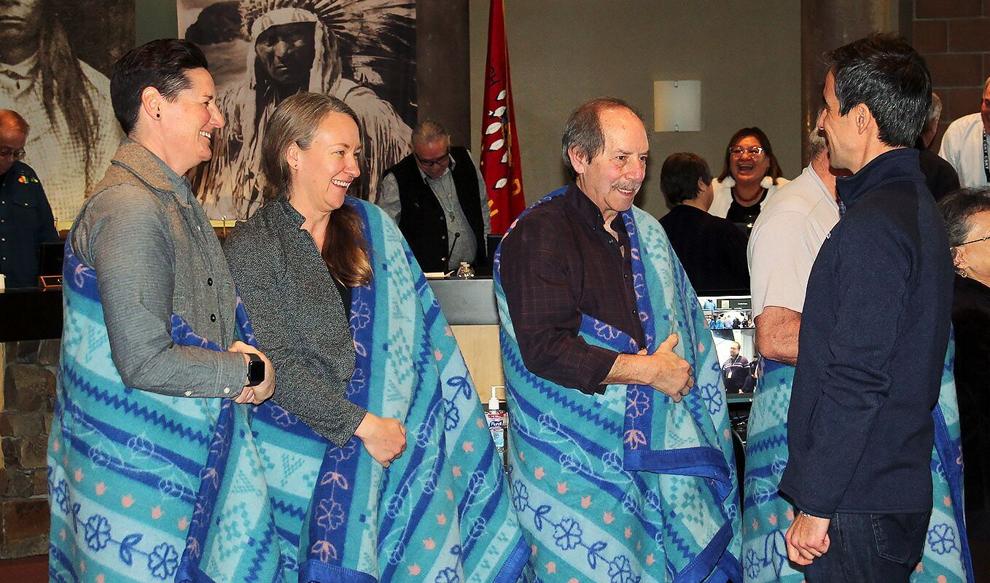 Char-Koosta News 
PABLO — The New Year rings in Tribal Council's quarterly meeting to report to the membership its ongoing business and future goals, to honor current and former employees, and hear from tribal members of how this example of tribal sovereignty is doing. It is also tribal sovereignty that rings in the minds of tribal people across the State of Montana as the very existence of reservations was targeted by legislators in the new legislative session in Helena. At home, councilmembers and tribal members wrestle with issues of fentanyl, Public Law 280 and cultural and language preservation, and also take time to laud Confederated Salish and Kootenai Tribes' corporations.
Several people commented on the attendance, saying how good it was to see so many people there, especially after the recent years of COVID. Although many voiced their ideas and issues, the meeting's overarching theme was one of appreciation.
Over 30 persons were honored for their 40-plus years of service to the CSKT tribe, with a few others receiving honorable mentions.
Each council member took a minute to express their gratitude to the CSKT membership, including elders and those who attended and spoke up. They also took turns thanking their colleagues. Even while dealing with difficult subjects, grace, respect, and leadership were demonstrated.
Elders Speak
Stephen SmallSalmon
Pend d'Oreille Elder Stephen SmallSalmon hasn't given up on reminding the Tribal Council and tribal members that a lot has changed, that things were different when he was young, and Natives have adapted. 
Natives' ways of life were different a long time ago, and it is folks like SmallSalmon who can remind CSKT membership of the changes, good or bad. 
SmallSalmon discusses the "Blue Jays" and "Medicine Men." Whenever there was a problem, they would go see the medicine man, or the blue jays would look ahead to see what is coming. This isn't the case anymore, or not heavily known as it once was. 
"My elders a long time ago used to tell me, talk in Indian, and if they don't understand, their loss, you know?" said SmallSalmon. He is thankful for the amount of work the tribal members are putting into the language, it gives him hope. 
"We are trying our best to hold on to our reservation, the government is trying to edge us out," said SmallSalmon. "If we don't know our language or Indian ways, they will take it, they will come here and ask, do you know your language and who you are? No? Well we will buy you out."
How lucky we are to have a reservation said SmallSalmon. "We take that for granted, we have to sit down and think about it, we just going doing whatever we want, and life is going too fast."
"This year is a new year," and "Don't wait till tomorrow, do it now," SmallSalmon told CSKT Tribal Council. 
SmallSalmon reminded the council to fix the Nkwsum Language School's basement, the Longhouse, the People's Center, and locate a home for Big Medicine on the reservation. SmallSalmon declared that The People's Center needs to be fixed, and work should have already begun on it."
"We need more elders in our program, and it's sad to see those great individuals gone," he added. "When I first joined the Elders, I remember there was a lot of us," he recalled. "But now there is just seven of us remaining."
Jerry Nicolai
Nicolai discusses how executive board members are paid twice or three times as much as tribal council members, and how the executive board makes "poor" decisions.
Nicolai questioned why they make all the decisions for the Tribal Council. "Perhaps we should have a recall on all Tribal Council members if the Tribal Council cannot make decisions for all tribal members and departments."
Nicolai address other topics, such as the Salazar settlement, and CSKT funeral policies. 
"Every day it rains for tribal members, every day," said Nicolai. "And now you guys have millions in your rainy - day account, and it still raining…snowing on us."
Nancy Vaughan
"Recently, my sugar has gone up, and I feel that fight coming back into my blood,' said Vaughan, who said she was an activist in her younger years. "We have a lot of issues in the local papers, the person in District 80 questioning sovereignty issues, I am glad he is questioning them, because I question the sovereignty issues, and this is why."
Sen. Keith Regier is the target of Vaughan's reference; he wanted to reexamine the concept of reservations, and his proposed resolution contends that the Indian Reservation was established under different conditions and at a different period and place. Additionally, the dynamic has left natives with few opportunities for their future and general well - being. In essence, he is challenging the reservation system. However, his proposal was panned by Montana's Indian Caucus, and tribal nations as being filled with stereotypes and misinformation. Many groups, including Tribal Council members, found the proposal arrogant or even "racist."
Vaughan believes that if the tribe is actually sovereign, two concerns arise. One, when the young females become pregnant and start using drugs, the tribe must devise a strategy to help their unborn children.
"We need to put those young mothers to be in a safe facility, and keep them away from the drugs, and keep the druggies away from them, so those babies can have a chance," said Vaughan. 
Vaughan has been in health care practically all her life and has seen a lot of it. "It's just a crime," she said. "So, let's use our sovereignty and do something about that.''
"We are citizens of the United States and of Montana, some people may want to get rid of that but we are here," she added. 
"Second, if we are truly a sovereign nation, maybe it is time to start putting up the gates to the entrances of our land, and have check points," said Vaughan. "This started in 1492, we need to stop this, and I thought we fought the battle in 50 and 60s, and here we are."
"That's racism, I don't know if it is racism, I think it is the way they are, but it hurts and it is time for us to speak up about it," she said.
"I once said that if we went for concurrent jurisdiction, we as a tribe would be living in a police state, and that is exactly what happened," said Vaughan. "This is my personal opinion, but I think we need to give it up, I think we need to go back to the BIA and FBI."
"If the county doesn't want to handle it, don't turn it to the state of Montana," said Vaughan. "If the FBI shows up, I have a friend that says that means Full Blooded Indian, and your darn right it does, let's have their presence here."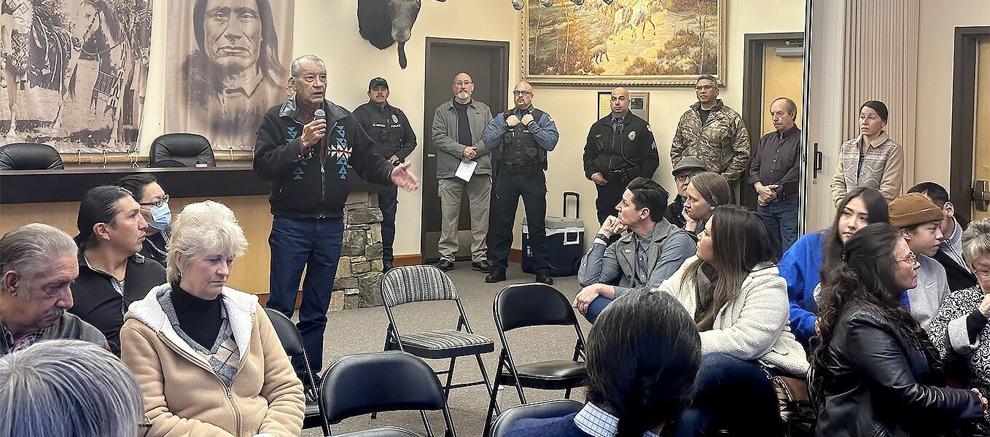 Council Updates and comments
Terry Pitts, Dixon District
A plaque was made and installed at the conference building at the Dixon Agency for the late Anita Matt, who was serving as councilwomen for the Dixon District. The building is named after Matt in recognition of her efforts to enhance Dixon and aid in the community, said Councilman Terry Pitts, who replaced Matt on Tribal Council. 
Last summer, at the Dixon Agency clean up, Anita Matt assured the community that there will be huge advancements in Dixon, and her aim would be to make it into a place where families and children could appreciate each other and where they lived.
A basketball court and improvements to smaller courts are in the works, and the courts will be named after Elmer "Sonny" Morigeau, a CSKT member who served his life in the community and the tribe.
Pitts says they are looking at food sovereignty, as it will help tribal people as the cost of living and food will continue to increase and impact many. "We need to continue to improve our members ability to be self - reliant, and I very excited about are the food sovereignty efforts," Pitts said. 
"We are also having discussions about a meat processing and butchering facility," said Pitts
Pitts ends with saying council will continue to improve and increase their ability to care for CSKT members.
Mike Dolson, Hot Springs District
Councilman Mike Dolson addresses the topic of education and the importance of it for youth. Dolson also discusses the importance of getting native fish back into the places they should be. 
"We are preparing for what is going to happen in the Montana legislature as well as the United States legislature, and we are having discussions about what attacks will be made, because there are attacks every time," said Dolson.
Jennifer Finley, Polson District
"We are honoring people who have retired and people who have worked for tribe for over 40 years, and I want to say I was raised on tribal dollars," said Finley. "Thank you all for your service because you are not just the backbone, you're the flesh, the face, and heart of our tribe."
Finley is wrapping up her first year on Tribal Council and says she is learning a lot and continues to ask if they are improving services for the Tribes or not.
"I know there are issues and things that could be better, but it is a big organization with over 2,000 employees, it takes time, effort, and support to make things better," she said. "Even if you don't see the change right away, I assure you we are working on it."
"I heard your words Nancy (Vaughan), and I agree that is important to do something for drug addicted mothers and children, this is also something we are working on," said Finley.
"We have had some big challenges, and will have more," said Finley. "Our existence is always to be challenged not just by people who don't like us, but people who would benefit from us being wiped from the face of the earth, and these challenges cannot be taken lightly."
Jim Malatare, Arlee District
Malatare takes a moment to acknowledge and thank SmallSalmon for the efforts he and others put into the kids at Nkwsum. 
SmallSalmon has been at the Salish language school for almost two decades, and he says he won't be retiring as he is needed there to teach kids the culture and language. 
"It is pretty amazing to see the small ones at family functions stand up and pray for us," said Malatare.
"Nancy, it is good to see you, what you are talking about is an important issue for us," said Malatare. "The drug issue that was mentioned is very important to me, and we are working on it."
Ellie Bundy, St. Ignatius District, Treasurer
In a statement, St. Ignatius Councilwoman Ellie Bundy thanked the personnel and police officers of the Flathead Reservation. "We recognize your work as it is tough and often unappreciated," said Bundy
Bundy was able to attend Attorney General Knudsen's human trafficking symposium in Helena last quarter and expects to share a presentation on the subject with the Tribes early this year.
Bundy brought up the issue of fentanyl, and demands people to stop providing a drug that kills and will continue to kill. "While our law enforcement is working hard to take it off the street, the rest of us must understand the seriousness of this and we must all do what we can to stop it. If you know someone who is selling it, report it, and if you are out there selling shame on you, stop, you are killing people, our people," said Bundy.
Additionally, Bundy says, "We must be better at educating the communities about what is happening, a better job at providing treatment services, and we need to do a better job with supporting those who are committed to sobriety."
James "Bing" Matt, Arlee District
"Ellie and I have met with the drug task force and the report they give us on these drugs is unbelievable. I have to commend the police task force and the job they do," said Bing.
"It is an unbelievable amount," said Bing. "It is tough, because they don't know how much, who, and where it is all coming from, it is a job that is not a very good job to be dealing with, it is dangerous."
Bing confirmed that Big Medicine is ready to come back to the Flathead Reservation, but they just need a home to put him in.
"Jerry mentions Salazar (Settlement), and I have brought this up, about if or when we are going to address the budget for the people," said Bing. "I will follow up on it and see where we can go with that, and see if we can get some of that money back."
"Nancy mentioned going to back to BIA, with everything we have been going through with the state and county, it would be nice to do that, but hard to say what can happen down the road, and thank you Nancy for bringing that up, it is a good issue to talk about," added Bing.
"We are working on Public Law 280, and we are hoping to get that worked out. It takes time and we recently had a meeting to talk about it, we don't want to say too much about it right now because of other issues taking place down in Helena," said Bing.
Martin Charlo, Pablo District, Secretary
"I am really happy, but also really tired," said Charlo as he refers to recent jump dance ceremonies. 
Jump dances, a tribal ceremonial practice, take place at the start of each new year.
"We appreciate the membership and your opinions, it is good to hear from you," said Charlo. 
As jump dances concludes, Charlo said, "We have been blessed to have such a rich history and culture."
"The amount of youth at these cultural events is amazing, and it is growing," said Charlo. "They are learning songs, and will be able to teach them to their kids, again practice what you can, balancing a career and culture is hard, and that is the world we live in now, but we can navigate through that."
"Stephen (SmallSalmon) mentions the Blue Jays and the Blanket Man, they are hiding right now because we don't know how to speak to them, so our language and songs, the things we are doing this month are really important and I encourage you to take part," said Charlo.
"Without our culture and language, we are nothing, we are just the same as everyone else, and I don't ever want to get to that point," said Charlo. "When a legislator or politician comes in to tear us down, we can point to these things and say this is who we are as people."
"This month is a hard one for people, they are really active in cultural things, and they aren't supposed to say a lot, but listen, so I appreciate everyone being here," he added. 
"I appreciate our executive team, we are well aware of some of the deficiencies that are here and we are looking at them, and we are doing our best to improve, "said Charlo. "I hope we can do better, and we will, if not our bosses out there (Elders) will let us know and there is an obvious way of getting rid of us, I don't ever forget that, I hold this position in the highest esteem."
"Sovereignty is something that we throw around a lot, and we are truly not sovereign because we depend on so much federal funds, so some of the actions we are taking is to end our alliance on federal/grant funds, these dollars where they tell us how to spend," said Charlo. 
"At times it looks like we are not doing what is best for the people, but we are looking down the road, long - term," said Charlo.
Carole Lankford, Ronan District
Lankford was recently in a car accident and is very thankful to make it to the quarterly. She said she is not sure if she would be here today without airbags, as she hit a deer going 65 mph. 
"We are working hard to figure it out ourselves, sometimes us as Council don't always give the best direction, so we have to back up and revisit, and that is what we are doing as Council, just give us time," said Lankford.
Lankford says Council is working on ideas for departments and department heads to work more effectively and efficiently. She also acknowledges that some departments don't work well together, and they are working on trying to help departments work better with each other.
Lankford uses the example of someone getting evicted from housing; they aren't just left on the street, as other departments can step in to help them.
With the PL 280 subjects, Lankford brought up the wisdom she gained from her colleague Finley who talked about forming a program that meet the needs to the people here. "That is the message I heard that day, we would take these people back and not just imprison them but get them the help they need," said Lankford
"I see Tribal Health is doing so much more to serve people, but they can't find beds. We have the money to get people to treatment but we can't find the beds," said Lankford.
As subject of treatments has been a topic or request for some time Lankford confirms people are working on it, but it is a long process. "Right now, the development of a treatment center for all the tribes of Montana and Wyoming is in the works, it is long term planning," said Lankford.
Tom McDonald, Chairman
McDonald didn't avoid addressing the "crazy guy from Kalispell," and says it is a "insult and that's racist."
"It's not something that were going condone at all and I certainly plan to make a mention to that when we host reception of legislature in next couple weeks," said McDonald. "That is unacceptable and we will do our best to make sure that craziness is not out there."
McDonald also focused on the success that Tribes had the past year, such as, Big Medicine coming back to the Reservation, and Ceremony of the Bear Tracks Bridge. These are just a few of the "big" accomplishments for the tribe. 
"I want to ensure you, we are doing our do diligence," said McDonald. "But the most important thing, is the workers who do such a good job, who work hard and put forth 110 percent, those role models are there, and this is how we are successful."
"It's great we have folks to recognize the importance of land back to the Tribes, there are organization who really see that," said McDonald. It was a powerful day, he said when Big Medicine was given back. 
McDonald used the dedication to the Bear Tracks Bridge as an example of partnership, because respect is developed when other organizations and people are part of such celebrations. Respect was shown when the community and public figures attended and supported the dedication. 
"When we go to Higgins St. Bridge and there is an event with (Missoula ) county commissioners and city officials, we are doing something in the heart of our aboriginal territory, it was another extremely powerful day," said McDonald. "We will continue to look for those opportunities, because people need to know we are here and here to stay forever."
"We do support the effort to restore buffalo in the greater part of Montana," said McDonald. "We also have many other local opportunities, where we are looking at properties and how we can expand our corporations, how we improve functions here for housing, homelessness, and health care, we are working on those every day."
"We know it is raining every day, it's storming every day, so we want to make sure we can provide services but we need money to be able to do that," said McDonald. 
"We look at the water compact, there simply is a large block of money sitting there, that wasn't something the federal government funded right away," he said. 
It was a critical win for the tribe to grab that sum of money in one chunk, and he thanks the CSKT staff and others for making that happen. "We can't release that funding until a lot of other components are in place, one of those is the upcoming state legislature, they need to fund their share of the State of Montana for water compact."
"We will be making sure the state pays its debt for the water compact, they have surplus funding right now. You know what you do when you have extra money? Pay off your debt before you start new programs. We will make sure they hear that from us, and hopefully the governor can provide that leadership role," said McDonald. 
Energy Keepers, Inc.
Mission Valley Power (MVP) users may have noticed an increase in their power bill last month. Executive Director Rick Eneas said there were two reasons for the rate increase: power rates are increasing nationwide; and a subsidy that MVP received from Energy Keepers, Inc. (EKI) in the form of a block of power at below market rates was eliminated. A potential third reason, suggested by MVP Board Member Theresa Wall-McDonald, was the record-breaking cold snap felt by the United States last month.
At the direction of Tribal Council, EKI will instead sell the power at market-based rates allowing the company to realize substantially more profits that will come back to CSKT. Over the course of EKI's five-year business plan approved by CSKT this increase is projected to exceed $20 million.  "This is a good business decision," said EKI, CEO Brian Lipscomb.
To offset impacts of the increased rates, CSKT is allocating a portion of the projected increase in revenues to assist Tribal Elders with energy bills or other energy saving and home heating assistance. The initial budget for this new program is $1M and it will be established as an addition to existing Elder Assistance programs, such as LIEAP. 
It was also noted that even with this increase MVP is still providing some of the lowest electricity costs in the nation. Additional information will be provided as it is developed over the course of the next several months. In the mean time it is important that Tribal Elders be sure they are taking full advantage of the existing energy assistance programs. Applications are available online.
Individuals who recently retired:
Phillip Paul (9/13/22)
Calvin Tanner (11/12/22)
*Florence Gehring (2/1/1981 to 10/17/22)
Individuals who are presently working for 40 years or more.
Peggy Haggard - For (9/20/1972)
Lester Clairmont (9/6/1978 to 12/8/22)
James Finley - For (1/1/1975)
David Morigeau - Court (7/4/1974)
Darwin Parker - DHRD (5/26/1976)
Jeanne Christopher - ECS (1/12/1975)
George McLeod - NRD 3/27/1977)
Carla Tanner - THD (3/10/1977)
Curtis Acevedo - NRD (6/19/1978)
Kermit Clary - Admin (4/18/1978)
Charlene Petet - OAS (9/11/1978)
Lester Clairmont - L&0 (9/6/1978)
Ken Clairmont - Prob (1/13/1979)
Eva Anderson - THD|11/17/1978)
Patricia Clairmont - Fire /3/29/1979)
Mary Billedeaux - THD (8/11/1979)
James Auld - Maint (10/8/1979)
Cheryl Morigeau - TERS (12/19/79)
John Wheeler - THD (2/16/1980)
George Ducharme - Lands2/18/80)
Kathleen Smith - ECS (11/1/1980)
John Currie - Fire (11/26/1980)
Roberta Decker - Lands (1/11/1981)
Carole Lankford - TC (12/25/1981)
Dorothy Frost - THD (5/6/1982)
Kim Azure (8/23/1982)
Honorable Mentions
Les Clairmont - Tribal Member
Calvin Tanner - Tribal Member
Bob McCrea - Tribal Member
Flo Gehring - Tribal Member
SK Rossi and Kylie Gursky - Contributors