BLM/MMIW march in Polson a part of a larger movement seeking improved political, social, and economic opportunities for people of color
Char-Koosta News
POLSON — The Black Lives Matter/Missing and Murdered Indigenous Women march on the 4th of July here was a spiritual and political display that America is caught in a rip tide of change that is irreversible. When the calm waters return to shore, America will be drastically different, as it will finally come to grips with its myth of America Exceptional that evades its dark past and present related to its treatment of people of color and women. Its myth that all people are created equal with rights to life, liberty and pursuit of happiness might, relatively soon become a reality. 

It's still a long haul to that time, and political, social and economic battles remain but what is going on now in America is palatable and anchored in the hearts and minds of people wanting America to change for the better. In an odd twist of fate, the current president with his racial animus and political, social and economic short comings, and scientific ignorance related to COVID-19 has created a movement that could plow him under and send him on a lonely march come November 3. 
Nearly 100 people were on a not-so-lonely march from Walmart to Riverside Park on Independence Day in the early afternoon. The BLM/MMIW came on the wake of a Trump watercraft rally on Flathead Lake, which by the way belongs to the Flathead Nation, earlier in the day. The event was sponsored by the Lake County Republican Women political group. More later in this story.
That didn't dampen the spirit of the BLM/MMIW march, as only a few of the boats remained to counter protest the march.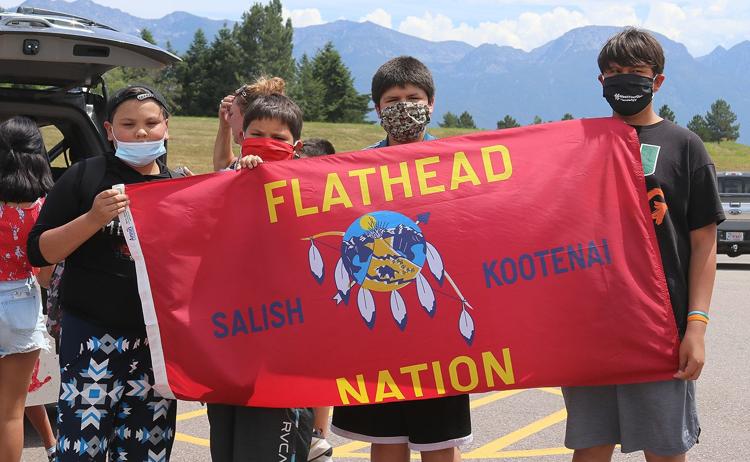 "It's exciting to see all the Natives marching in support of Black Lives Matter and Missing and Murdered Indigenous Women," said Craig Pablo, one of the ad hoc pushes of the protest and awareness march. "People are now realizing how powerful we are when we come together for a cause. This movement grows more and more every day."
Pablo said America was built on lands stolen from its time immemorial occupants, the Aboriginal people, and built on the backs of slaves. And those sacrificial realities have to be acknowledged, not pushed aside if America is ever to live up to its democratic aspirations, most notably, that all people are created equally and have rights to life, liberty and pursuit of happiness. 
"People talk about making America great again want to go back to the 1950s before the Civil Rights Movement," Pablo said of Trump and his supporters. "But this movement seems to be putting the brakes on that, you can feel it. Take the (Washington) Redskins name. People have been demanding the name change for many years and now that is happening. It's a testament to people not giving up."
Pablo said the previous protests never took hold for various reasons, but this one has because of the economics: company advertising and Redskins shareholders have withdrawn monetary and political support, and the public has finally came aboard in greater numbers than before as a result of the BLM movement.
"The people have gotten behind this, it feels different this time," he said. "The tribal people who have long supported this never let the embers of hope burn out. Now those embers are burning hot and flamed the call for changing the name. People have felt the fire and heard the reasons for changing the name."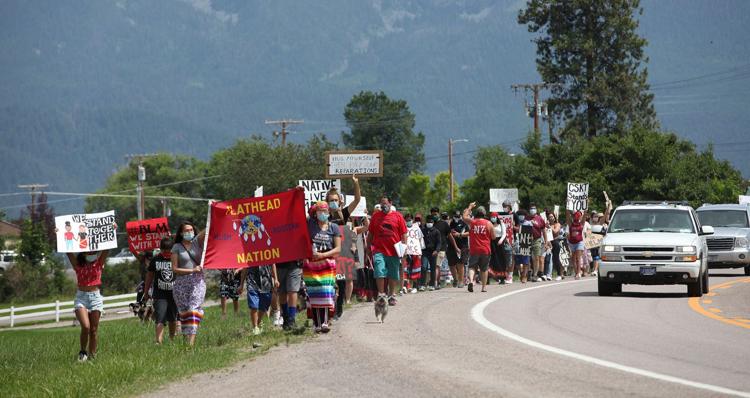 Pablo said the BLM/MMIW march turnout was fantastic because of the young folks' involvement as well as that of the non-Indian and African-American people.
"I want to thank everyone for coming out today and marching. These young ones really stepped up," he said. "I encouraged everyone to register to vote, and vote."
And in a passing of the torch to the younger generations: "Young people, it's up to you to make the world better," he said.
Another ad hoc organizer Patrick Isaiah James Yawakie-Peltier also felt he was witnessing a bonified historic change in America with the focus on equality and equity for people of color. 
"Our Ancestors made sacrifices for us, for those seven generations to come. Now it is our turn to do what we can do for future generations to make their lives better," Yawakie-Peltier said. "We all need to vote, and vote right by voting harmful people out of office." 
Yawakie-Peltier said the Trump Administration is targeting people of color as an obstacle in his illusionary vision of making America great again. 
"That message negatively affects all of us across Turtle Island," he said. "People of color are standing up to that now because they are not a part of his vision of America."
Yawakie-Peltier said the turnout was really good thanks to the inclusive collaboration of the many people involved in setting up the BLM/MMIW march.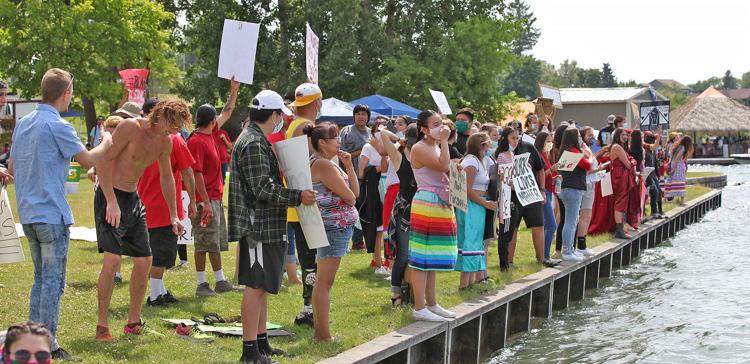 His advice to Indian people, especially the younger ones, was to get educated and learn their legal rights and how to affirm them in future social and legal battles they will face.
Sam Van Fleet, one of the ad hoc organizers from Missoula said the BLM movement is very basic in its goal: peaceful change in the present social and political atmosphere that favors the rich and connected and demonizes the other. 
"The call for change is hard to do when others are shooting rubber bullets at us, and some city leaders where the marches are held say nothing about that or try to curb that," Van Fleet said. "It breaks my heart to see people who say they care, really don't care."
Van Fleet said the BLM movement is different than other Civil Rights movements for numerous reasons, including technology such as video and the Internet. "Things can't be done in the dark anymore," he said. "We no longer are a candle in the dark, we are a big spotlight shining on the inequities people of color face."
Prior to the BLM/MMIW march at 10 a.m. the Lake County Republican Women group sponsored a Trump watercraft parade on Flathead Lake, that, according to its Facebook page included 100 variations of watercraft. However, that number was contested in Facebook comments. 
However, by the 2 p.m. time of the BLM/MMIW, less than a handful remained to counter protest the march. One followed the marchers on the south shore near KwaTaqNuk Resort and Casino, then kept going back and forth a bit away for the shore at Riverside Park where the marchers gathered at the end of the march. They had a sound system blaring the National Anthem.
Another boat, that I didn't see, earlier had a white woman and former Salish Kootenai College nursing program graduate, Barb Walton, whose husband owns Dockmasters in Polson, wearing a made-in-China-looking war bonnet headdress.
She was severely criticized on Facebook for the wanton disregard of the cultural and spiritual import of the headdress. She said she was just having fun and, to put it mildly, told the critics to jump in the lake. 
To learn more about the Lake County Republican Women take on their parade and comments visit their Facebook page.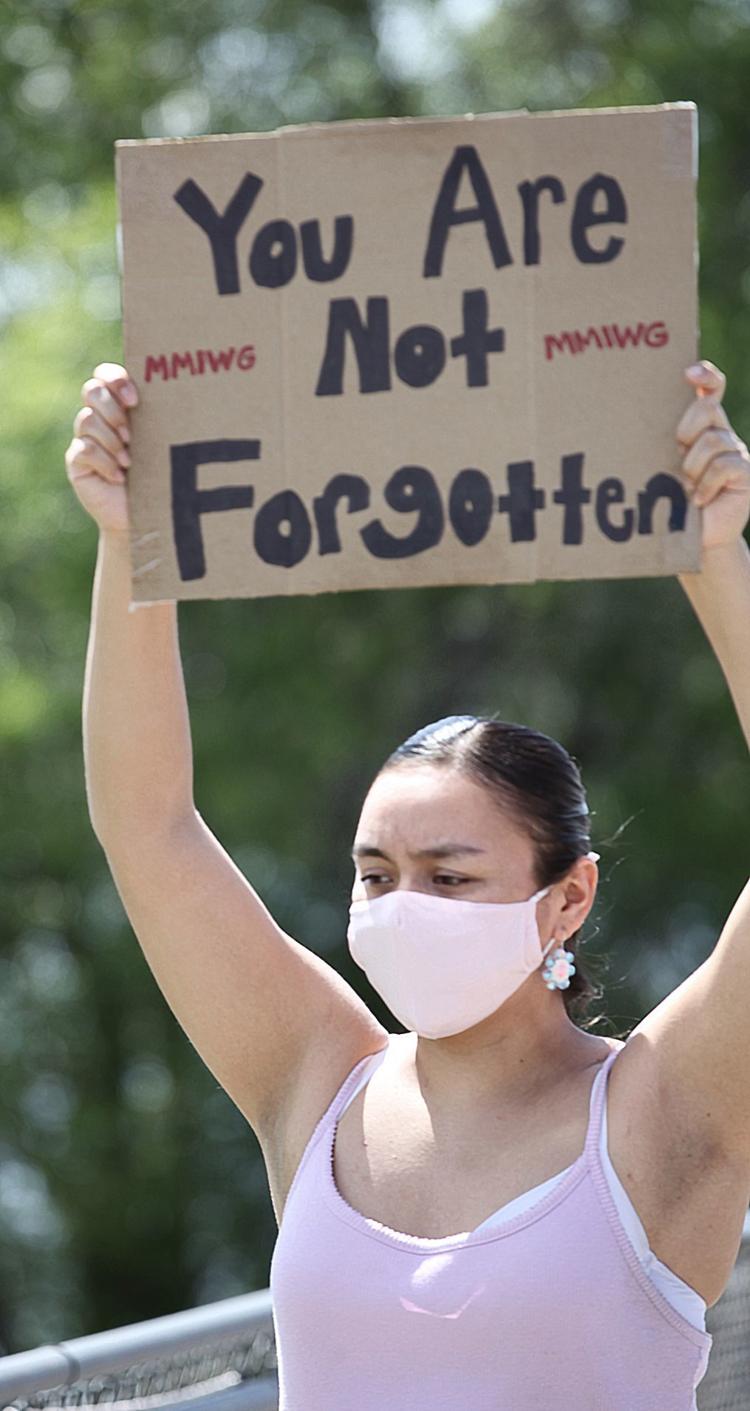 All things considered it was a relatively peaceful march, said CSKT Law Enforcement Captain Louis Fiddler, who gave kudos to the Polson Police Department and Police Chief Wade Nash. Fiddler said due to the COVID-19 steps taken by the Tribal Council, the Tribal Police are, out of concern for the health issues of some of its officers, a bit short of law officers to be able to staff the march other than him.
"I want give a big thanks to the Polson Police Department," Fiddler said. "Wade and his people stepped up big time with extra people to provide safety for the marchers by escorting them and providing traffic control on their march."