Char-Koosta News 
POLSON — It was a full house at the Polson Middle School lunchroom last Thursday as students, parents, community members and a few guests from afar broke bread and toasted one of its standout educators at the 6th annual Harvest Feast and the recently incorporated Drum Feast. The former celebrates the harvest of the Polson schools indigenous foods garden and the latter is a tip of a feather to the local tribal culture. 
The guests from afar came from the Environmental Protection Agency Region 8 office in Denver as well as EPA headquarters in Washington, DC. They came to present PMS Special Education teacher and Indian Education Coordinator Amy Williams with the Presidential Innovation Award for Environmental Educators for her outstanding dedication and leadership in the field of environmental education. She has taught for more than 13 years, the last seven at PMS.
"I am happy to be here to celebrate what I consider to be the hardest and most important profession in the world — teaching," said EPA Region 8 Administrator Gregory Sopkin, who has two sisters that are teachers. "Teachers do incredible work providing a tremendous service to the community and when I hear about someone that goes above and beyond this formable task it is awe inspiring."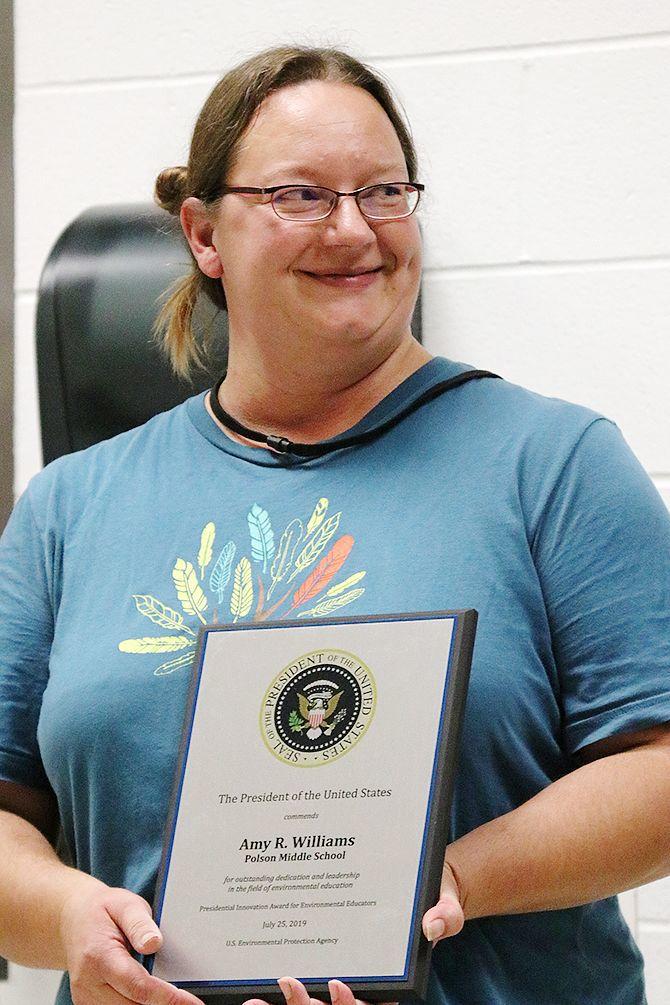 Sopkin said Amy Williams is an example of such inspiration. The Presidential Award is related to Williams' provision of learning opportunities at PMS that are hands-on, environmentally diverse and culturally significant. Her students get hands-on experience in the school's community garden that is used to promote learning in science, math, history, traditional agriculture practices, sustainability and life cycles. 
The garden grows as much indigenous produce as possible as well as non-indigenous produce. "We don't use herbicides or pesticides in the garden," she said. "Our next addition to the garden is bitterroot." 
Williams discussed the issue with Séliš-Ql̓ispéCulture Committee Director Tony Incashola to make sure there weren't any concerns from his end. "Tony encouraged the effort, saying that the kids need to know about the importance of the natural indigenous foods tribal people relied on in their historical traditional diets," she said. "It is important knowledge to pass on."
The garden produce is used to supplement the school lunch program as part of a healthy diet.
"I didn't think I had a chance of being in the running to get this award," Williams said. "It's a huge shock and an honor to receive this award. I appreciate it."
Williams was aware that she received the Presidential Award in July but didn't want to have it awarded during the summer vacation. "I couldn't have done this without the students being there," she said in a bow of thanks to the PMS students as well as Salish Kootenai College environmental program students and/or representatives who were all on the same mission page. 
The incorporation of the Drum Feast was an acknowledgment of the tribal culture and environmental knowledge. She said all students, regardless of race, are encouraged to be a part of the drum group. "There is a lot of important cultural knowledge that is a part of learning how to drum and sing. It opens doors to foundations of tribal traditions beyond the drum."
In her address to the folks at the dinner, Salish language teacher Aspen Smith Decker said, "It is important for kids to learn about the drum, it is the heartbeat of Mother Earth and an important part of the tribal culture." Sort of like some Christian hymns that are often founded from events viewed as spiritual. They both evoke the past spiritual foundations in the hearts and minds of today. 
Williams also mentors the after-school EAGLES (Environmental Advocates for Global and Local Ecological Sustainability) Club. This year the EAGLES Club focused on water conservation issues associated with the Flathead River and Flathead Lake. To that point the students learned about flora and fauna that depend on the water, and how plastics and pollutants impact water quality in lakes and streams. 
Sopkin said while visiting with Flathead Nation tribal members and employees prior to the feast they gave Williams a big shout out as a "great teacher."
"I thought maybe we're doing something awesome here. I think the school and the community have bought into the importance of this. I had to apply," she said, adding that the Flathead Reservation Extension Office, SKC, the food sovereignty and community garden effort spearheaded by Shelly Fyant, the SQCC and the tribal and non-tribal community have all came together in the effort. "It all came together and as a result I am one of ten people nationally to win this award." 
The community feasts are held annually to celebrate the success of the growing season and share the harvest bounty at the community feast as well as to educate families about foods indigenous to North America. More than 100 folks of all ages attended this year's feast.
The Presidential Award comes with the award plaque as well as $2,500 that will be used for further development of the environmental education Williams is spearheading, and another $2,500 to fund environmental educational activities and programs at the PMS.
Some food sources indigenous to North America include; acorns, American persimmon, avocados, beans, blue camas, chocolate, corn, cranberries, papayas, peanuts, peppers, pineapple, potatoes, Seminole pumpkin, squash, sunflowers, sweet potatoes, tomatoes, turkeys, vanilla, and wild rice.
Region 8 includes Colorado, Wyoming, South Dakota, North Dakota and Montana that includes 27 tribal nations.