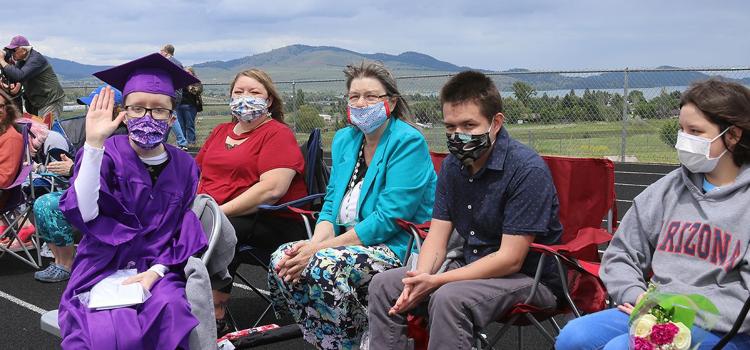 Char-Koosta News 
POLSON — Clouds of many variations have hung low over all the 2020 high school graduation ceremonies along Highway 93 from Arlee to Polson these past three weekends. Some had big holes to allow the sunshine through, others closed off the blue skies threatening rain and chilling the air, and another opened its pores a bit to gently rain down on the ceremonial festivities. Normally not a big deal, however this year, a much darker cloud has hung over the area, in fact the entire globe. That dark encompassing-all microscopic cloud is COVID-19, it is all over but we can't see, can't feel it unless it touches us. It has put a major hitch in the giddy-up on all things small and large. That includes holding the graduation ceremonies outdoors, and not for the coronavirus it's not a bad arena and might gain traction for the annual event. 
And, so it was, Sunday in Polson as a steady breeze and dark cloud cover chilled the air but didn't rain on the Polson High School Class of 2020 graduation ceremony. The show went on at the PHS football field, and like the preceding outdoor graduation ceremonies it had a different feel with the outdoor ambiance. The graduates were spaced around the entire track, with their four invited guests seated directly behind them. It felt very gargantuan, it felt personal.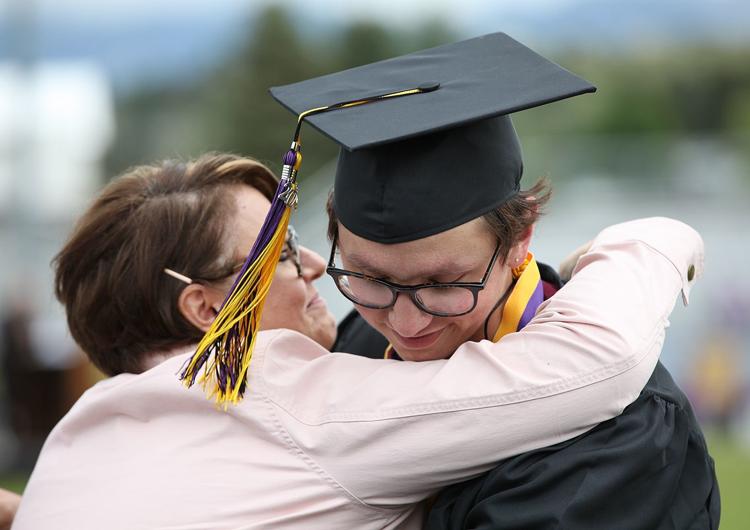 Following a performance by the PHS band, opening speech and welcoming the graduates arose from their chairs and paraded around the track to Pomp and Circumstance until they reached their chairs again. Then the National Anthem was played and the Chief Cliff Drum sang an Honor Song. 
The Salutatorian Trey Kelley, and Valedictorians Violet Anderson, Joseph McDonald, Mesa McKee, Josie Salois, Gwen Seeley and Davis Smith were then introduced, and recognized. They didn't give any addresses but they are posted on the PHS Facebook page.
PHS student Kyle Dunn gave the commencement address. He advised the graduates to drown out the "noise" of the pandemic and meet fear head on. "The only thing you control is your attitudes and actions," Dunn said, adding that control of their individual responses is the best way to deal with the unforeseen circumstances of life.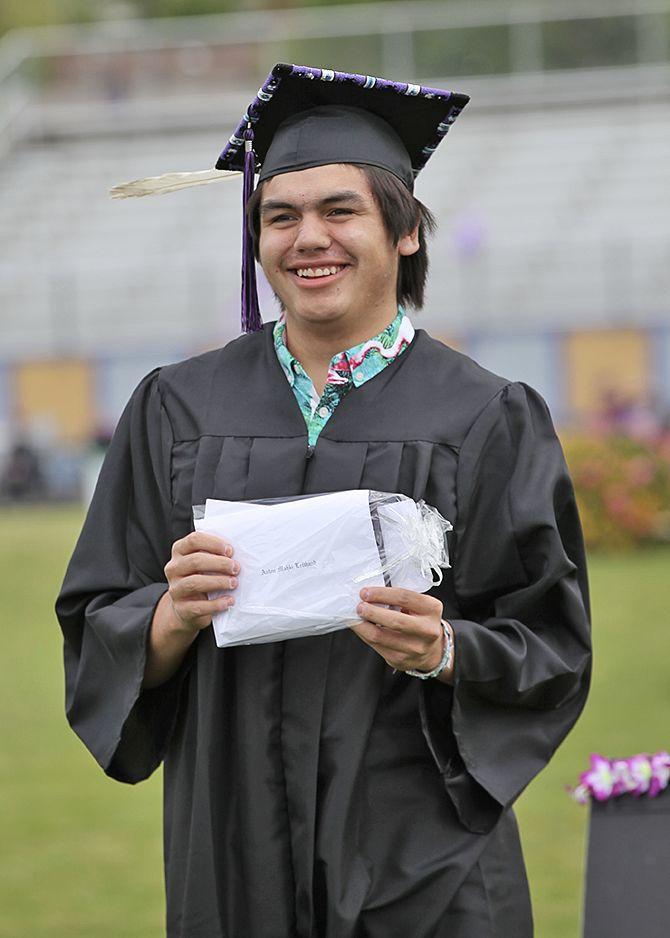 It's a drastically different world now than what it was when they entered their senior year — that's how fast things can change in life. However, this is a monumental change. We are all in that different world and maybe some of these young graduates could be the ones that help restore some good ol' fashion normalcy of life — they are the future of that hope. 
Polson High School Class of 2020
Joseph Nathaniel Agliano, Brayleighna Renea Aldrich, Violet Melissa Anderson, Elizabeth Rose Ayers, Kedrick Daniel Baker, Cameron Ryan Ball, Hayden Wade Bennett, Zane Morgan Benson, Cole Raymond Bick, Hailey Lynn Bissegger, Elisabeth Anne Bjorge, Damon Nathaniel Bliler, Keegan J. Michael Brackey, Shaeley Dayle Brown, Jarod Robert Calley, Cali Skye Cannon, David Emilio Castillo, Gator Lee Cheff, Dakota Christopher Chinnock, Nicholas Alexander Cleveland, Garrett Anthony Croft, Hailee Chase Crumley, Tabitha Cwincy Lynn Curry, Vayda Marie Cutfinger, Erich James Dale, Dugan Dale Davis, Adeline Elizabeth Day, Devin Asher Day, Colby Scott Devlin, Johna Patrese Dhuyvetter, Megan Lynn Dolence, Elijah Orion Edmo, Kendal Ivan Forman-Webster, Trystan James Garcia, Grace Elizabeth Garcia-Quinones, Gunner Woods Grisak, Amber Star Hanneman, Reed Norman Harbin, Madilyn Rylee Hasse, Shannen Kylie Helm, Kasen Carnell Heninger, Daizey Leona Hewankorn, Zachary Steven Hoxie, Casady Raye Hubbard, Haden Dean Jaeger, Spring Michelle Johnston, Bo Allen Kelley, Trey Joseph Kelley, Summer Rose Kovarik, Seth Michael Lake, Kaitlynn Marie Lamphere, Connor William Lanier, Anton Mahki Lefthand, Corbyn Jacque Thomas, Lund Julie Ann Magoon, Juliana Olivia Marengo, Reagan Lee McDermott, Joseph Gray McDonald, Mesa Bryn McKee, Gabriel Christan Mergenthaler, Cody Michael Merritt, Alexandria Ann Miller, Thatcher Thomas Mullan, Shayla Natasha Olson, Tayler Elizabeth Owens, Lena Janae Pawlowski, Zachary Ryan Peck, Daniel Lloyd Pepion, Hailie Mariea Perdue, Autumn Anne Piper, Micaela Marie Redwine, Andrew Michael Reed, Gwenevere Star Reese, Julia Miyazaki Reiners, Alexia Brianne Rockholt, Marlyn Robert Rodriguez, Alexia Louise Rodrique-Kienitz, Gracie Lissette Rouse, Josie Lynn Salois, Andrew Jacob David Salomon, Samuel William Salomon, Trevor James Sanderson, Trevor Jon Schultz, Gwen Eileen Seeley, Brian Randal Siemens, Ajalin Chunna Simshaw, Kenton Nicholas Sisler, Bridger Dean Smith, Davis Hamilton Smith, Halie Maureen Smith, Kodey James Solomon, Larz Terynn Sorrell, SMXE Harley Roy Sorrell, Trevor Jon Sorrell, Meghan Marie Speckert, Bella Mary Spencer, Isaac Victor Stene, William Joe Spotted Eagle Jr., Owen Wesley Targerson, Misty Dawn Tenas, Halli Marie Tyler, Kaleb John Unger, McKenna Mercedes Walker, Ryker Thomas Wenderoth, Kadence J. Sonny Whitworth, Esmé Brynn Yarbrough, Joshua Michael Young, Sharmaine Lee Anne Zempel