AJ Douglas Bear faced years of bullying, but returned to her culture and herself
Char-Koosta News 
PABLO — AJ Douglas Bear, a Mohawk from Six Nations Confederacy, spoke at Two Eagle River School (TERS) about bullying, what she has gone through and is still going through, and the strength it takes to stand up to the prejudice that others aren't afraid to propagate.
AJ discussed bullying, suicide, self-harm, infertility, miscarriages, anxiety, and depression, of which she was bullied about or was a result of bullying.
"I'm not sure if you guys noticed, but I don't have any hair," Douglas said to the TERS students and others at her presentation. 
Douglas suffered such severe bullying that it led to the development of an eating disorder and depression. She eventually started losing her hair in clumps as a result.
She decided to shave her head, which is mostly why she wears a hat when she dances.
"I wasn't really comfortable with being bald at the time; it's an extremely difficult thing to process, and I'm still learning how to process it," Douglas said. Her sisters, who are also her pillars of support, gathered to make her a hat.
Because she was wearing a hat, AJ received comments suggesting she was "mocking" the Comanche tribe in Oklahoma or "trying to be someone she wasn't." The Comanche tribe in Oklahoma, according to Douglas, wear honor caps.
This was not the case, according to Douglas; she was attempting to put something on her head since she was still self-conscious about her baldness.
When in the powwow arena with her "new style," referring to her cap, AJ was spit on. 
"I was spit on where nobody wants to be spit on, I was spit on when I was dancing and it landed on my face," she said. "I didn't get to see who spit on me that day."
AJ was also subjected to physical bullying while waiting in a lineup at a powwow, and people would look at her and mutter, "ew."
The bullying persisted and Douglas' mental health took a turn, she began to self-harm and consider suicide.
"As you can see, I am covered in tattoos," said Douglas. Another reason why she was bullied or why it persisted was due to this. Douglas has tattoos that are easily seen, such as those on her face.
Except for an odd few, she only has traditional tattoos. Traditional tattoos on her face, according to Douglas, were put through by elders in her community.
AJ had a bad experience at a powwow in Montana, which was followed by a suicidal text message she wrote to her father.
"I had someone come up behind me and whisper in my ear, and it was the grossest thing ever because I felt their breath on me, and they said 'nice tattoos' and giggled and walked away," Douglas said.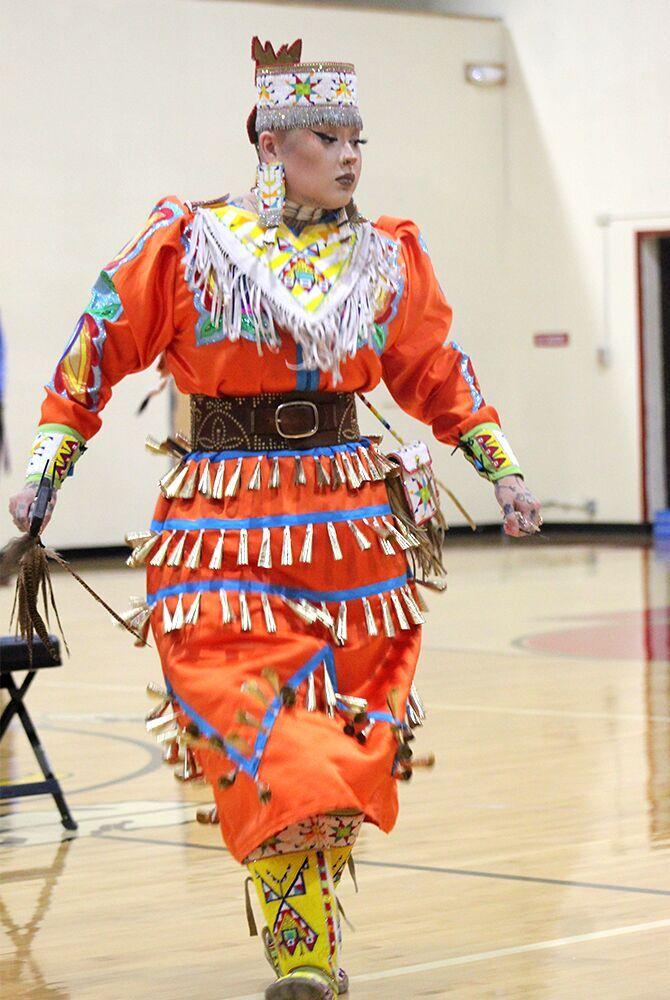 As she returned to her pickup in a flood of tears, she texted her father to say that she was taking her own life.
"I sent my dad, just know I tried and that I am trying but it isn't getting any easier, and I'm sorry," Douglas said.
Douglas had a handful of pills in her hand ready to take in the moment and she says if her husband didn't find her at the time he did, she would not be here today. 
It is painful enough to know that young people are suffering because of other people's words and actions, but it is even more heartbreaking to learn that some, like AJ, face bullying and hostility from their own community and own people.
She was being bullied by members in her own community when she began getting face tattoos. "I was bullied at a ceremony to be exact," she said. 
"I heard them call me names within our language, a lot of people don't know or assume I don't know my language or my culture, and it was hard to know that these people I grew up with in ceremony were the ones to bully me," she said.
Douglas has been involved in ceremonies her entire life. "My grandpa was chief as well as my great grandpa, and most of the women in my family held the highest status you could have within our longhouse," Douglas said.
"I come from a really strong line of people, and at the time I was going through an identity crisis, I was being bullied about who I was and that that I was just some girl searching for attention or some little girl taking from a culture that wasn't mine, which wasn't true," Douglas said.
As a result, AJ relocated and left her community, but not before paying a visit to the elders.
"And that's what I want you guys to do as well: always remember your roots and never be afraid to turn to your culture when things get tough. It was one of the best decisions I could have ever done at that time," Douglas said.
"The elders welcomed me with open arms, and they reminded me where I came from, who I was and what my role was within the longhouse, how I helped so many with the language, helped so many with the feast, how I was present, how I was respectful." Douglas said. It was one the biggest pushes for AJ.
"I am unable to have children, at least not by myself," Douglas said. "Maybe one day I will be able to carry one full term, but as of now that is a very slim chance."
Douglas miscarried four times this year, which was difficult to bear, and Douglas was ridiculed because others said horrible things about her, such as she would never be a mother.
AJ took a moment to remind the students that their words matter and to be kind.
Douglas recently sold her outfit because she also started to receive death threats that if she showed up to a certain powwow she was going to get jumped, or a list of other violent actions.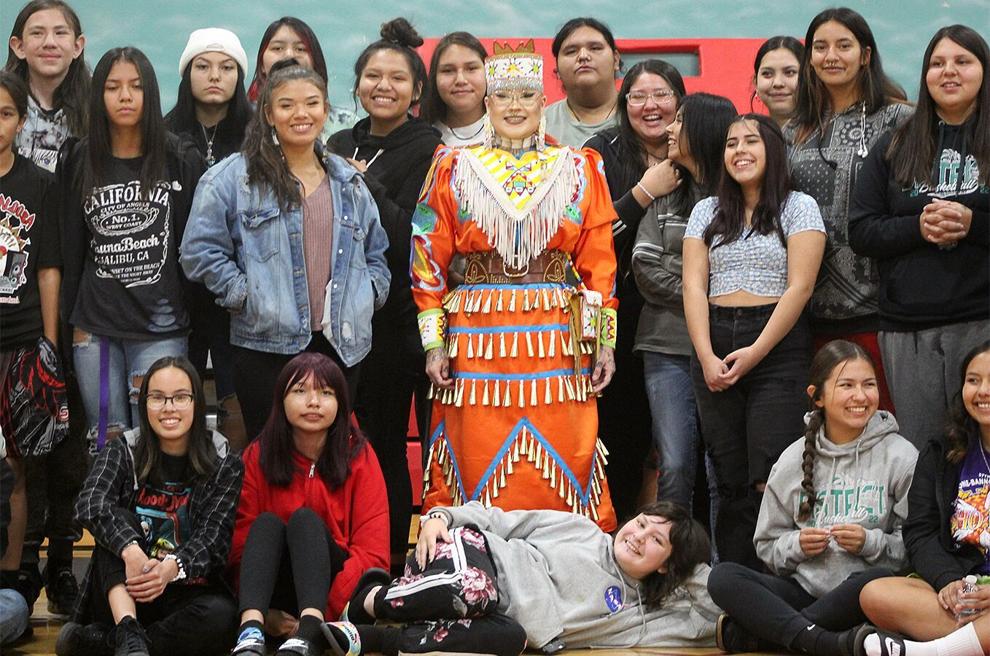 "[The] most recent threat is if I showed up to a presentation that I was going to get stabbed and I wasn't going to walk out," Douglas said.
With tears in her eyes, she barely managed to tell her father that she had sold her regalia.
In response, her dad reminded her of who she is and was as a child. He recalled how resilient she had always been, even as a young child. This was yet another push to keep her going.
Douglas realized she was having an influence on many people, and she had to get back up and dance because getting back up is who she is, and it became important to others.
"Never be afraid to tell someone what is going on or what is going on in your life," Douglas said. "I want you to know it's not snitching.
"I also want you to know that your parents will always be your number one, they will always be thankful for you," she said.
Douglas tells the children that looking at her father as he sobbed when he found his daughter had almost killed herself was one of the most important lessons she learned.
"Looking at my dad in his eyes as he cries, as I tell him his little girl almost took her life, was one of the worst things I had to see my dad go through," Douglas added.
Her mother also experienced difficulties. "She would have to deal with people bullying her little girl, but she could do nothing as I was miles away from home," she said.
At the end of the presentation, students asked questions. Some asked for advice or suggestions on eating disorders, to which Douglas replied, "Find something that makes you happy," and "You're worth it."
Another student inquired how to get back involved in powwows, and Douglas replied to "practice every day, learn your song, and have fun while jamming out."
TERS applauded her for her presentation and expressed their happiness that she will be dancing again. 
To close, and after students asked it, she danced while her number one fan, her husband, drummed and sang.