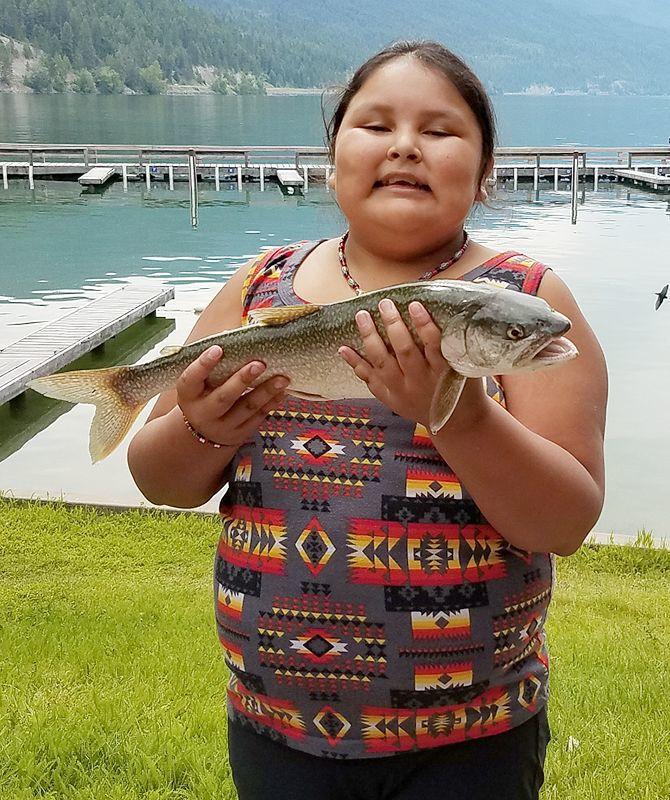 One week is left in the 2020 Spring Mack Days Fishing Event on Flathead Lake. The event will end on June 28. There will be no awards ceremony or fish fry on the last day. All lake trout entries end at 8:00 on Sunday.Up to $225,000 in Cash and Prizes sponsored by the Confederated Salish and Kootenai Tribes will be awarded at the conclusion of the event. 
Two hundred twenty one anglers have turned in a total of 22,624 lake trout entries. One of those entries out of Friday's total of 1,492 was the $10,000 tagged lake trout-yes it was the $10,000 tagged lake trout. We had to repeat that number to the winning angler Matt Guckenberg Sr. of Kalispell also. He was the most fortunate angler who caught the most sought after lake trout in Flathead Lake during the event. Lucky day for Matt! The fish was caught in the Yellow Bay area after swimming around the lake since March 18th when he was tagged. There is still 3-$5,000, and 5-$1,000 tagged lake trout and over 6,000 with values from $500-$100. Saturdays total came to 1,838, and Sunday ended with 1,229 for 4,559 entries over the weekend. 
Jason Mahlen of Kalispell continues to lead the Top Ten with a total of 1,211, 2nd Kolton Turner-Kalispell 1,069, 3rd Bob Turner-Kalispell 1,000, 4th Mike Benson-Lonepine 887, 5th Sam Cusker-Bigfork 870, 6th Larry Karper-Florence 624, 7th Jack Kirkland-Lolo 586, 8th Matt Guckenberg 583, 9th Ken Varga-Kalispell 517, and 10th Tyler Varga-Kalispell 512. Top ten anglers will be placed by their best twelve day average at the end of the event. 
Ladies Leader-Julie Perkins-Kalispell with 331, 2nd Connie Jones-Kalispell-56, 3rd Debbie Paine-Polson 49, 4th Laurie Kreis-Huson 44, and 5th Nicole Peters-Missoula 32.
13-17 Leader Matt Guckenberg Jr. of Kalispell with 384, Leah Banyai of Kalispell is 2nd with 41, 3rd Wyatt Thompson of Bigfork with 25, 4th Madison Mahlen of Kalispell with 17, and 5th Allison Hotchkiss of Missoula with 11.
12 & Under has Brodie Smith of Kalispell with 136, Colton Marrone of Kalispell 2nd with 67, Karson Cox of Charlo has 27, Aldon Wood of Kalispell has 24, and Josey McIllangey of Kalispell has 14. 
Other tagged lake trout were caught over the fourth week: Hank McCloud-Kalispell-$500, Bob Turner, Will Best-Florence, Tyler Varga, Joe Quimby-Polson each had $200 tagged fish, John Dorias-Big Arm, Mike Cosby-Thompson Falls, Tristan Persico-Missoula X 2, Craig Morigeau-Polson, Jack Kirkland, Glenn Hoffman-Missoula, Clint Speer-Kalispell, Travis Banyai-Kalispell, and Sam Cusker all had $100 tags. 
Shore anglers are turning in fish from all parts of the lake also. Come out and try your luck. One week left in the competition and you will be helping to restore a balance to the fishery of Flathead Lake which is the goal of the events. Reducing the non native lake trout and increasing the native bull trout and westslope cutthroat trout is important for the future fishery of the lake.
For more information go to www.mackdays.com and click on the events tab for the drop down boxes or telephone 406-270-3386. 
Tight lines everyone.