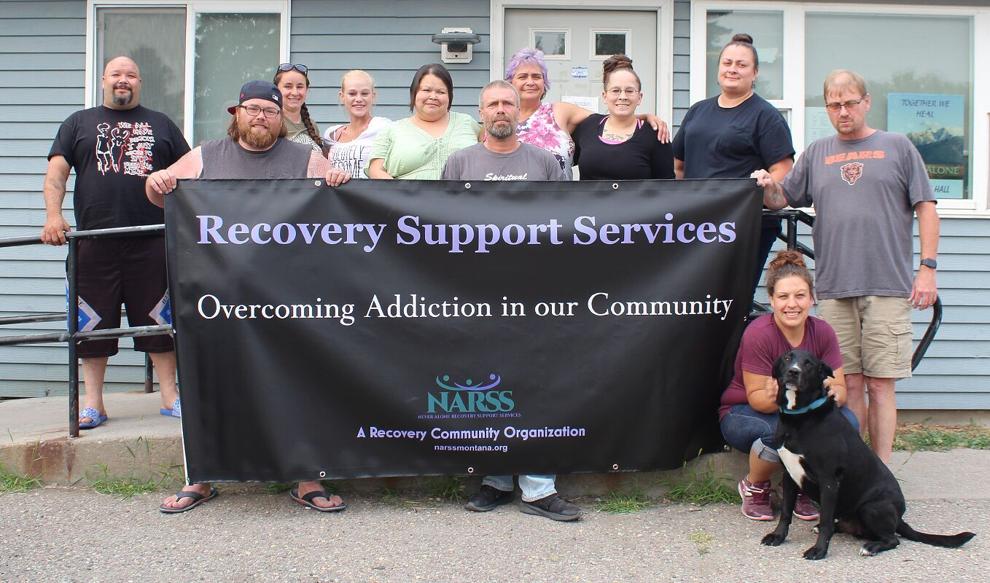 Char-Koosta News 
RONAN — Never Alone Recovery Hall (NARH) founder Don Roberts and his Board of Directors are forging a new path for peer recovery support services offered on the Flathead Reservation. The effort is without government funding and is fueled with th determination to implement a program that the founder and board members know works because it has worked for them. This is the only peer support program in Lake County and on the reservation.
NARH's goal is to strengthen the community by providing recovery support and recovery skills to individual and families struggling with chronic addiction. 
The purpose of NARH is to provide long-term recovery support services, develop and maintain a community peer support drop-in center, maintain long-term recovery residencies for adult men and women, collaborate with other organizations to help establish a recovery-oriented system of care, and to collect and disperse data on the impact of the program. 
When Roberts came to the area in 2008, he saw a need for peer support services in the area because at the time there were no meetings or programs for people in recovery on the Flathead Reservation and very little in the state of Montana.
According to Montana.gov the Department of Public Health and Human Services (DPHHS) estimates that 79,000 Montanans struggle with substance use disorders and that drug overdoses are the fourth leading cause of injury-related deaths in the state. Ninety-two percent of Montanans with a substance use disorder are not receiving treatment.
Roberts brought recovery support services to the area because he saw a need for it, and over the years his persistence to start up the NARH has paved the way for many on the Flathead Reservation to finally have a safe place, a community where they can go and be with like-minded people that are working towards the same goals of long-term recovery for not only themselves but for others too.
As stated by the Substance Abuse and Mental Health Services Administration peer support workers are people that have been successful in the recovery process who help other experiencing similar situations. Peer support workers help people become and stay engaged in the recovery process and reduce the chances of relapse through a shared understanding, respect and mutual empowerment. 
Roberts is in long-term recovery and when came to the area Alcoholics Anonymous was the only recovery group offered in the valley. Roberts, his brother, and a few other people started holding Narcotics Anonymous meetings in the area shortly after. Once that got going Roberts was in school at Salish Kootenai College (SKC) and during that time his main focus of his capstone work was on peer support services because at the time it was slowly becoming a thing in Montana, he said. 
Learning about drop-in centers around the country and recovery management as a model of recovery by incorporating a sense of community was eye-opening for Roberts and he started thinking why can't we do that here. Roberts graduated from SKC in 2018 with a bachelor's degree in Social Work and a certificate in chemical dependency counseling.  
A year before graduating Roberts went building to building in Ronan asking to use a space where he could start holding peer support meetings. After hearing a lot of "nos" he walked into Diane Ivanoff's Farmers Insurance on Main. Ivanoff personally opened her doors to the NARH's efforts by letting Roberts use the building next to her office to start holding peer support meetings. 
Ivanoff watched her daughter when she was in her early teens become addicted to pain management medication after having surgery and then being hit by a drunk driver six weeks later in Lake County. She had to sell everything to send her daughter to a drug treatment center in Los Angeles, California and said that what she found out during this time was that the community had a stigma against recovering addicts. She said it was like people in the area didn't want to openly accept people meeting who were trying to reach out for assistance with each other. 
"I found that unfortunately it just was so shunned and so nobody wanted to talk about it that when Don came to me and told me what he was doing, the Lord without a question led me to absolutely set him up for free," said Ivanoff. "I will pay the power; I will pay everything if you get these people a spot where they can come and feel comfortable when they're really having a hard time instead of going to a place of judgment which pushes them to do more drugs. How about let's put them in a place that pushes them towards recovery, towards just maybe a community of their own." 
Ivanoff said the NARH used the space until they outgrew it and that it was a very special thing for her to be a part of and that she will support them forever because they are good people. "Let's get rid of the word druggie for a minute and let's replace it and put in struggling; we have a struggling person here not a druggie," she said. 
A couple years after the hall outgrew the building next to Famers Insurance CSKT Tribal Council let the group use the old Boys and Girls club building located next to Dairy Queen in Ronan. At the beginning of 2020 the NARH moved once again to its current location located in the CSKT's THD Fitness Center in Ronan. 
NARH not only offers meetings and drop-in peer support services, but they also offer transportation to other services like mental health appointments or drug testing. They have phones available, computer access, gas cards, and are there to help people apply for other services. Depending on locations they will even pick people up for meetings too. 
Over the years the NARH has been funded by private family foundations in Bozeman and St. Ignatius and received their 501c in October 2019.
On July 13, Tribal Council adopted a resolution proclaiming addiction as a risk to the health, security, and general welfare of the Tribes and directed necessary resources.
Councilwoman Carole Lankford said that what this means is that the executive positions will be tasked with propelling the resolution. The resolution will be carried out by bringing individuals together with some background or knowledge of the issue at hand to pull together a plan that will work best for the Tribes to implement and direct funds to. This could be a treatment center, drug court, or recovery centers in each town. It just depends on what comes out of the committees and from public input, Lankford said. 
"Old models don't work anymore. Chemical dependency assessments being scheduled four to six weeks out doesn't work, they need to be done immediately then figure out next steps and set up a plan for that individual," Lankford said. "That's what Don does, works to find out what works for that individual not what's going to work for everyone," 
Lankford said that an organization like the NARH in the community is important because there is a place finally for people in recovery to go and a place for people seeking recovery to reach out to and to feel safe. "I think that the recovery hall has been a god send to all of us," Lankford said. She also feels it's important to get a women's recovery house going because as of now there is nothing for women like the NARH's Scoobie House for men. 
Lankford said that recently in the Lake County Courtroom, District Judge James Manley allowed a presentation to be done on historical trauma by Turquoise Devereaux. For Lankford, it was a historical moment for Lake County to allow something like that to be presented in the courtroom. "I think it opened so many people eyes," she said. 
The Substance Abuse and Mental Health Services Administration's (SAMHSA) states that historical trauma is "the cumulative, multigenerational, collective experience of emotional and psychological injury in communities and decedents." Observed responses include signs of overall poor physical and emotional health, depression, substance abuse, and high rates of suicide. 
Shay Ashley said that having NARH is crucial. "There's a lot of people out there that feel alone and it's hard for them to be somewhere when you're in your head and you don't really know where to be and this place here and it's home and you don't have to question whether your comfortable here," Ashley said. "It's a fellowship here, there's people that care, and it's a new way of life. When you're here you don't have to worry about being safe. There's always somebody here that understands the fight that you're going through inside yourself, so this place makes a home away from home. They helped me change my life."
Outreach Director Steven Morigeau said he needed to find a way to get sober before he lost his family and started figuring out a way to do so. He fought to get into drug court, and then treatment. While in drug court he started attending classes and meetings at the NARH and said, "It basically showed me how to live. I learned to have feelings and how to be a human being again. I learned to be a productive member of society again." 
Former board member Dana Comes At Night said that historically people here have tried to put things in place things to treat addiction and alcohol abuse but that there has never been a community like the NARH. "A community that everyone feels a part of, were all equals here, no one judges," Comes At Night said. 
"The recovery hall is important for me because this is where I come to get my sense of peace. If this place wasn't here, I don't know where I would be or who I would be hanging out with. The love and support that I get from here, I wouldn't change it for anything," Board of Directors Vice President Krystal Orman said. 
The NARH is located at 122 Main Street SE in Ronan and offers peer support Monday through Friday 9 a.m. to 4 p.m. as well as nightly meetings throughout the week and weekly sweats every Sunday. 
The NARH Board of Directors consist of Vice President Krystal Orman, Treasurer Dessilyn Brown, Secretary Bernice Devereaux, Grant Management Director Kaele Ivanovitch, Recovery Hall Director Angela Evans, SOS Scoobie House Director Todd Smith, Outreach Director Steven Morigeau and his assistant Shay Ashley. Dana Comes At Night was previously on the board but now works as a coordinator for drug court and still works closely with the hall. 
The NARH Board of Directors wants to thank CSKT Tribal Council for their consistent support from the very beginning, Tribal Health, S & K Technologies, and Voc Rehab. 
To inquire about meetings or services at the NARH you can call (406) 676-2536 or go to https://www.narssmontana.org/. The hall does take donations and offers tax-deductible receipts. The hall welcomes people to bring their children with them to meetings.