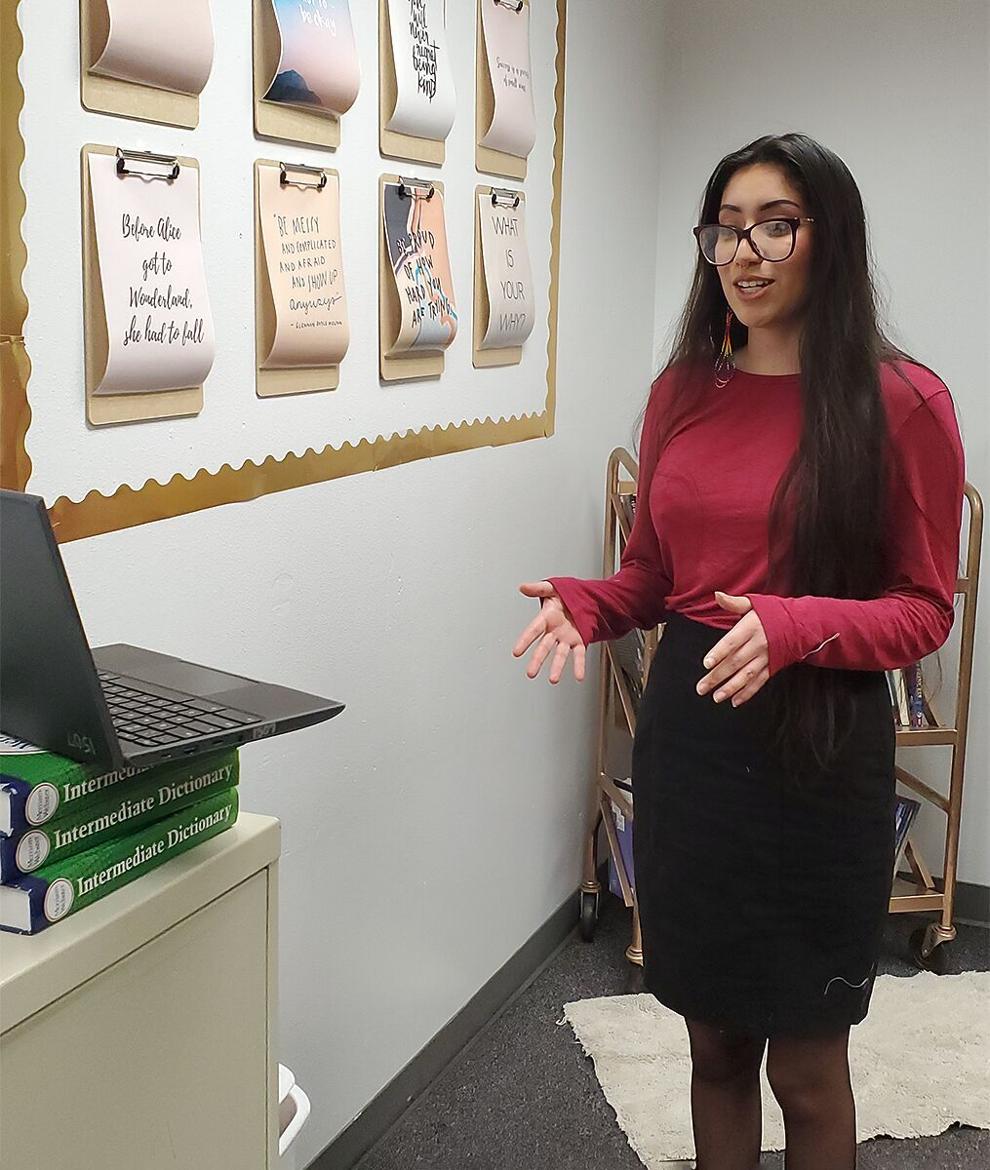 Sariel Sandoval spreads important messages about American Indian issues as part of Ronan High School Speech and Debate team
Char-Koosta News 
RONAN — Speech and debate team members more often than not, conjure up visions of nerdy young people with glasses and conservative dress. That stereotype doesn't fit all though but for some that it does, they embrace it. Such is the case of Ronan High School senior and four-year member of the Speech and Debate team, Sariel Sandoval; she embraces her nerdiness and plans to take it to higher education levels.
"Over the years I've coached many kids from privileged backgrounds," said Ronan High School Speech and Debate coach Amy Miller, adding that debate topics have more often than not been non-controversial. "We didn't often have life-experiential topics, just down the middle of the road topics."
But then along came RHS senior Sariel Sandoval.
"Sariel comes from a community and family that doesn't have similar experiences that the majority of her teammates have," Miller said. "She chose to use a subject platform that directly affects them."
Often the speech and debate judges are older folks, often conservative and almost always white.
"Sariel has done great work over the past four years not just to compete in Speech and Debate, but also to bring awareness to issues that face our community and Indigenous people," Miller said. "She has used her platform in Original Oratory and Informative Speaking to talk about topics like Missing and Murdered Indigenous Women, and Indian Education for All. And this year, she is giving a speech about privilege and intersectionality. Sariel knows that her topics might not be received well by some of her judges, but she chooses to take the risk in order to increase awareness… She is certainly someone our community can take great pride in." 
Sariel has garnered three first place and one second-place finishes in Original Oratory so far this season.
"Sariel gives the audience something to think about," Miller said. "She informs people on how they can help break down the barriers."
"I didn't know much about speech and debate before high school. I am pretty nerdy and didn't want to play basketball or volleyball so I checked out speech and debate," Sariel said. "I had a horrible first speech and a bad first year, but I still qualified for state."
Her "informative" then "interpretive" speech category subjects were cultural appropriation, Indian mascots and Hollywood portrayals of Indians. 
In her sophomore year she focused on the "persuasive original oratory" category with MMIW as a subject and placed eighth at state.  
"It was very stressful, but I adjusted after the first meet and things took off from there," Sariel said. "I've been in original oratory since. I want to finish my senior year with a bang with the focus on racial and social privilege."
In her junior year she took up the gnarly subject about the shortcomings of America when it comes to people of color and then through the season switched her focus to Indian Education for All. She also began to switch from Western formal dress required at meets to wearing ribbon skirts.  She eventually placed sixth at state.
Sariel plans attend college and study mathematics after high school. "I've always liked math," Sariel said. "I have taken all the math classes in high school and have no more to take."
To fill that high school math void, Sariel enrolled at Salish Kootenai College to focus on STEM (Science, Technology, Engineering and Math) classes last school year and earned college credits.
"Speech and debate helped give voice to my thoughts. It has shaped me; I have become confident and well versed in the things I'm passionate about," Sariel said. "I get along well with the other people at meets and I hope I get them and the adults thinking about the subjects of my speeches."
She has applied to and has been accepted at many colleges. One of the colleges she applied to is Dartmouth College of the Ivy League in Hanover, New Hampshire. Two weeks ago, she interviewed with Dartmouth College admission personnel and was accepted.
Dartmouth is a is a research university established in 1769, the ninth oldest higher education institution in America. It was initially founded as a school to educate young Indians in Christian theology and liberal arts.
The COVID—19 pandemic has altered life on all fronts, including how speech and debates are held. Instead of conducting them in front of live audiences, they are held virtually via Zoom. 
"It's a little easier, less intimidating style of competition without an audience," Miller said. "But feedback and interaction from an audience are important."
Important because competitors can gauge the public reaction and can fine tune their speeches, delivery inflections as they debate through the four or five preliminary rounds and the final rounds. A debater can give the same speech presentation for as many as seven rounds so, just like other forms of competition, they can — for better or worse — emotionally feed off the audience reaction. Obviously, there is less of that when the only person a debater can see is the judge in one of the preliminary rounds and in the semifinal and final rounds via Zoom.
Miller said conducting the speech and debate meets by Zoom does save the school district money since that eliminates travel and host expenses. It also eliminates the comradery of being among competitors.
"The kids make great relationships with other debate team members," Miller said. "In between rounds there is a lot of social interaction and bonding of teams."
This year there are 10 members of the RHS Speech and Debate team. That lessens the ability of a team that size to rack up a high team score against teams with 30 or so competitors. Despite the low team member numbers, RHS has done well against teams with a full slate of competitors.
"I didn't recruit a lot this year. There is such a learning curve that it's just not a good idea, not a good way for new people to learn by competing through Zoom," Miller said. "We definitely did not want to have this type of season, but it is a good alternative to no season at all."
Sariel Sandoval is a testament to that, as she has bobbed and weaved and adjusted to the various educational competitive hurdles presented her and as a result has her eyes on Dartmouth College. She even knows how many hours of driving it will take to get to Hanover, New Hampshire — 48 hours.