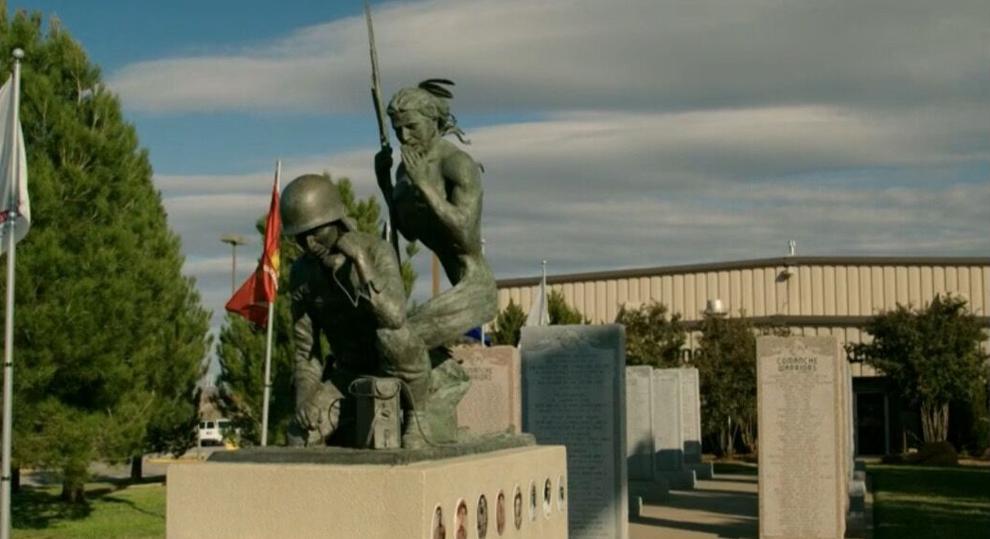 CSKT to host Veteran's Powwow on November 12
Char-Koosta News 
"A lot of people have asked why you join a white man's war. They weren't nice to you, and that may be so, still this is our land," said Peter MacDonald, Navajo Code Talker in Larry Hott's 2019 PBS documentary The Warrior Tradition.
"This is our home, this has always been our home, and part of the commitment to protecting and defending your home led to military service," said D.J. Vanas Ottawa Tribe, US Air Force. "We have the highest per-capita service rate out of any [ethnic] group in American because of the fact that our Native people have always wanted to fulfill that Warrior path," 
"They have fought against the United States, they have fought with the Unites States and they have fought against each other," said guest speaker on The Warriors Tradition, Donald Fixico, historian, Shawnee, Sac and Fox, Muscogee, Seminole.
Patty Loew uses the word "irony" in the PBS program to describe a situation in which a government that has tried to eliminate or integrate Native Americans, ruin their culture, and take their land, and yet Native Americans serve in the highest percentages of any race or ethnicity in the US military.
She related a conversation she had with a Veteran when she questioned him about his decision to enlist. His response was that his people had signed a peace and friendship treaty with the United States government, promising to defend the country should it ever want its assistance.
He told her that even though the United States has broken every treaty negotiated, he is still up-holds his end of the treaty. 
Even when Natives were not citizens, Natives protected the land. During WWI Native Americans were not U.S. citizens yet, according to Jeffrey Means, Oglala Sioux, US Marine Corps, historian in PBS documentary.
World War I took place July 28, 1914 - Nov 11, 1918. According to Library of Congress, On June 2, 1924, Congress enacted the Indian Citizenship Act, which granted citizenship to all Native Americans born in the U.S. The right to vote, however, was governed by state law; until 1957, some states barred Native Americans from voting.
It was the enlistment of the Native Americans that served in WWI that inspired the U.S. government to confer citizenship to them, Loew said. 
"Being a Warrior is not necessarily about going out and killing people," said Chuck Boers, Lipan Apache War Chief, U.S. Army. "It's about keeping the peace as well and making sure our traditions and cultures are staying in line with our values; protecting our land, our family, our community, and that's part of the Warrior tradition," 
Why did Native Americans enlist in the American military? For a variety of factors. The idea that Indians believed and still believe in safeguarding the land, rivers, animals, plants, language, culture, and the existence of Native culture and beliefs is one of the key points raised by the PBS program. Other considerations include family legacy, given that ancestors have served, and financial assistance for families.
Another observation is that boarding schools prepared Natives for military service.
After being compelled to not speak their Native languages at boarding schools, Native Americans' language became a critical piece of success in World War II. 
According to United Service Organizations (USO), Navajo Code Talkers aided the United States in winning the WWII Pacific Theater. A team of Navajo men joined the Marine Corps for a top-secret operation, called the Navajo Code Talkers. 
The Japanese military was breaking codes until the Navajo language was utilized. Along with the Navajo code talkers, other Native Americans — including women — served in the military during WWII. According to USO statistics, approximately 45,000 of the 350,000 American Indians in America enlisted in the military, making them the group with the highest rate of voluntary military enlistment.
Additionally, American Indian women initially assisted in the war effort as nurses. Also a handful of Native American women volunteered to join the Army Nurse Corps during World War I.
According to USO, 800 Native American women participated in the war effort in the various women's military branches during WWII. Additionally, today's Native American women not only serve as fully qualified soldiers, but also serve at a rate significantly higher than that of any other demographics. According to the USO, women make up about 20% of all Native American service members, compared to about 15% of non-Native women service members.
The PBS program discussed and demonstrated how Native groups have done a more effective job of welcoming their community members home after a war, by participating in traditions and ceremonies for spiritual healing, and reuniting them with their families and communities.
According to Loew, "Mainstream America can learn a lot from Indian service, beginning with the way the Native culture prepares their soldiers for service, understanding that there is a spiritual component to war."
The film's speakers discussed how their Native culture and traditions would tune them in during war. Some discussed blessing items, carrying eagle feathers, spiritual battle preparation, preparing oneself to meet the enemy, and other traditions. And they believed such things protected them. 
There is no single definition of a Warrior, just as there are many reasons why Native people join the military, but if any group continued the Warrior heritage, it would be Natives, as the PBS documentary showed.
As November is recognized as Native American heritage month, Veteran's Day provides a chance to honor all Veterans and remember the Warriors who fought for the land they loved and future generations.
"The powwow is just a time where people come together to celebrate, they're honoring the tradition, they're honoring that we are still here, '' said Rhonda WillIams, Comanche Nation, Delaware, Kiowa, Apache descendant, US Army, on The Warrior Tradition. "They will fly the U.S. flag, they'll carry in the U.S. colors, and they will recognize their Veterans and honor them because they still sense that sense of gratitude that they are able to go and defend the United States as well as defend their communities and preserve our Native American heritage."
On November 12, the Confederated Salish Kootenai Tribes Veterans Powwow will be held at the Kicking Horse Job Corps, which hasn't hosted a powwow in years. Together, the Native American community honors their Veterans serving as an example of what lifting and honoring Warriors may entail.
To watch The Warrior Tradition, go to https://www.pbs.org/video/the-warrior-tradition-fkaz4h/