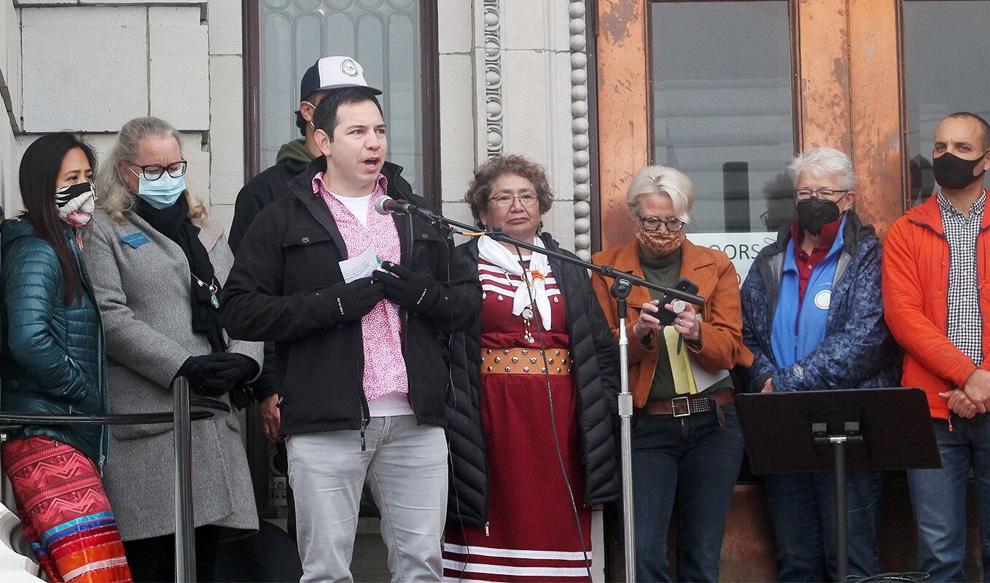 Char-Koosta News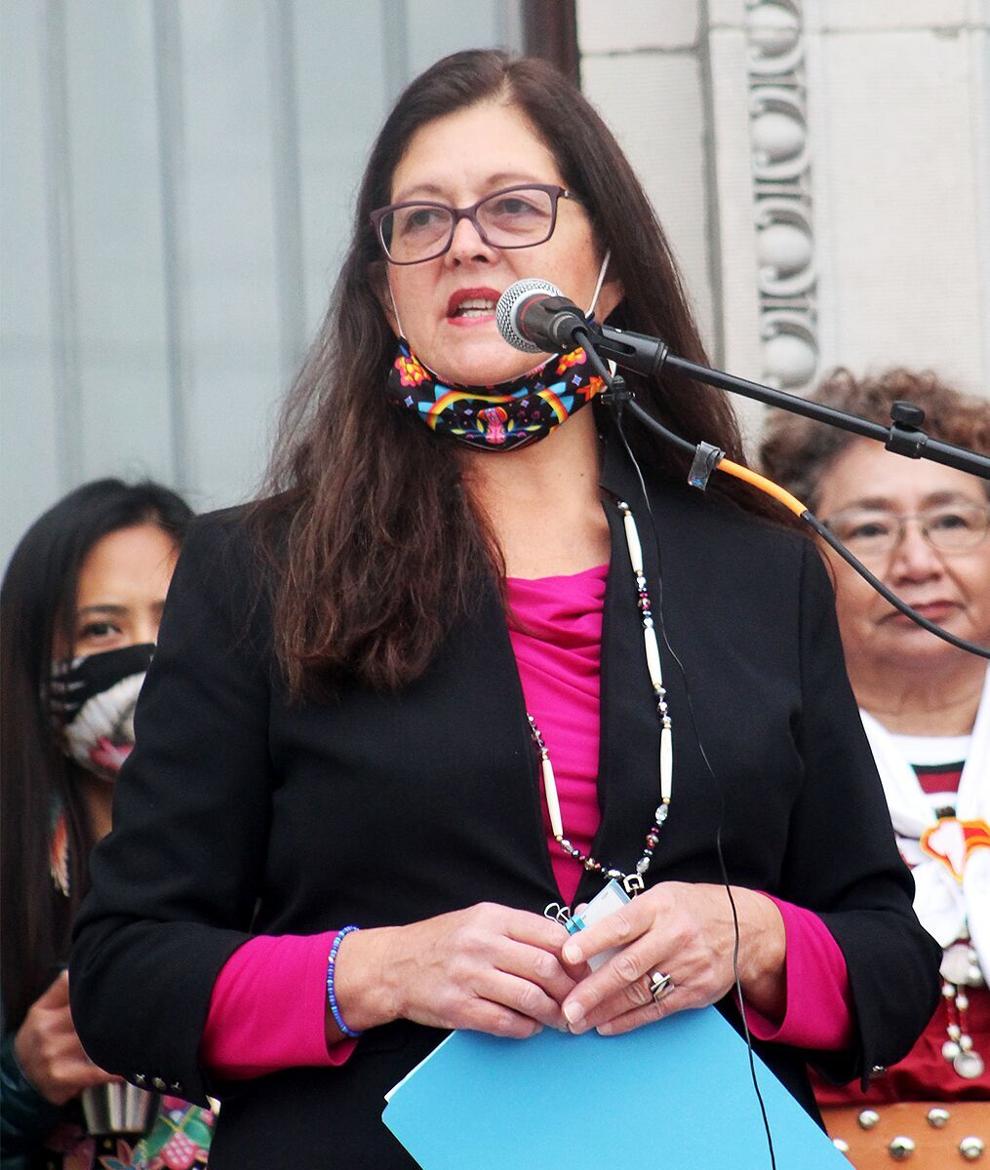 MISSOULA — A large crowd gathered at the Missoula County Courthouse Monday to celebrate the first ever national Indigenous Peoples Day — the result of President Joe Biden's proclamation — and to discuss the dark truth behind Columbus Day. There was also a call for the State of Montana to replace Columbus Day with Indigenous Peoples Day — Columbus Day is still a legal holiday in Montana.
The gathering included members of the Montana Legislature, including State Senator Shane Morigeau, a member of the Confederated Salish and Kootenai Tribes, Flathead Nation Tribal Council Chairwoman Shelly Fyant, and others, braved the blustery weather to be part of the monumental event. 
The large chilled group listened to the powerful expressions of speakers that were not meant to erase history of the United States, but to speak holistically with the inclusion of the often overlocked or discarded chapters.
"Today, we celebrate our culture; we ask our friends, neighbors, and allies to understand where we come from," Fyant said.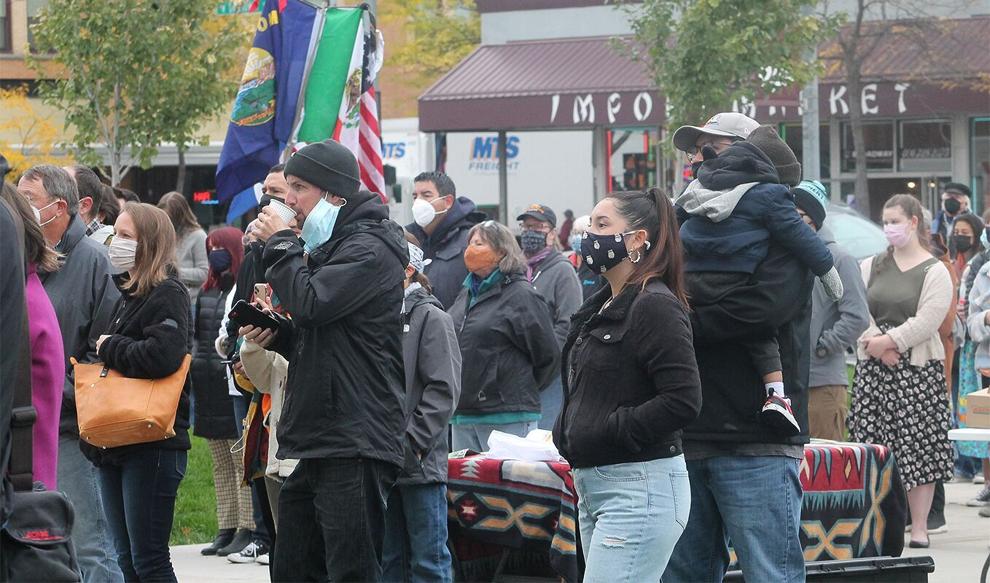 Indigenous people are proud of who they are and what they stand for, so October 11, was a good day, a happy day, a day to celebrate life with gratitude as result of the presidential proclamation. Columbus Day is a national holiday that is observed the second Monday of October.   
"To the Indigenous people of this land, every day is Indigenous Peoples' Day," Fyant said. "In our language, we are the flesh of the land; we celebrate with every sunrise and give thanks with every sunset."
Montana cities of Missoula, Bozeman, Helena, and Harlem have declared Columbus Day a day of recollection of Indigenous people. As tribal communities fight to keep their culture alive and current, it is becoming increasingly clear that Indigenous people have lost a lot and are on the verge of losing more. Tribal languages, along with many other valuable traditions of the culture, have been lost or eradicated by the federal government, but tribal people today are committed to bringing the old ways back.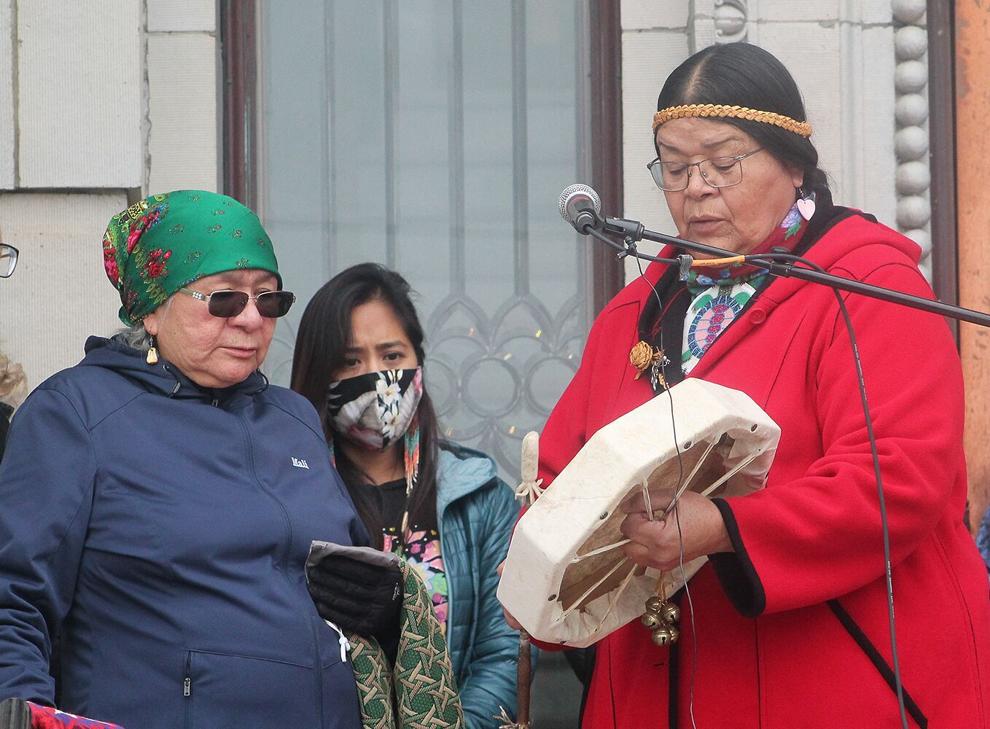 CSKT members Mary Jane Charlo and Myrna Dumontier were among those who came to the rally to recognize the significance of the land on which Montanans live. "No matter where we walk on this land, this is the footprint and fingerprint of the Salish people," Dumontier said. "Even though we are walking on concrete and have been transformed into another place and time, we are still Salish, we are still here, and we are not going anywhere."
Not knowing and understanding what happened on this land is a disgrace and a tragedy for all Montanans. Everyone has the right to know the truth, the blood that has been shed, and the suffering that has occurred on one of the most beautiful places we have the privilege of calling home, Montana.
All that the Indigenous people have left must be passed down to each generation, and each Indigenous person bears the major responsibility of keeping what they were taught close, using it in their daily lives, and carrying it on. If indigenous people give up and forget, they will vanish. Everything about the culture and sacred ways can die with the Ancestors. Recognizing Columbus Day as Indigenous Peoples Day gives the Indigenous community hope and strength; it encourages them to keep fighting, keep learning, and keep the knowledge Ancestors passed down about their culture with songs, dance, and stories.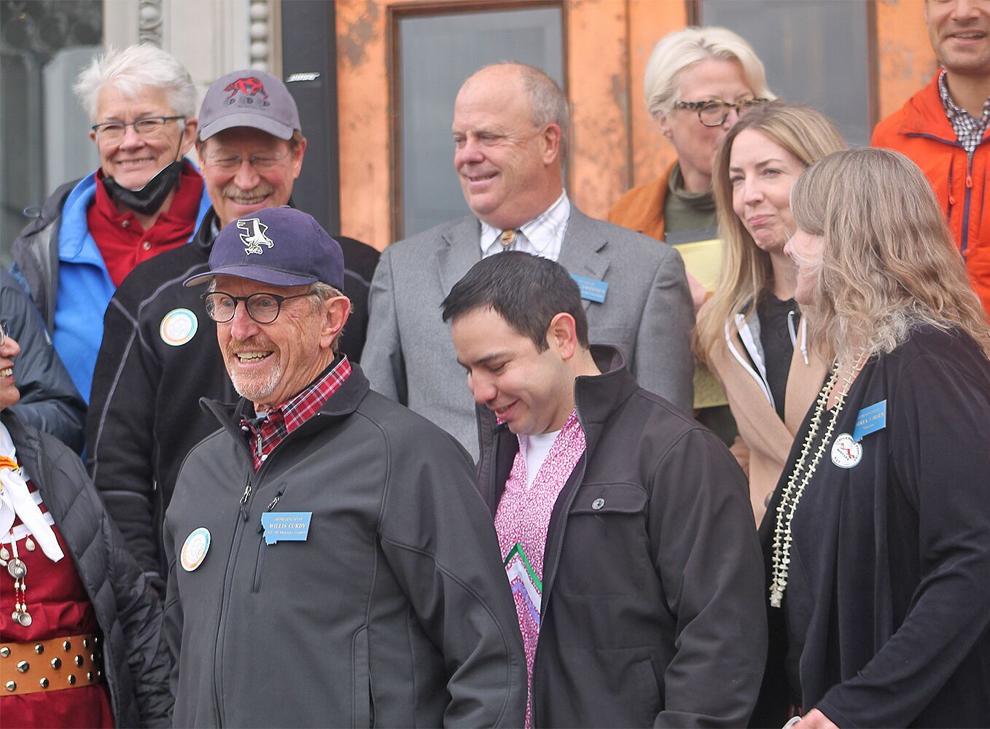 Dumontier asked the crowd as neighbors to pray and give thanks.
"It's worth fighting for, and leaving our children an inheritance," Dumontier said, then prayerfully added, "With all the injustice in the world, people are crying for justice; we ask for help, give us insight, and inspire us to do the right things; we thank you for all the moccasin feet and every culture that have crossed this land."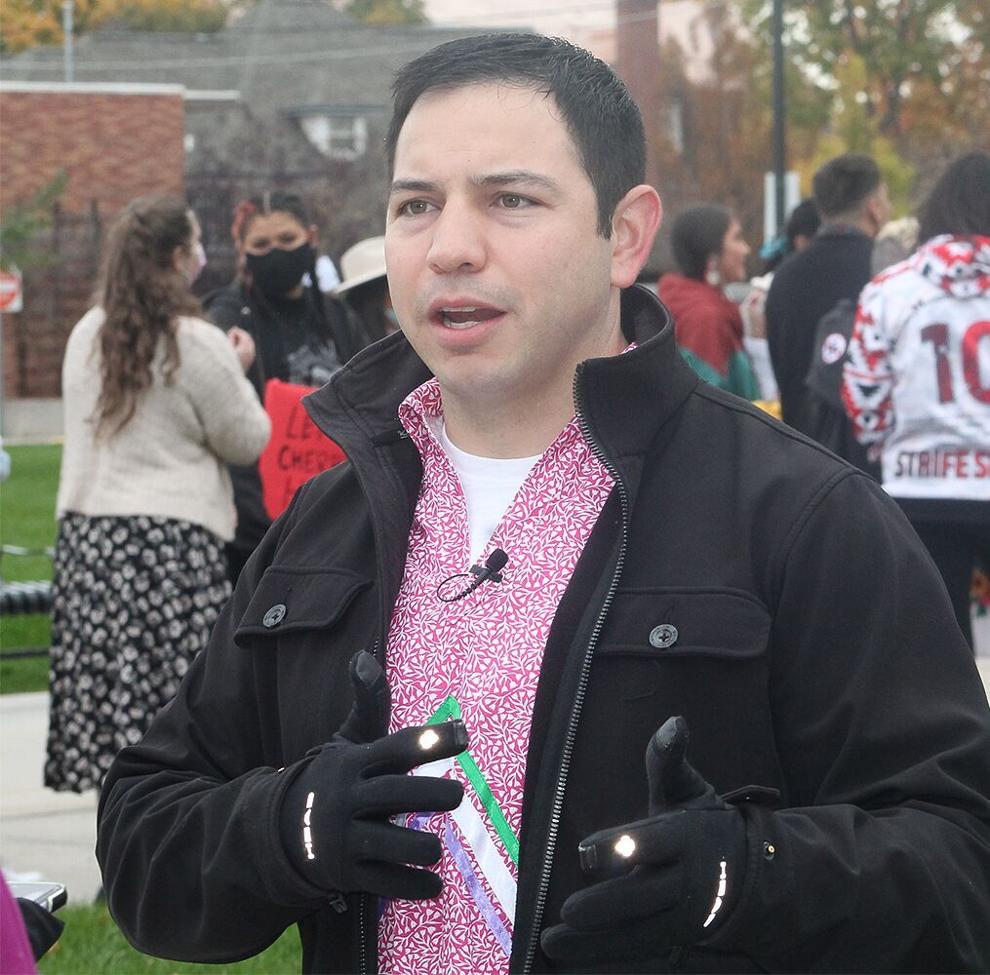 "Our global effort has been to truly create a holiday that recognizes everyone, you know, all Indigenous people, recognizes a rich cultural heritage that we all have to offer in Montana, because we all came from somewhere, right?" Morigeau said. "We're all Indigenous from somewhere." 
Morigeau emphasizes that it is time for people to look in the mirror and ask the tough questions, as he tells of situations where people did not know about Christopher Columbus and were unaware of the terrible events that occurred on the land where Montanans live.
"I think it's important that we have a day where we can all come together and recognize and appreciate one another," Morigeau said. "This is not the day to celebrate a man who committed truly heinous atrocities against innocent people, sex trafficking girls as young as nine. This should not be a day when we honor or celebrate someone like that."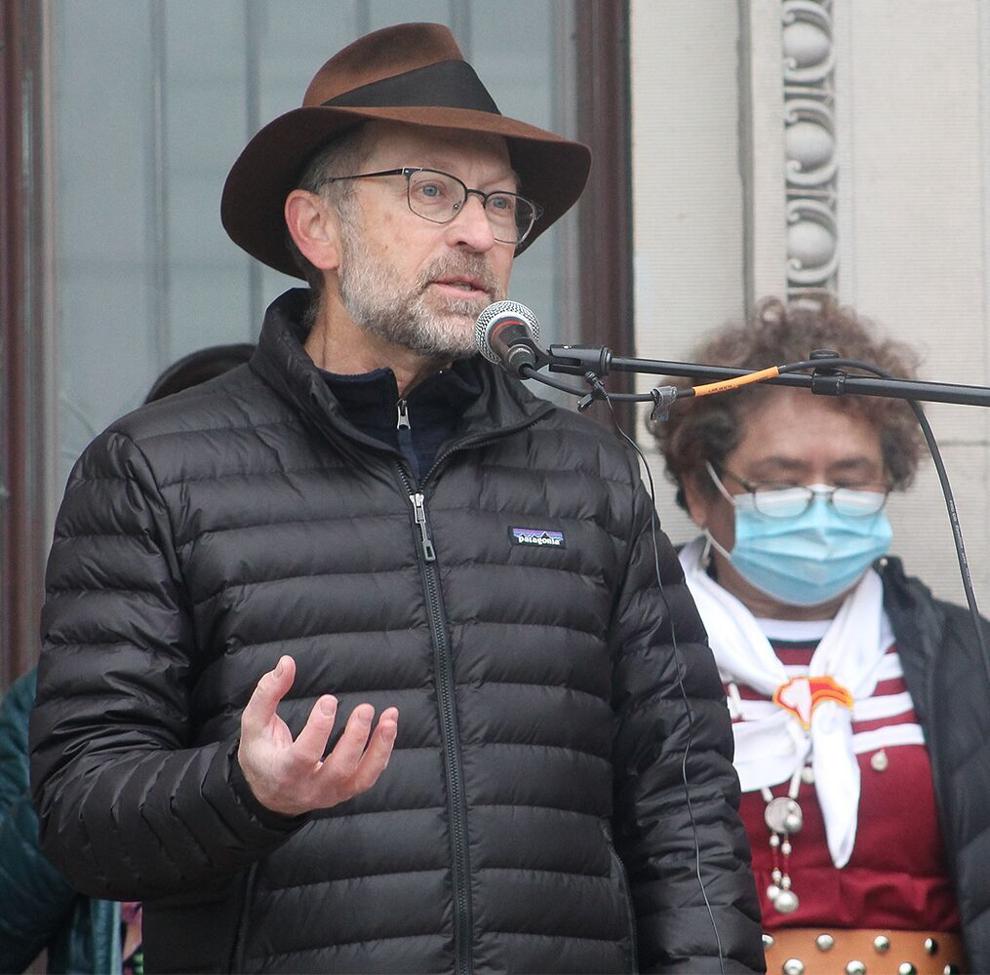 Missoula County Commissioner Dave Strohmaier spoke on behalf of his MCC colleagues. Strohmaier discussed the recent renaming of the Higgins Bridge to the Beartracks Bridge. "Not only are place names important, but it is critical to remember that October 2021 marks the 130th anniversary of the Bitterroot Salish being forced to relocate to the Flathead Reservation by the United States military."
It's all about memoires and remembering the country's lengthy and tumultuous history with Indigenous people. "It is only fitting that in the year 2021, we remember the history of this place, that we honor the heritage of our neighbors, brothers and sisters who call this place home," Strohmaier said.
There will be a dedication ceremony for the Beartracks Bridge in 2022. "Today is a true day of action, not just a day of casually thinking about where we came from and where we might go," Strohmaier said.
Ben Pease, a Crow tribe artist from Billings, has worked with others to establish Indigenous Peoples Day in Montana communities.
"We all have stories, we all have steps, and we all have a path in this world, and we recognize that each story is just as important as the next person," Pease said.
Many of us have been through sad and difficult times, but when we all work together, we can achieve the impossible. Indigenous is about celebrating what everyone has to offer the state of Montana, rather than honoring a man who does not deserve to be honored, Pease said.
"It wasn't long ago that Indigenous people were not embraced, but today we look around and see the power we all carry, and we come together, and we realize that if we speak each other's languages, embrace our stories, and use the tools we have, we can move forward together," Pease said. Indigenous Peoples' Day Montana is an organization based in Bozeman. "We developed this process for confronting an issue like this and basing it on education and diversity; if you want to know how to do this in your own communities, follow us on Facebook: Indigenous Peoples Day Montana." https://www.facebook.com/IndigenousPeoplesDayBozeman/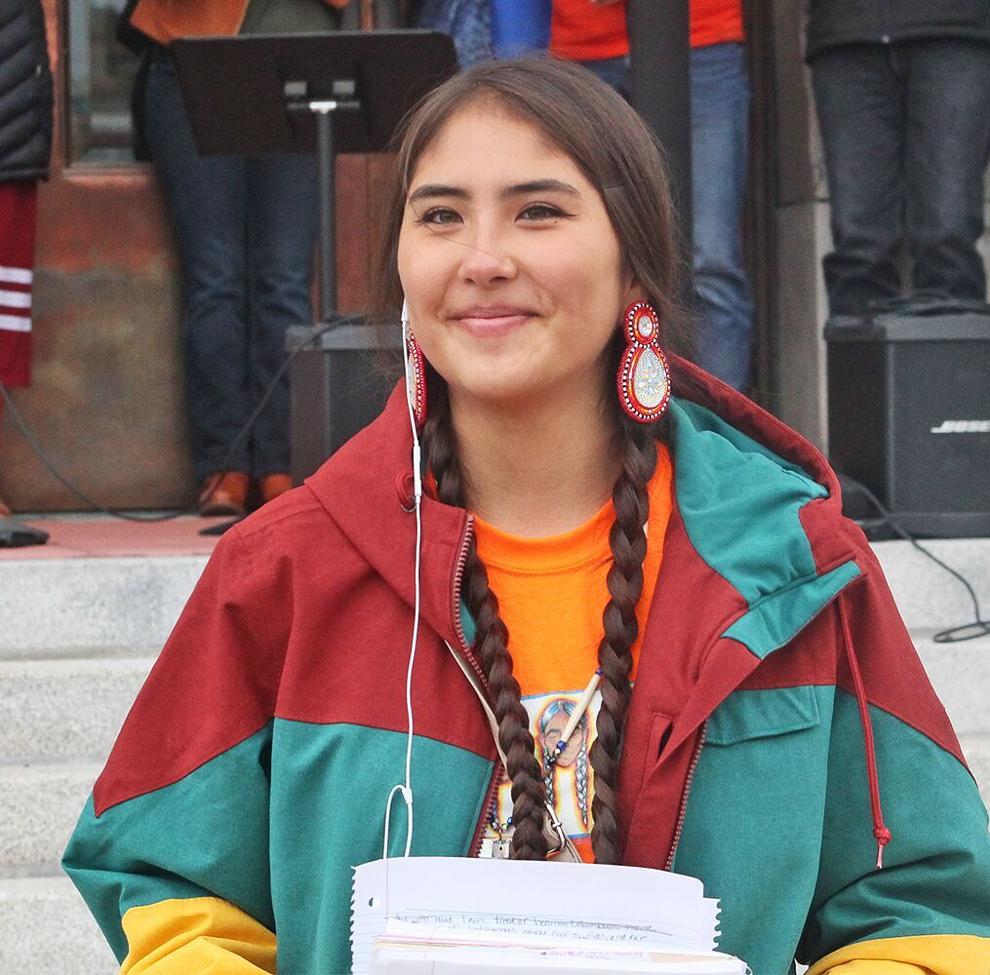 Alishon Kelly, a 16-year-old member of the Blackfeet and Pend d' Oreilles tribes, and a Hellgate High School student, discussed her perspectives on Columbus Day.
"I am a survivor, you are a survivor, every Indigenous person standing here today is a survivor, we are the survivors and the resistance of Columbus and his legacy," Kelly said. "Columbus is the original founder of genocide, rape, murder, and untimely the destruction of my people."
"We can't learn from our past unless we're learning the truth," said a Hellgate High School student. "Adults wants kids to grow up learning honesty and accountability, and teaching accurate and honest history is one major way to do that." 
"We need to do better by our youth in Montana and across the nation," Morigeau said.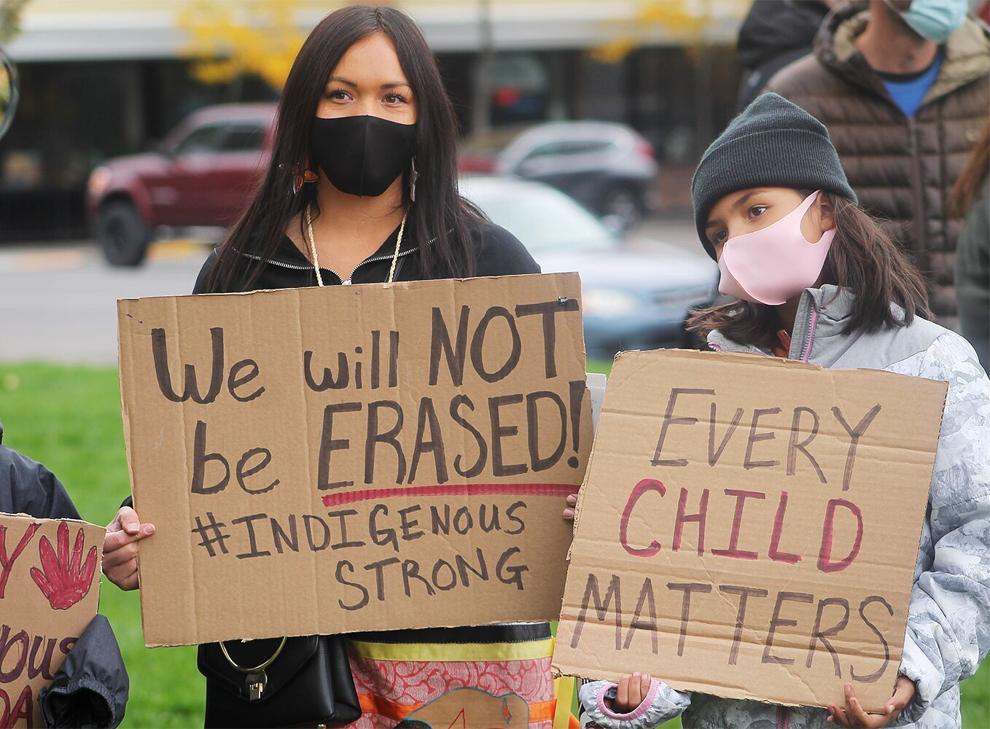 As parents question what their children are learning in school and are concerned about what they are being exposed to, it is possible to question what everyone has learned. What did history teachers teach their students about Christopher Columbus, and what is written down in history books? It's critical to understand what grandparents were taught, what today's generation are taught, and, most importantly, what Montana's youth are being taught.
"When I think about this issue, I often think about a kid, hunched over a book reading a history book that glorifies somebody, yet, leaving out all the bad and leaving out the fact that that person probably was killing and trafficking people," Morigeau said. "And that makes me very sad to think that there's a kid somewhere reading that just like I did." 
The bill was passed in 2019, and the City of Missoula designated the second Monday in October as Indigenous Peoples Day. "There is compassion in our legislative body, and people are willing to listen," Morigeau said.
Montana should follow suit in order to have a holiday that is representative of everyone, Morigeau said. "I would encourage and challenge our governor to make efforts to implement Indigenous Peoples Day through executive order," he said.
Morigeau urged Montana to act and change the law. 
President Biden proclaimed October 11 Indigenous Peoples' Day, the first President of the United States to do so. The state of Oregon also changed Columbus Day to Indigenous Peoples' Day.