The Montana Cowboy Hall of Fame & Western Heritage Center (MCHF & WHC) announces their 14th class of inductions into the Montana Cowboy Hall of Fame. The inductees were chosen from a field of candidates nominated by the general public. Inductees are honored for their notable contributions to the history and culture of Montana.
"The Hall of Fame exists to honor those who have made an impact in their part of the state and represent Montana's authentic heritage for future generations," said Bill Galt, MCHF & WHC president. "Our volunteer trustees around Montana vote on nominations that come from the district in which they reside. This process gives the local communities a strong voice in who will represent them in the Montana Cowboy Hall of Fame."
The MCHF & WHC board of directors has designated 12 trustee districts across the state from which up to 20 trustees may be appointed. Nomination criteria established by the board for the Class of 2022 inductions allowed the election of one Living Inductee and one Legacy Inductee from each of the 12 districts.
District 1 District 1 (Daniels, Phillips, Roosevelt, Sheridan, & Valley Counties): Living: Ardelle & Kenneth "Ken" Hart from Outlook; Legacy: Howard Arnold Bestland, Antelope.
District 2 District 2 (Dawson, Garfield, McCone, Prairie, Richland, & Wibaux Counties): Living: Jack Rodney & Deborah Gaye (Walton) "Debbie" Hinnaland, Brockway: Legacy: Harbaugh Ranch, Jordan
District 3 (Carter, Custer, Fallon, Powder River, Rosebud, & Treasure Counties): Living: Wallace Kirk "Wally" Badgett Miles City; Legacy: John W. "Johnny" Moore, Miles City
District 4 (Blaine, Chouteau, Hill, & Liberty Counties): Living: John W. "Jack" Young, Lloyd; Legacy: Jerome "Jerry" & Flora Kearful, Chinook
District 5 (Cascade, Glacier, Pondera, Teton, & Toole Counties): Living: Myrle Allon Gollaher, Cascade; Legacy: Richard Thomas "Dick" Loss, Fairfield
District 6 (Fergus, Golden Valley, Judith Basin, Musselshell, Petroleum, & Wheatland Counties): John Joseph "Johnny" Carr, Christina; Legacy: Everal Eugene "Sonny" Butterfield, Roundup 
District 7 (Big Horn, Carbon, Stillwater, Sweet Grass, & Yellowstone Counties): Living: Gary Jay Crowder, Billings; Kill Kare Klub – Ladies Along the Yellowstone, Big Timber
District 8 (Broadwater, Jefferson, & Lewis and Clark Counties): Living: Kitty Ann (Quigley) Taaler Helena; Legacy: Donald W. "Don" Hilger, Helena
District 9 (Gallatin, Meagher, & Park Counties): Living: James Andrew "Jim" Lind, White Sulphur Springs; Legacy: Patrick "Pat" Bergan, White Sulphur Springs
District 10 (Flathead, Lake, Lincoln, & Sanders Counties): Living: Gerald Lee "Jerry" Hamel, Dixon (see below); Legacy: Miracle of America Museum, Polson
District 11: (Mineral, Missoula, & Ravalli Counties): Living: Raymond Glenn "Ray" Cebulski, Seeley Lake; Legacy: Travelers' Rest State Park, Lolo
District 12: (Deer Lodge, Beaverhead, Silver Bow, Granite, Madison, & Powell Counties): Living: Edward Everett "Jack" Hooker, Ovando; Legacy: Charles Peter Henry & Nicholas John Bielenberg, Deer Lodge.
The MCHF & WHC plans to honor these inductees during the MCHF Annual Induction Ceremony & Western Heritage Gathering April 9, 2022, in Great Falls at the Heritage Inn. Look for more information as it becomes available on our Facebook page and on our website.
Full biographies for past inductees are available on the MCHF & WHC's website, http://www.montanacowboyfame.org. This year's inductees will be added to the website soon.
For further information, contact the MCHF & WHC at 406-653-3800 or email Christy@montanacowboyfame.org.
---
Montana Cowboy Hall of Fame & Western Heritage 
Gerald Lee "Jerry" Hamel
Mchf district: 10 year – 2022 living inductee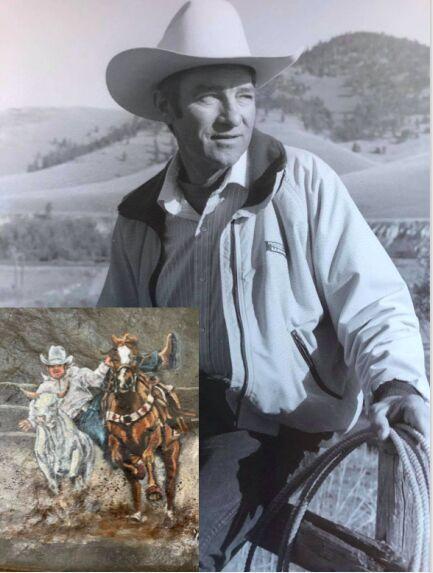 On January 25, 1936, Gerald Lee Hamel, who became better known as "Jerry" or "Squirrel", was born to Phillip and Marie (David) Hamel in St. Ignatius, Montana where he joined his older brother Wayne. 
"Phil" and Marie instilled hard-work philosophy in their boys. Jerry believes if you aren't "producing" as he puts it, "then you are a drain on the system." To this day he feels guilty if he takes an afternoon nap. The Hamels owned the Dixon Mercantile, which included a liquor store and café. While Dixon is pretty much a "one-horse-town" today, at that time it was a booming community. As the boys grew older, Marie felt the need to move the boys away from the shenanigans of town life and move them to the country. In 1946 at the age of ten Jerry's folks bought the ranch where he resides today. The family milked cows and bucket-fed the calves, owned draft horses, pigs, and chickens, while raising a big garden. There were plenty of chores to keep the boys busy and out of idle-time mischief.
Even at an early age Jerry was very ambitious. At the age of 13 he joined the Dixon Indian Stockmen's Association. This was an adult organization that he could see benefiting his long-term goals of becoming a rancher. Jerry turned out seven calves that first year on his grazing allotment. Since that time, he has served as an officer in some capacity and is currently the secretary/treasurer.
Although Jerry's main income came from the ranching operation, he engaged in other employment to support his family along the way. He worked at a sawmill, tended bar, delivered milk, and was appointed as the sergeant-at-arms for the Confederated Salish and Kootenai Tribal Council. He ingeniously bought a Crown Victoria station wagon to drive a school bus route. Jerry is not really a muscle car kind of guy, but he likes a nice muscle car. Although he would never admit to that he drove a Pontiac GTO and a Dodge Charger. Yes, he is not all about trucks and trailers like you would imagine a typical rancher to be. 
The family joke has always been that Jerry is like a salmon, always swimming upstream - often ahead of his time.   He finds great pleasure in reading, learning, and trying new things, and is willing to change with the times if he sees fit. One of Jerry's heroes is Temple Grandin because he understands the way she thinks and endorses the handling of livestock. Jerry has been promoting the sale of beef directly from the producer to the consumer since the 1970s. There is no way of knowing the number of pounds of hamburger he has generously donated to different community events. Jerry wanted to help with the fundraising efforts of the Salish Kootenai College Rodeo Team (SKCRT) so instead of giving money, he donated a colt to be raffled off. He hauled that colt all over western Montana to be put on display and promote ticket sales. Jerry's effort got people involved, piqued interest in the rodeo program and brought in more money than just his one-time monetary donation.
Before the European cattle breeds were widely accepted, Jerry bought a Simmental bull in Canada. He also bought a Longhorn bull to cross with first-calf heifers for easy calving and vigor. Jerry once took a bit of a detour through North Dakota on the way home from Oklahoma to buy a Buelingo bull and the next thing you know he had a whole herd of "Oreo cows."  They are famous to say the least as you will see if you drive down Highway 200 between Ravalli and Dixon. If the Buelingo cattle were not enough of an attraction, in 2000 he invested in the buffalo business, a herd that grew to 40 head. To prove their worth, in 2001, he transported the best in the herd to the Northwest Bison Association Show in Davenport, Washington. There were over 100 head of prime Bison from the Dakotas and as far away as California at the event. The three yearling bulls he exhibited won first, second and third place one of which took home the title of Grand Champion Male. No matter the animal, Jerry's motto is "feed makes the breed." He may have not brought home the gold, but he did bring home the silver. A sterling silver tray, trophy cup and complete tea set to boot. 
Jerry is an outstanding steward of the land. One of his proudest possessions is his center pivot irrigation system, seeing to it that nearly every blade of grass is nurtured. Jerry recycles everything, swearing there just has to be a use for it. His daily newspaper ends up in mailboxes up and down the valley where his neighbor grows "Dixon Melons".   Jerry harvests the culls and can be found slinging bins of cantaloupe to his cows to feast on at the end of every summer. His stewardship has been honored by his peers. In 1997, Jerry and his wife were presented with the Outstanding Co-Operator award by the Eastern Sanders County Conservation District. He has also received two, ten-year Appreciation of Dedicated Service awards by the same district. In 2021, he was awarded an engraved belt buckle by the Western Montana Stockmen's Association for "Honorable Service," a lifetime achievement award.
In 1972 Jerry felt the need to produce a sanctioned IRCA rodeo in conjunction with the Arlee Pow Wow & 4th of July Celebration. It was the first all Indian rodeo held there and was deemed a momentous success. Traffic was backed up on Highway 93 all the way to "Dirty Corner". When not on the rodeo trail he also hosted team roping's at the family ranch. 
From his first calf roping championship in St. Ignatius hosted by the FFA, to the broken arm earned while bareback riding at the state high school rodeo in Deer Lodge, traveling to the Indian Rodeo Cowboys Association (IRCA) rodeos in the western United States and Canada, to the steer wrestling championship at the Canadian Old Timers Rodeo Association in 1990 and the National Old Timers Rodeo Association qualifications in '90 and 1991, Jerry has been involved in rodeo.  
In the early '80's the spring break up of ice washed out a section of the Dixon Bridge on Flathead River.  The cattle have forged the tributary twice a year since then; an undertaking for Jerry as he coordinates cowboys and river depth before crossing. 
Jerry has joked that he has been married for 50 years to three beautiful women just not at the same time. These three matrimonies blessed him with two daughters, Traci and Keelyn who in turn have given him two grandsons, Suede and Ty. 
While working cattle Jerry says, "you just have to think like a cow." Only his dog, Ben, has mastered the ability to read his mind. Jerry can sort, load or doctor under the most unimaginable circumstances. His Cannon Ball bale bed has moved and loaded just about everything under the sun. It is not unusual for him to jump the four-wheeler into his boat and make his way across the river to check on the cows. At 85 years, age does not slow him down. Jerry might not do it the same way he once did, but he is still "producing" and managing to get the work done.  
---

Montana Cowboy Hall of Fame & Western Heritage
Miracle of America Museum
Mchf District: 10 Year – 2022 Legacy Inductee 
"Everywhere I look, I am speechless!" That was a comment that a visitor wrote in the "Comments and Suggestions" book as she toured the Miracle of America Museum in Polson, Montana.
Although the Miracle of America did not become an actual physical place until 1985, it could be said that its gestation period began as long ago as 1945, when founder Gil Mangels was about four years old and found an arrowhead in the Mission Valley where he grew up. His mother told him it was special and he should keep it. As a young child, Gil became fascinated with his grandparents' Model A Sedan and their horse drawn machinery, and thus, the collection began.
After high school graduation, Gil went to basic training, Military Police training, and a year's duty as MP at West Point where he became well acquainted with the Military Museum, the big guns and area monuments. Then he spent two years at Frankfurt, Germany, which gave him opportunities to visit the Berlin Wall and famous sites such as Checkpoint Charlie. It became clear to him that the United States was blessed with freedoms that were not available anywhere else, and Gil witnessed firsthand the benefits of freedom over totalitarianism. The day Gil left the Army was the day President Kennedy was assassinated. These experiences developed a patriotism in Gil that is demonstrated throughout the museum. 
Gil collected and amassed antiques for years simply because he liked them. It became a natural next step to share his growing collection with others in hopes of preserving and keeping America's history alive. In the early 1970's, Gil and his wife Joanne, first shared their growing collection in a small building just off the highway on the East Shore of Flathead Lake. In 1985 they were able to purchase a 5-acre parcel of land on the outskirts of Polson fronting Highway 93, which has become the permanent location of the Miracle of American Museum, with easy access to both travelers and locals.
Joanne worked alongside Gil for 47.5 years until she passed away from COPD. In 2016, Gil married Helen Horner, thus keeping the woman's soft touch throughout the character of the Museum.
As a visitor walks through the front door of the museum, they will quickly see that much planning and care has been used in every detail of its presentation. The displays are described with clarity. What will we see? Well, there is a display of over 100 different mousetraps! There is a collection of over 70 antique and vintage motorcycles, motorbikes, and motorwheels, with over 3,500 pieces of memorabilia, photos. But that's not all. There is a room that houses more motorcycles and motorcycle related winter vehicles including a rare Eliason snow toboggan. There are many Native American artifacts which have been donated to the Museum for safekeeping and preservation. There is a section devoted to a Veterans' Tribute Wall and displays that help viewers to understand that freedom isn't free. Thousands of items, ranging in size from a "Buy War Bonds" match book to an A7D Corsair Jet attack bomber, that capture just about every aspect and emotion related to war and the price of freedom on the battle front and on the home front. The Multipurpose Meeting Room was built in 1998-99 and in it is a 1925 soda fountain which was originally in a Ronan, Montana, drugstore. All the scenes described in this paragraph are only a small example of what you will see in this awesome building. But now it is time to exit through the backdoor and step into an area of over 40 vintage buildings, each filled with relics that were necessary, time saving, tools used by hardworking farmers, ranchers, townspeople, homesteaders, our ancestors and forefathers. As another visitor noted in our "Comments and Suggestions" book: "Awesome experience. Thank you for the love and time spent in putting this all together. America is wonderful." And another comment: "Thank you for preserving our past. It seems to fade so quickly."
Many of the buildings, like the 1912 schoolhouse, 1938 log cabin gas station, and blacksmith shop were moved in. Others, like the Jack Welch saddle shop, 1912 bank, and general store were recreated using salvage lumber. As you wander around the village of over 40 buildings, you will note that most of them span from 1890 to 1950. The general store was often the first commercial building in a pioneer town. This one, as did the early ones, houses the Post Office and an assortment of whatever basics the pioneers might have needed for farming, cooking and general day-to-day life. Another 2500 square foot building houses vintage vehicles, including a 1929 Franklin, 1937 Ford, and a 1941 Packard. Stop by the 1890's sod-roofed log cabin. There is only a few pieces of furniture and only one room for everyone. Privacy was non-existent and children had to learn to "get along" as they did not even have their own beds. There is a blacksmith shop, well equipped with tools most folks have never seen. Dianne wrote: "Wow! I'm in tears because this is the single most amazing museum I've seen and I've seen the Smithsonian, The Louvre and countless others in Europe and the U.S.!" 
The Museum displays many pieces of military items including vehicles, helicopters, airplanes from World War I to the Vietnam War. Gil was fortunate to have access to government surplus because of the Museum's non-profit status. An entry in Comments and Suggestions: "Hi. My name is Gracie. I am 11 years old. My favorite part was the hellocopter (sic). This is a really cool museum. Thank you" There are humorous displays as well as interactive stations throughout the Museum. 
The Miracle of America Museum's purpose is to teach through history and preservation. Quote from the book: "Don't change a thing! This place is amazing!" Many school children have visited the Museum on field trips with Gil as their tour guide. Quote from the book: "Keep educating America's young people." Also, "It's the funnest time I've had in my life! Edgar – age 9." 
The Miracle of America Museum is becoming known around the world. In 2021, the museum hosted over 17,300 people by early October, including visitors from 35 others countries. By founding the Miracle of America Museum at Polson, Montana, Gil has left a legacy for the generations.
Resources: Pamphlet: The Story of the Miracle of America Museum by Gil Mangels. Personal knowledge gained from volunteering at the museum by Afton Moss.