Tveraa Photography owner says she wants her work to transcend borders
A visual representation of the Missing and Murdered Indigenous Women crisis is gaining traction in Montana. 
Jen Buckley, owner of Tveraa Photography and member of the Chippewa-Cree Tribe, is using her craft to send a message with billboards across the state - and she doesn't plan to stop anytime soon.
"There has been some more momentum than there has in the past, but I feel like it needs to keep going and can't be a hot topic of the minute and then dies down and people forget about it and move on to the next issue. I am going to be part of not letting that happen," Buckley said. 
An average of 20 Indigenous women or girls go missing in Montana each year. Native Americans account for around 6.5 percent of the population but account for 27 percent of missing persons cases in the state. 
The Tverra Photography photo series provides a visual outcry - speaking to people without saying a word. Three billboards currently have been established in Missoula, Billings, and Havre. Buckley said two more are going up in Polson and Great Falls in June. 
The billboards feature a photograph of a woman or girl with a red handprint across their mouths along with a statement. In Missoula - "How many must go missing, until you start to listen." In Billings - "We will be heard." The Billings billboard has been shared digitally over half a million times.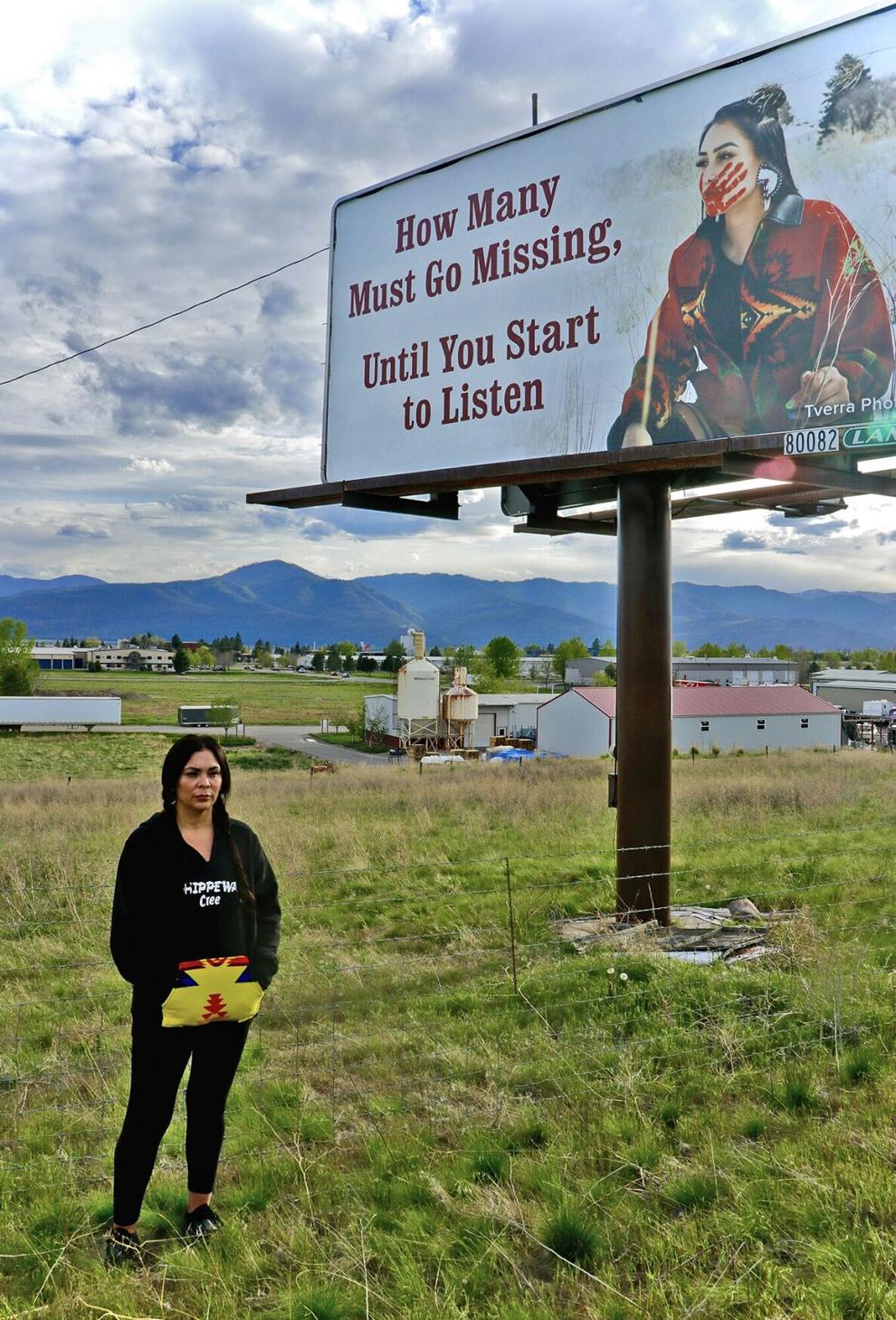 "I want this to be continually talked about. I want these women, children, and people to be continually searched for until they're brought home," she said, and explained that the message is also for perpetrators of violence against Indigenous women; "We may not know yet, but we're going to know."
As more people move to Montana or visit during tourist season, Buckley hopes that they will start to ask questions and get involved. She says those unaffected don't do enough but hopes that will change. 
"I think the problem is that people aren't paying attention, people aren't talking, people aren't getting involved," she said. "You can get involved a hundred different ways you just have to ask, and that's what these photos are for."
Buckley said while the response to her work is overwhelmingly positive, there has been some negative backlash from some who consider MMIW a political issue. 
She strongly disagrees. "It's a health issue."
Though photography is something Buckley has pursued for over a decade, she said the MMIW movement motivated her to use her work to attack this issue. In mid-July, she'll direct the next photo shoot at Flathead Lake. She has hopes that her work can transcend borders and bring more international attention to the crisis. 
"When I look at the billboards, I feel extremely proud. Not only for getting the word out, but for my culture and my tribe and everybody that's missing. It just absolutely makes me feel like I'm at least doing something even though I wish it could be a lot more," Buckley said. 
There is one ongoing sponsor for Tveraa Photography's MMIW series, but those looking to sponsor a billboard in their community, hang photos in their place or work, or get involved with a photo shoot can email tveraaphotography@gmail.com.
Additional funds raised will be donated to the Snowbird Fund, an effort by the Montana Community Foundation which provides direct financial assistance to Montana Native families searching for loved ones.